1 mg/ml depot eye drops
timolol
What Timosan is and what it is used for
Timosan contains timolol, which is a beta-blocker that lowers eye pressure by reducing fluid formation in the anterior chamber.
Thymosin is used to lower the eye pressure in chronic glaucoma (open-angle glaucoma ) and cases of too high pressure in the eye.
The timolol contained in Timosan may also be approved to treat other conditions not mentioned in this product information. Ask your doctor, pharmacist, or another healthcare professional if you have any further questions, and always follow their instructions.

What you need to know before using Timosan
Do not use Timosan
if you are allergic to timolol, beta-blockers, or any other ingredient in this medicine (listed in section 6)
if you currently have or have previously had respiratory problems, e.g. asthma, severe chronic obstructive bronchitis (a serious lung disease that can cause wheezing, difficulty breathing, and/or prolonged coughing)
if you have a low heart rate, heart failure, or heart rhythm disturbances (irregular heart rhythm).
Warnings and precautions
Talk to your doctor before using Timosan if you currently have or have had it in the past
coronary heart disease (with symptoms such as chest pain, chest tightness, shortness of breath or shortness of breath), heart failure, low blood pressure
disturbances in the heart rhythm, e.g. slow heartbeat
breathing problems, asthma, or chronic obstructive pulmonary disease (COPD)
a disease that causes impaired blood circulation (e.g. Raynaud's disease or Raynaud's syndrome)
diabetes, as timolol may mask signs and symptoms of low blood sugar
the overactive thyroid gland, as timolol can mask disease signs and symptoms
atopy (hereditary tendency to develop allergy ) or severe anaphylactic (allergic) reaction, as timolol may affect the effectiveness of adrenaline (used for treatment in anaphylactic reaction )
the disease of the cornea (the front layer of the eyeball), as beta blockers can cause dry eyes
If you are going to undergo an operation, you must inform the doctor that you are using Timosan, as timolol can affect the effectiveness of certain drugs used in anesthesia.
Children
Timosan is not recommended for children, as clinical experience is lacking.
Other medicines and Timosan
Tell your doctor or pharmacist if you are taking, have recently taken, or might be taking other medicines. Timosan can affect or be affected by other medicines that you are using, including other eye drops for glaucoma.
Tell your doctor if you are using or intend to use:
drugs that lower blood pressure, etc
heart medications
quinidine (used in heart disease and to treat certain types of malaria )
drugs against diabetes.
medicines for depression that contain fluoxetine or paroxetine
Pregnancy, breastfeeding, and fertility
If you are pregnant or breastfeeding, think you may be pregnant, or are planning to have a baby, consult your doctor before using this medicine.
Do not use Timosan if you are pregnant, unless your doctor considers it necessary. There is a risk that the fetus will be affected.
Do not use Timosan if you are breastfeeding. Thymosin can be transferred into breast milk.
If you are breastfeeding, consult your doctor before taking any medicine.
Driving ability and use of machinery
Timosan can cause short-term transient blurred vision in connection with instillation.
You are responsible for assessing whether you are fit to drive a motor vehicle or perform work that requires increased attention. One of the factors that can affect your ability in these respects is the use of drugs due to their effects and/or side effects. A description of these effects and side effects can be found in other sections. Read all the information in this leaflet for guidance. Discuss with your doctor or pharmacist if you are unsure.
Thymosan contains 0.05 mg benzalkonium chloride per ml
Timosan eye drops in a bottle contain the preservative benzalkonium chloride. Benzalkonium chloride can be absorbed by soft contact lenses and can discolor the contact lenses. Remove contact lenses before using the medicine and wait at least 30 minutes before putting them back in. Benzalkonium chloride can be irritating to the eyes, especially if you have dry eyes or problems with the cornea (the clear membrane at the front of the eye). If you feel irritation, tingling, or pain in the eye after using the medicine, consult a doctor.

How to use Timosan
Always use this medicine as directed by your doctor. Ask your doctor or pharmacist if you are unsure.
The dose is determined by the doctor who adjusts it individually for you. The recommended dose is one drop a day in the eye(s). Means given at the same time as Timosan in the eye should be given at least 10 minutes apart.
After you have applied Timosan, press a finger into the corner of the eye closest to the nose (fig. 4) and hold the finger there for 2 minutes. In this way, you prevent timolol from reaching other parts of the body.
Before use:
wash your hands
choose the position that feels most natural to you (e.g. you can sit down, lie on your back or stand in front of the mirror)
Application:
1. Open the bottle. Avoid touching anything with the tip of the bottle to avoid contaminating the contents.
2. Tilt your head back and hold the bottle above your eye.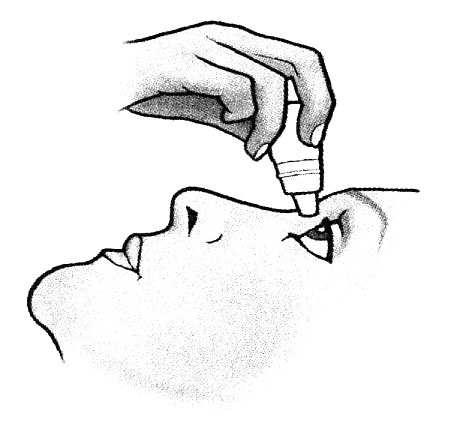 3. Pull the lower eyelid down, direct the gaze upwards and squeeze a drop into the eye.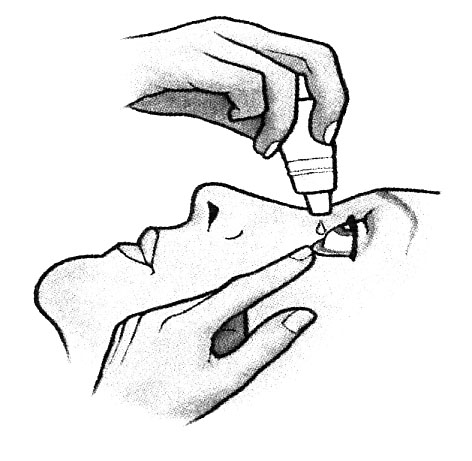 4. Close the eye and press the inner corner of the eye with your finger for 2 minutes. In this way, you avoid the eye medication running down the tear duct. Close the bottle.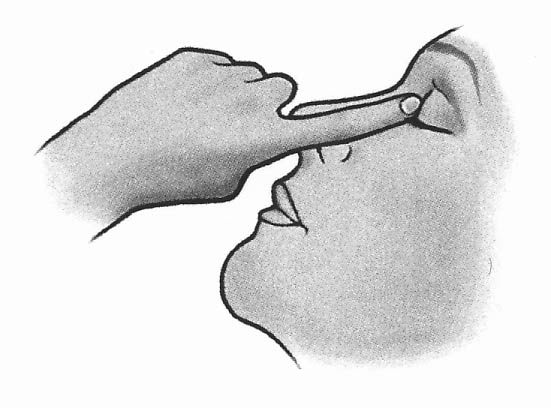 The eye drop bottle is personal.
If you have used too much Timosan
Too large a dose of Timosan can be flushed out of the eye with lukewarm tap water. If you have ingested too much medicine or if, for example, a child has accidentally ingested the medicine, contact a doctor or hospital for an assessment of the risk and advice.
If you forget to use Timosan
Do not take a double dose to make up for a missed dose.
If you stop using Timosan
Do not stop treatment with Timosan without first talking to your doctor.
If you have any further questions about this medicine, ask your doctor or pharmacist.
Possible side effects
Like all medicines, this medicine can cause side effects, although not everybody gets them.
Stop taking Timosan and contact your doctor immediately if swelling occurs in e.g. face, tongue, and/or throat or if you experience hives or shortness of breath, or difficulty swallowing.
You can usually continue to use the drops unless the side effects are severe. Talk to your doctor or pharmacist if you are worried. Do not stop treatment with Timosan without first talking to your doctor.
Common (may affect up to 1 in 10 users): burning sensation in the eyes and redness (eye irritation) and visual disturbances such as blurred vision.
Uncommon (may affect up to 1 in 100 users): inflammation of the eye's conjunctiva or cornea (the front layer of the eyeball), dry eyes and a feeling of having "garbage" in the eye, headache, dizziness, shortness of breath.
Rare (may affect up to 1 in 1,000 users): e.g. decreased sensitivity of the cornea.
As with other eye medicines, timolol is absorbed into the blood. This can cause side effects similar to those seen with beta-blockers taken by mouth (orally) or given by injection. The occurrence of side effects after the medicine has been dropped into the eye is lower than when the medicine is taken by mouth or by injection. Among the side effects listed are the following reactions seen within the group of beta-blockers for use in the eyes:
Allergic reactions affecting the whole body include angioedema (swelling under the skin, which can appear on the face, arms and legs, and can make it difficult to swallow and breathe), hives, local or general rash, itching, sudden severe life-threatening allergic reaction.
Low blood sugar level.
Difficulty sleeping (insomnia), depression, nightmares, memory loss, confusion, hallucination.
Fainting, stroke, reduced blood supply to the brain, increased symptoms and signs of myasthenia gravis (muscle disease), abnormal sensations such as tingling and pins and needles.
Eye irritation (e.g. stinging, itching, watery eyes), eyelid inflammation, detachment of the blood vessel-containing membrane under the retina after filtration surgery, which can cause visual disturbances, corneal erosion (damage to the front layer of the eyeball), drooping eyelids (which causes the eye remains half closed), double vision, reduced tear secretion, refractive changes (visual disturbances).
Low heart rate, chest pain, palpitations, edema (fluid accumulation), altered pulse or heart rhythm, chronic heart failure (heart disease with shortness of breath, swollen feet and legs, due to fluid accumulation), a type of heart rhythm disorder, heart attack, heart failure.
Low blood pressure, Raynaud's phenomenon, cold hands, and feet.
Narrowing of the airways in the lungs (especially in patients with existing disease), cough.
Taste disturbances, nausea, digestive problems, diarrhea, dry mouth, abdominal pain, and vomiting.
Hair loss, white/silver colored (psoriasis-like) skin rash or worsening psoriasis, and other forms of skin rash.
Muscle pain that is not exercise-related.
Impaired sexual function, decreased sex drive, Peyronie's disease (which causes scar tissue and calluses in the penis).
Muscle weakness, muscle fatigue.
Tinnitus.
How Timosan should be stored
Keep this medicine out of the sight and reach of children.
Store at a maximum of 25 °C. Do not freeze.
Store in the outer packaging. Light sensitive.
The opened bottle is stable for 4 weeks.
The packaging should be stored upside down for better dripping.
Use before the expiry date stated on the packaging. The expiration date is the last day of the specified month.
Do not use this medicine if you see signs that it has changed.
Medicines must not be thrown into the drain or among the household waste. Ask the pharmacist how to dispose of medicines that are no longer used. These measures will help to protect the environment.
Contents of the packaging and other information
Contents declaration
The active substance is timolol maleate corresponding to 1 mg/ml timolol .
Other ingredients are benzalkonium chloride ( preservative ) 0.05 mg/ml, sorbitol, polyvinyl alcohol, carbomer, sodium acetate trihydrate, lysine monohydrate, and water for injections.
Appearance and package sizes of the medicine
The dropper bottle is made of polyethylene and is equipped with a dropper and screw cap.
Pack sizes: 1 x 5 ml and 3 x 5 ml.
Not all pack sizes may be marketed.
Marketing Authorisation Holder
Santen Oy
Niittyhaankatu 20
FI-33720 Tampere
Finland
Manufacturer
Santen Oy
Kelloportinkatu 1
FI-33100 Tampere
Finland