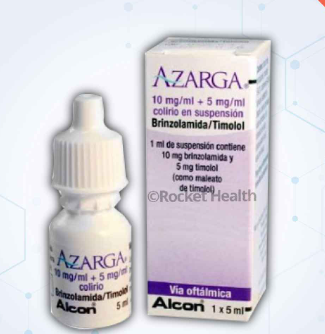 Azarga 10 mg/ml + 5 mg/ml Eye Drops , Brinzolamide/Timolol Suspension
1. What Is Azarga And What It Is Used For
Azarga contains two ingredients, brinzolamide and timolol, which lower the pressure in the eye. Azarga is used to treat high pressure in the eyes, also called glaucoma or ocular hypertension, in adult patients over the age of 18 and in whom it is impossible to effectively control the high pressure in the eyes with just one drug.
2. What You Need To Know Before Using Azarga
Do Not Use Azarga
If you are allergic to brinzolamide, medicines called sulfonamides (for example, medicines used to treat diabetes, infections, and also diuretics ), timolol, beta-blockers (medicines used to lower blood pressure or to treat heart disease), or any other ingredient of this medicinal product (listed in section 6).
If you have or have ever had lung diseases such as asthma, severe long-term. Obstructive bronchitis (severe lung disease that may cause wheezing, difficulty breathing, and persistent cough), or other breathing problems.
If you have severe hay fever.
If you have a low heart rate, heart failure, or diseases that affect the heart rhythm (irregular heartbeat).
If you have too acidic blood (a condition called hyperchloraemic acidosis ).
If you have severe kidney problems.
Warnings And Cautions
Only Azarga eye drops are used as eye drops. If there are any signs of a bad or hypersensitive reaction, stop using the medicine and talk to your doctor.
Tell your doctor before using Azarga if you have or have had
Coronary heart disease (symptoms may include pain or tightness in the chest, shortness of breath, or suffocation), heart failure, low blood pressure
Heart rate disorders such as slow heartbeat
Respiratory problems, asthma, or chronic obstructive pulmonary disease
Disease with impaired blood circulation (eg Raynaud's disease or Raynaud's syndrome)
Diabetes because timolol can mask the signs and symptoms of low blood sugar
Overactive thyroid gland because timolol can obscure signs and symptoms of thyroid disease
Muscle weakness ( myasthenia gravis )
Tell your doctor before surgery that using Azarga as timolol may alter the effects of certain medicines during anesthesia.
Suppose you have had atopy (a tendency to have an allergic reaction ) and severe allergic reactions. In that case, you may be more susceptible to allergic reactions while using Azarga. Adrenal treatment may not be as effective in treating an allergic reaction. Therefore, tell your doctor or nurse that you are using Azarga when you receive any other treatment.
If you have liver problems.
If you have dry eyes or corneal problems.
If you have kidney problems.
Children And Young People
Azarga is not recommended for children and adolescents under 18 years of age.
Other Medicines And Azarga
Tell your doctor or pharmacist if you are taking, have recently taken, or might take any other medicines. AZARGA can affect or be affected by other medicines you use, including other eye drops for glaucoma ( glaucoma ).
Tell your doctor if you are taking or plan to take medicines to lower your blood pressure, such as:
Parasympathomimetics and guanethidine, or other heart medicines that contain quinidine (used to treat heart conditions and certain types of malaria )
Amiodarone or other medicines to treat heart rhythm disorders and glycosides to treat heart failure.
Also, tell your doctor if you are taking or plan to use medicines to treat:
Diabetes or stomach ulcers
Antifungals
Antivirals, antibiotics, or antidepressants such as:
Talk to your doctor if you take another carbohydrate inhibitor (acetazolamide or dorzolamide). Increases in pupil size during concomitant use of Azarga and adrenaline ( epinephrine ) have been reported sporadically.
Pregnancy And Breastfeeding
You should not use Azarga if you are pregnant or might become pregnant unless your doctor considers it necessary. Talk to your doctor before using Azarga. Do not use Azarga if breastfeeding; timolol may pass into breast milk.
Consult a doctor before taking any medicine while breastfeeding.
Driving And Using Machines
Do not drive or use tools or machines until the vision is clear. You may find that your vision becomes foggy just after using Azarga.
One of the active substances may affect the ability of elderly patients to perform tasks that require mental alertness and physical coordination. You should be careful when driving or using machines if you are affected.
Azarga Contains Benzalkonium Chloride.
There is a preservative in Azarga (benzalkonium chloride), which can discolor soft contact lenses and cause eye irritation. Therefore, do not wear contact lenses when using Azarga. Wait 15 minutes after using Azarga before reinserting the lenses.
How To Use Azarga
Azarga eye drops uses:
Always use this medicine exactly as your doctor or pharmacist has told you. Ask your doctor or pharmacist if you are unsure.
If you switch from other eye drops used to treat glaucoma and switch to Azarga, stop taking the other medicine and start using Azarga the next day. If you are not sure, ask your doctor or pharmacist.
To prevent the tip and suspension of the dropper from contaminating, ensure you do not touch the eyelids, surrounding areas, or other surfaces with the tip of the dropper. Keep the bottle tightly closed when not in use.
The following measures help limit the amount of drug that enters the bloodstream after the application of eye drops:
Close your eyes while gently pressing the inner corner of your eye with your finger for at least 2 minutes.
The recommended Azarga dose is
one drop in the affected eye (s) twice daily.
Only use Azarga in both eyes if your doctor prescribes it. Use Azarga for as long as your doctor prescribes it.
To use the eye drops:
Get the bottle and a mirror.
Wash your hands.
Shake the bottle carefully before use.
Unscrew the cap on the bottle. If the safety collar is loose after removing the hat, remove the collar before using the product.
Hold the bottle upside down between your thumb and fingers.
Tilt your head back. Pull the eyelid down with a clean finger so that a pocket is formed between the eyelid and the eye. The drop should end up in the pocket (figure 1).
Move the tip of the bottle close to the eye. Use the mirror if it facilitates.
Do not touch the eye or eyelid, surrounding areas, or other surfaces with the bottle tip. This can contaminate the drops.
Press the bottom of the bottle with your index finger to release one drop of Azarga at a time.
Please do not squeeze the bottle; it is designed to have sufficient light pressure at the bottom (figure 2).
After using Azarga, you should press lightly with a finger in the corner of your eye at the nose for 2 minutes (see Figure 3). This prevents Azarga from entering the rest of the body.
If you use drops in both eyes, repeat the procedure in the other eye.
Screw the cap onto the bottle firmly immediately after use.
Use one bottle before opening the next.
If the drop misses the eye, try again.
If you use other eye drops or ointments, wait at least 5 minutes between each medicine. Eye ointments should be used last.
If you use more Azarga than you should, rinse your eyes with lukewarm water. Do not drip in more drops until it is time for your next dose. You may have:
A slower heart rate
Lower blood pressure
Heart failure
Difficulty breathing
The nervous system may be affected
If you forget to use Azarga, continue with the next azarga dose as usual. Do not take a double dose to make up for a forgotten dose. Do not use more than one drop in the affected eye (s) twice daily.
If you stop using Azarga without talking to your doctor, the pressure in your eye will not be checked, which could lead to vision loss. If you have any further questions about the use of this product, ask your doctor or pharmacist.
4. Possible Azarga Eye Drops Side Effects
This medicine can cause side effects like all medicines, although not everybody gets them. Stop using this medicine and contact your doctor immediately if you get:
Rash
Severe skin reaction
Severe redness
Itching in the eye
This may indicate an allergic reaction (frequency is unknown). You can usually continue to use the drops unless the side effects are severe. If you are worried, talk to your doctor or pharmacist. Do not stop using Azarga without talking to your doctor first.
Common azarga eye drops side effects are
(may affect up to 1 in 10 users)
Effects in the eye: Inflammation of the eye surface, blurred vision, signs and symptoms of eye irritation (eg burning sensation, tingling, itching, tearing, redness ), eye pain.
General side effects:

Slower heart rate
Taste changes
Uncommon side effects are (may affect up to 1 in 100 people)
Effects in the eye:

Erosion of the cornea (damage to the anterior layer of the eyeball)
Inflammation of the surface of the eye with surface damage
Inflammation inside the eye
Staining of the cornea
Abnormal sensation in the eyes
Discharge from the ey
Dry eyes
Tired eyes
Itchy eyes
Red eyes
Eyelid redness 

General side effects:

Decreased white blood cell count
Decreased blood pressure
Cough
Blood in the urine
Weakness in the body
Rare side effects are ( may affect up to 1 in 1000 users)
Effects in the eye:

Corneal problems
Photosensitivity
Increased tear production
Crusting on the eyelid

Common side effects:

Difficulty sleeping
Runny nose
Has been reported ( occurs in an unknown number of users ): 
Effects in the eye:

Eye allergy
Visual disturbance
Damage to the optic nerve
Increased pressure in the eye
Deposits on the surface of the eye
Decreased sensitivity in the eye
Inflammation or infection in the conjunctiva (whites of the eyes)
Abnormal, double or impaired vision
Increased pigmentation in the eye
Growth on the surface of the eye
Swollen eyes
Photosensitivity
Decreased growth of eyelashes or decreased number of eyelashes
Drooping upper eyelids (keeps the eye half-closed)
Inflammation of the eyelids and eyelid glands
Inflammation the cornea and loosening of the layer under the retina that contains blood vessels after filtration surgery, which can cause visual disturbances, decreased sensitivity of the cornea.

Heart and blood circulation:

Altered rhythm or rate of the heartbeat
Slow heart rate
Palpitations, a type of heart rhythm
Abnormal increase of pulse
Chest pain
Cardiac dysfunction
Myocardial infarction
Increased blood pressure
Decreased blood supply to the brain, stroke
Edema (fluid retention)
Chronic heart failure (heart disease with shortness of breath and swelling of the feet and legs due to fluid retention)
Swollen extremities
Low blood pressure
Discoloration of fingers, toes, and sometimes other body parts (Raynaud's phenomenon), cold hands, and feet.

Lungs / Respiratory tract:

Contraction of the airways in the lungs (especially in patients with pre-existing disease)
Shortness of breath or shortness of breath
Cold symptoms
Chest tightness
Sinusitis, sneezing
Nasal congestion
Dry nose,
Nosebleeds
Asthma
Throat irritation

Nervous system and general disorders:

Hallucinations
Depression
Nightmares
Memory loss
Headache
Nervousness
Irritation
Fatigue
Tremors
Abnormal sensation
Fainting
Dizziness
Drowsiness
General or severe weakness
Unusual sensations such as:

Gastrointestinal disorders:

Nausea
Vomiting
Diarrhea
Flatulence, or uncomfortable feeling in the abdomen
Sore throat
Dry or abnormal sensation in the mouth
Stomach upset
Stomach pain

Blood:

Abnormal liver function values
Increased chlorine levels in the blood or decreased number of red blood cells during blood tests.

Allergy:

Increased allergic symptoms and generalized allergic reactions
Including swelling under the skin that may occur in places such as the face, arms, and legs and may obstruct the airways, which may cause difficulty in swallowing or breathing
Hives
Limited and generalized rash
Itching
Severe, sudden life-threatening allergic reaction

Ears:

Ringing in the ears
The feeling of rotation or dizziness

Skin:

Rash
Redness or inflammation
Abnormal or diminished sensation in the skin
Hair loss
Rash with silvery white appearance (psoriasis-like rash)
Worsening of psoriasis

Muscles:

General back, joint, or muscle pain not caused by exercise
Muscle cramps
Pain in the extremities
Muscle weakness/muscle fatigue
Increased signs and symptoms of myasthenia gravis (muscle disorder)

Kidneys:

Kidney pain such as
Frequent urination

Reproduction:

Sexual dysfunction
Decreased libido
Sexual difficulties in men

Metabolism:
Reporting of side effects
Talk to your doctor, pharmacist, or nurse if you get any side effects. This includes any possible side effects not listed in this leaflet. You can also report side effects directly to the Medical Products Agency, www.lakemedelsverket.se. By reporting side effects, you can help increase drug safety information. 
5. How To Store Azarga Eye Drops
Keep this medicine out of sight and reach of children.
Do not use this medicine after the expiry date stated on the bottle and carton after EXP. The expiration date is the last day of the specified month.
No special storage instructions.
It would help if you discarded the bottle 4 weeks after opening it to prevent infection and use a new bottle. Write down the date when you opened it on the intended space on the bottle and carton.
Medicines should not be disposed of via wastewater or household waste. Ask your pharmacist how to dispose of medicines that are no longer required. These measures will help to protect the environment.
6. Contents Of The Packaging And Other Information
Content Declaration
The active substances are brinzolamide and timolol. One milliliter suspension contains 10 mg brinzolamide and 5 mg timolol (as maleate).
The other ingredients are benzalkonium chloride (see section 2, "Azarga contains benzalkonium chloride"), carbopol 974P, disodium edetate, mannitol (E421), purified water, sodium chloride, tyloxapol, hydrochloric acid, or sodium hydroxide.
Small amounts of hydrochloric acid and sodium hydroxide are added to keep the acidity ( pH ) normal.
What The Medicine Looks Like And The Contents Of The Pack
Azarga is a liquid (white to off-white even suspension ), which is supplied in a pack containing a 5 ml plastic bottle with a screw cap or in a pack containing three 5 ml bottles. Not all pack sizes may be marketed.
Marketing Authorization Holder And Manufacturer
Marketing Authorisation Holder
Novartis Europharm Limited
Vista Building
Elm Park, Merrion Road
Dublin 4
Ireland
Manufacturer
SA Alcon-Couvreur NV
Rijksweg 14
2870 Puurs
Belgium
or
Alcon Cusí SA
Camil Fabra 58
08320 El Masnou,
Barcelona
Spain
Contact the representative of the marketing authorization holder to find out more about this medicine:
| | |
| --- | --- |
| Belgium / Belgique / BelgienNovartis Pharma NVTel: +32 2 246 16 11 | LithuaniaSIA Novartis Baltics Lithuanian branchesTel: +370 5 269 16 50 |
| BulgariaNovartis Bulgaria EOODTel .: +359 2 489 98 28 | Luxembourg / LuxemburgNovartis Pharma NVTel: +32 2 246 16 11 |
| Czech RepublicNovartis sroTel: +420 225 775 111 | HungaryNovartis Hungary Kft.Tel .: +36 1 457 65 00 |
| DenmarkNovartis Healthcare A / STel: +45 39 16 84 00 | MaltaNovartis Pharma Services Inc.Tel: +356 2122 2872 |
| GermanyNovartis Pharma GmbHTel: +49 911 273 0 | The NetherlandsNovartis Pharma BVTel: +31 88 04 52 111 |
| EestiSIA Novartis Baltics Eesti subsidiaryTel: +372 66 30 810 | NorwayNovartis Norge ASTel: +47 23 05 20 00 |
| GreeceNovartis (Hellas) AEBE:Ηλ: +30 210 281 17 12 | AustriaNovartis Pharma GmbHTel: +43 1 86 6570 |
| SpainNovartis Pharmacéutica, SATel: +34 93 306 42 00 | PolandNovartis Poland Sp. z ooTel .: +48 22 375 4888 |
| FranceNovartis Pharma SASTel: +33 1 55 47 66 00 | PortugalNovartis Farma – Pharmaceutical Products, SATel: +351 21 000 8600 |
| CroatiaNovartis Hrvatska dooTel. +385 1 6274 220 | RomaniaNovartis Pharma Services Romania SRLTel: +40 21 31299 01 |
| IrelandNovartis Ireland LimitedTel: +353 1 260 12 55 | SloveniaNovartis Pharma Services Inc.Tel: +386 1 300 75 50 |
| IcelandVistor hf.Phone: +354 535 7000 | Slovak RepublicNovartis Slovakia sroTel: + 421 2 5542 5439 |
| ItalyNovartis Farma SpATel: +39 02 96 54 1 | Finland / FinlandNovartis Finland OyPuh / Tel: +358 (0) 10 6133 200 |
| ΚύπροςNovartis Pharma Services Inc.:Ηλ: +357 22 690 690 | |
| LatviaSIA Novartis BalticsTel: +371 67 887 070 | United KingdomNovartis Pharmaceuticals UK Ltd.Tel: +44 1276 698370 |