Fungoral Shampoo 20 mg/ml 120 m, Ketoconazole
1. What Fungoral Is And What It Is Used For
This is a shampoo used for dandruff. It can also be prescribed by a doctor for dandruff. Dandruff is caused by the fungus Malassezia which normally occurs in the scalp. In most cases, it does not cause any problems, but sometimes the skin can react. When this happens, dandruff and symptoms such as itching and flaking occur.

Fungoral ketoconazole contained in Fungoral may also be approved for the treatment of other conditions not mentioned in this product information. Ask your doctor, pharmacist, or another healthcare professional if you have any further questions, and always follow their instructions.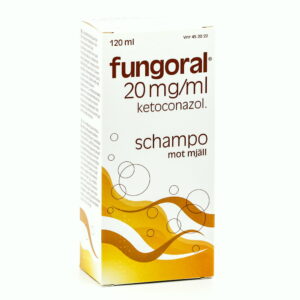 2. What You Need To Know Before Using Fungoral
Do Not Use
If you are allergic to fungoral ketoconazole or any of the other ingredients of this medicine (listed in section 6).
Warnings And Cautions
Avoid getting shampoo in your eyes. If this happens, rinse immediately with plenty of water.
Stop taking Fungoral shampoo English and contact a doctor immediately if you get any of the following symptoms (angioedema)
Pregnancy And Breastfeeding
Fungoral shampoo can be used during pregnancy.

Fungoral shampoo can be used by women who are breastfeeding.
Driving And Using Machines
It does not affect the ability to drive and use machines.

3. How To Use Fungoral Shampoo English
Always use this medicine exactly as described in this leaflet or as your doctor, pharmacist or nurse has told you. If you are not sure, talk to your doctor, pharmacist, or nurse.

Teens and Adults:
For dandruff:
Wet hair and scalp and massage the shampoo thoroughly into the scalp.
Let it work for 3-5 minutes before rinsing. Usually, about 5 ml (a teaspoon) of shampoo is enough.
You can wash your hair with your regular shampoo either before or after the treatment.
Treat your hair twice a week for 2-4 weeks to get rid of the symptoms.
You can then use Fungoral once a week or as needed to prevent a recurrence.
You must contact a doctor if the symptoms worsen or do not improve within 1 month.
Use for children
Fungoral shampoo English should not be used by children under 12 years of age.
If You Use More Fungoral Than You Should
Fungoral is a shampoo that should be rinsed out after treatment.
If you or if e.g. If a child has inadvertently ingested the medicine, contact a doctor, hospital, or the Poison Information Center for risk assessment and advice.
4. Possible Side Effects
Like all medicines, this medicine can cause side effects, although not everybody gets them.
Uncommon (affects less than 1 user in 100):
Local reactions such as
Redness
Irritation
Inflamed hair follicles
Burning sensation in the skin
Rash
Hair loss or altered hair quality
Increased tear flow
Rare (affects less than 1 in 1,000 people):
Local reactions such as
Blistering and hypersensitivity
Hypersensitivity reactions,
Altered taste perception
Eye irritation
Acne
Skin flaking
Has been reported (occurs in unknown numbers of users):
Altered hair color
Allergic reactions with swelling of the face and mouth(angioedema)
5. How To Store Fungoral
Do not store above 25 ° C.
Keep this medicine out of the sight and reach of children.
Do not use this medicine after the expiry date which is stated on the carton. The expiration date is the last day of the specified month.
Medicines should not be disposed of via wastewater or household waste. Ask your pharmacist how to dispose of medicines no longer required. These measures will help to protect the environment.
6. Contents Of The Packaging And Other Information
Content Declaration
The active substance is Fungoral ketoconazole. 1 ml of shampoo contains 20 mg of ketoconazole.
The other ingredients are

Sodium lauryl ether sulfate
Disodium monolauryl ether sulphosuccinate

Coconut fatty acid diethanolamide
Lauridimonium hydrolyzed animal collagen
Macrogol 120 methyl glucose dioleate
Hydrochloric acid
Sodium hydroxide
Sodium chloride
Preservatives (dyes)
Water
What The Medicine Looks Like And The Contents Of The Pack
The shampoo has a reddish color.
Fungoral shampoo is available in packs of 60 ml and 120 ml.
Marketing Authorisation Holder
Trimb Healthcare AB
Box 16184
103 24 Stockholm
Tel: 08-12135200
Email: medical@trimb.se

Manufacturer
Lusomedicamenta – Sociedade Técnica Pharmacêutica,
SA, Estrada Consiglieri Pedroso 69 B,
Queluz de Baixo, 2730-055 Barcarena, Portugal