1 mg/ml eye drops, solution
diclofenac sodium
What Voltaren Ophtha is and what it is used for
Voltaren Ophtha is an anti-inflammatory drug for local use in the eye.
Voltaren Ophtha is used for inflammation after cataract surgery (cataract, clouded lens).
The diclofenac sodium contained in Voltaren Ophtha may also be approved to treat other conditions not mentioned in this product information. Ask your doctor, pharmacist, or other healthcare professional if you have any further questions, and always follow their instructions.

What you need to know before you use Voltaren Ophtha
Do not use Voltaren Ophtha:
if you are allergic to diclofenac sodium or any of the other ingredients of this medicine (listed in section 6)
if you get asthma or hives when taking acetylsalicylic acid or other anti-inflammatory agents.
Warnings and precautions
Talk to your doctor or pharmacist before using Voltaren Ophtha.
Take special care with Voltaren Ophtha:
if you wear contact lenses.
if you have vasculitis (inflammation of blood vessels) and/or certain connective tissue diseases (e.g. SLE and rheumatic diseases) you are at greater risk of damage to the cornea, especially after cataract surgery. It is therefore important that you inform your doctor if you have any of these diseases.
if signs of corneal ulceration occur (eg pain, irritation, sensation of debris in the eye, sensitivity to light, or increased tear flow) during treatment, stop treatment immediately and contact your doctor.
Other medicines and Voltaren Ophtha
Tell your doctor or pharmacist if you are using, have recently used, or might be using other medicines.
If you also use other eye drops at the same time as Voltaren Ophtha, the different drops should be taken at least 5 minutes apart.
Pregnancy
There is a risk that the fetus will be affected. Therefore, always consult a doctor before using the medicine during pregnancy.
Breast-feeding
Diclofenac passes into breast milk but is unlikely to affect children who are breastfed. Consult a doctor before using Voltaren Ophtha during breastfeeding.
Driving ability and use of machinery
If you get a blurred vision in connection with the use of Voltaren Ophtha eye drops, you should not drive a car immediately after using the eye drops.
You are responsible for assessing whether you are fit to drive a motor vehicle or perform work that requires increased attention. One of the factors that can affect your ability in these respects is the use of drugs due to their effects and side effects. A description of these effects and side effects can be found in other sections. Read all the information in this leaflet for guidance. Discuss with your doctor or pharmacist if you are unsure.
Voltaren Ophtha contains benzalkonium chloride
This medicine contains 0.05 mg/ml benzalkonium chloride corresponding to 0.0014 mg benzalkonium chloride per drop. Benzalkonium chloride can be absorbed by soft contact lenses and can discolor the contact lenses. Remove contact lenses before using the medicine and wait at least 15 minutes before putting them back in.
Benzalkonium chloride can be irritating to the eyes, especially if you have dry eyes or problems with the cornea (the clear membrane at the front of the eye). If you feel irritation, tingling, or pain in the eye after using the medicine, consult a doctor.

How to use Voltaren Ophtha
Always use this medicine as directed by your doctor. Ask your doctor or pharmacist if you are unsure.
The dose is determined by the doctor, who adjusts it individually for you. The normal dosage is 1 drop 4 times daily.
The contents are sterile until the container is broken. To avoid contamination, the tip of the container should not be touched.
If you feel that the effect of Voltaren Ophtha is too strong or too weak, contact your doctor or pharmacist.
Instructions for use
Wash your hands. Bend your head back (picture 1). Pull the lower eyelid down with one finger and hold the dropper bottle with the bottom up with the other hand. Hold the tip of the bottle close to the eye, but without touching the eye or eyelid. Gently press the bottle (or with your index finger on the bottom of the bottle) and drop 1 drop into the eye (picture 2). In every context, avoid touching the tip of the bottle. Then press a finger against the inner corner of the eye for approx. 1 minute (picture 3). This prevents the drop from flowing down the throat through the tear duct.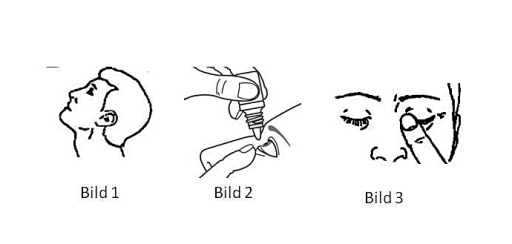 If you have used too much Voltaren Ophtha
If you have ingested too much medicine or if, for example, a child has ingested the medicine by mistake, contact a doctor or hospital for an assessment of the risk and advice.
If you have any further questions about this medicine, ask your doctor or pharmacist.

Possible side effects
Like all medicines, this medicine can cause side effects, although not everybody gets them.
Very common (may affect more than 1 in 10 users):
Eye pain.
Common (may affect up to 1 in 10 users):
Eye irritation, inflammation of the eye (in the conjunctiva).
Uncommon (may affect up to 1 in 100 users):
Itching, red eyes, blurred vision (immediately after application).
Rare (may affect up to 1 in 1,000 users):
Damage to the cells in the cornea.
Frequency not known (cannot be estimated from available data):
Allergic reactions e.g. itching, rash, swollen and red eyes.
How to store Voltaren Ophtha
Keep this medicine out of the sight and reach of children.
Use within 4 weeks after opening.
Use before the expiry date which is stated on the carton and bottle after EXP/Exp. dat.
Medicines must not be thrown into the drain or among the household waste. Ask the pharmacist how to dispose of medicines that are no longer used. These measures will help to protect the environment.
Contents of the packaging and other information
Contents declaration
The active substance is diclofenac sodium 1 mg/ml.
Other ingredients are benzalkonium chloride 0.05 mg ( preservative ), disodium edetate, hydroxypropyl-gamma-cyclodextrin, hydrochloric acid, propylene glycol, trometamol, tyloxapol, and water for injections.
Appearance and package sizes of the medicine
The appearance of the drug: Clear, colorless, odorless solution without visible particles.
Marketing Authorisation Holder:
Laboratoires THEA, 12, rue Louis Blériot, 63017 Clermont-Ferrand Cedex 2, France
Manufacturer:
Excelvision, 27, rue de La Lombardière, 07100 Annonay, France