32 mg dispersible tablets
bosentan
What Tracleer is and what it is used for
Tracleer tablets contain bosentan, which blocks a naturally occurring hormone called endothelin-1 (ET-1) that causes blood vessels to narrow. Tracleer, therefore, causes the blood vessels to widen and belongs to a group of medicines called "endothelin receptor antagonists".
Tracleer is used to treat:
Pulmonary arterial hypertension (PAH): PAH is a disease that leads to severe narrowing of the blood vessels in the lungs. As a result, high blood pressure occurs in the blood vessels in the lungs (pulmonary arteries) that transport the blood from the heart to the lungs. This pressure reduces the amount of oxygen that can enter the blood in the lungs, making physical activity more difficult. Tracleer dilates the pulmonary arteries and makes it easier for the heart to pump blood through them. This lowers blood pressure and relieves symptoms.
Tracleer is used to treat patients with PAH class III to improve work capacity (the ability to perform physical activity) and symptoms. The class shows the severity of the disease, whereas class III means that physical activity is markedly limited. Some improvements have also been shown in patients with PAH class II. Class II means that physical activity is slightly limited. The PAHs that Tracleer is used for can be:
primary (without identified cause or hereditary);
caused by scleroderma (also called systemic sclerosis, a disease with abnormal growth of the connective tissue that supports the skin and other organs);
caused by congenital heart defects where shunts (abnormal connections) cause abnormal blood flow through the heart and lungs.
Digital ulcers: (sores on fingers and toes) in adult patients with a condition called scleroderma. Tracleer reduces the number of new sores on fingers and toes that appear.
What you need to know before you take Tracleer
Do not take Tracleer:
if you are allergic to bosentan or any of the other ingredients of this medicine (listed in section 6)
if you have liver problems (ask your doctor)
if you are pregnant or may become pregnant because you are not using reliable contraceptive methods. Read the information under "Contraceptives" and "Other medicines and Tracleer"
if you are taking ciclosporin A (a medicine used after a transplant or to treat psoriasis )
If any of these apply to you, talk to your doctor.
Warnings and precautions
Checks that your doctor will do before the treatment
blood tests to check liver function
blood test to check for anemia (low hemoglobin )
pregnancy test, if you are a woman of childbearing age
Some patients who have used Tracleer have had abnormal liver function tests and anemia (low hemoglobin ).
Checks your doctor will do during treatment
Your doctor will arrange for regular blood tests to check for changes in liver function and hemoglobin levels during treatment with Tracleer.
For all these samples see also the patient card (in the package of Tracleer tablets). These regular blood tests must be taken throughout the time you are taking Tracleer. We suggest that you write down the date of the last test and also the next test (ask your doctor about the date) on the patient card, as help to remember when the next test is to be taken.
Blood tests for liver function
These will be taken once a month throughout your treatment with Tracleer. After an increase in dose one, an additional sample will be taken after 2 weeks.
Blood test for anemia ( lack of blood )
This will be done once a month during the first 4 months of treatment and then once every 3 months, as patients taking Tracleer can develop anemia.
If the results are abnormal, your doctor may decide to reduce the dose or stop treatment with Tracleer and do further tests to investigate the cause.
Children and young people
Tracleer is not recommended for children with systemic sclerosis and ongoing disease with digital ulcers. See also section 3. How to take Tracleer.
Other medicines and Tracleer
Tell your doctor or pharmacist if you are taking or have recently taken any other medicines, including those obtained without a prescription. You must tell your doctor if you are taking:
ciclosporin A (a medicine used after transplants and to treat psoriasis ), which should not be used with Tracleer.
sirolimus or tacrolimus, which are medicines used after transplants, as are not recommended for use with Tracleer.
glibenclamide (for diabetes ), rifampicin (to treat tuberculosis ), fluconazole (to treat fungal infections), ketoconazole (to treat Cushing's syndrome), or nevirapine (to treat HIV ), as these medicines are not recommended for use with Tracleer.
other medicines for the treatment of HIV – infection may need to be checked especially if they are used together with Tracleer.
hormonal contraceptives, which are not effective as a sole method of contraception while taking Tracleer. Inside your Tracleer package is a patient card for patients that you should read carefully. Your doctor and/or gynecologist will determine which contraceptives are suitable for you. 
other drugs for the treatment of pulmonary hypertension: sildenafil and tadalafil;
warfarin (a blood thinner);
simvastatin (used to treat hypercholesterolemia).
Driving ability and use of machinery
Tracleer has no or negligible influence on the ability to drive or use machines. Tracleer can cause hypotension (low blood pressure ) which can make you feel dizzy, and affect your vision and your ability to drive and use machines. If you feel dizzy or if your vision is impaired when taking Tracleer, you should therefore not drive a car or operate tools or machines.
Women of childbearing age
Do NOT take Tracleer if you are pregnant or planning to become pregnant.
Pregnancy test
Tracleer can harm unborn babies born before or during treatment. If you are female and could become pregnant, your doctor will ask you to take a pregnancy test before you start taking Tracleer, and regularly while you are taking Tracleer.
Contraceptive
If it is possible that you could become pregnant, you should use a safe method of birth control while taking Tracleer. Your doctor or gynecologist can advise you on reliable methods of contraception while using Tracleer. Because Tracleer can make hormonal contraceptives (eg, oral, injectable, implantable, or contraceptive patches ) ineffective, this alone is not a safe method. Therefore, if you use hormonal contraceptives, you must also use a barrier method (eg female condoms, pessaries, birth control pad or your partner must also use a condom). Inside your Tracleer package is a patient card. You should complete this card and take it with you to your doctor at your next visit so that your doctor or gynecologist can assess whether you need additional or alternative reliable methods of contraception. Pregnancy testing is recommended every month while taking Tracleer if you are of childbearing potential.
Tell your doctor immediately if you become pregnant during treatment with Tracleer or if you plan to become pregnant shortly.
Breast-feeding
Tell your doctor immediately if you are breastfeeding. You are advised to stop breastfeeding if you are prescribed Tracleer. It is not known whether this medication is passed on to breast milk.
Fertility
If you are a man using Tracleer, the medicine may reduce the number of sperm. It cannot be ruled out that this may affect your ability to have children. Talk to your doctor if you have any questions or concerns about this.
Tracleer contains aspartame and sodium
This medicine contains 3.7 mg of aspartame in each dispersible tablet. Aspartame is a source of phenylalanine. It can be harmful if you have phenylketonuria (PKU), a rare, inherited disease that leads to the accumulation of high levels of phenylalanine in the body.
This medicine contains less than 1 mmol (23 mg) of sodium per tablet, i.e. it is almost 'sodium-free'.

How to take Tracleer
Treatment with Tracleer should only be started and followed up by a doctor who has experience in the treatment of PAH or systemic sclerosis. Always take this medicine as directed by your doctor. Ask your doctor or pharmacist if you are unsure.
Tracleer with food and drink
Tracleer can be taken with or without food.
Recommended dose
Adults
Treatment is usually started with 62.5 mg twice daily (morning and evening) for the first 4 weeks. After that, your doctor will usually prescribe one 125 mg tablet twice a day, depending on how you respond to Tracleer.
Children and young people
Does one recommended for children apply only to PAH? In children aged 1 year and older, treatment is usually started with 2 mg/kg body weight twice daily (morning and evening). The doctor will tell you how to dose. If necessary, the dispersible tablet can be divided along the cross-scores into four equal parts.
If you have the impression that the effect of Tracleer is too strong or too weak, talk to your doctor as your dose may need to be changed.
How to take Tracleer
The tablets should be taken twice daily (morning and evening), should be swallowed with water, and may be taken with or without food.
The dispersible tablet is packed in a child-resistant blister.
To remove the dispersible tablet: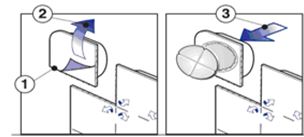 Remove the individual blister container using the perforation.
Peel off the top layer.
Push the medicine out through the foil.
A dispersible tablet can be dissolved in water and provides a liquid medicine by placing the tablet in a little water on a spoon with enough water to cover the entire tablet. Leave for about a minute until the tablet dissolves completely, then swallow all the liquid. Then add a little more water to the spoon and swallow all the liquid to make sure all the medicine has been taken. If possible, drink a glass of water to ensure that all the medicine has been taken.
If necessary, the dispersible tablet can be divided by breaking it along the scores embossed on the surface. Hold the tablet between your thumb and forefinger on either side of one of the slits, with the slit facing up, and break the tablet along the slit (see figure below)

If you have taken too much Tracleer
If you take more tablets than you were instructed to take, contact your doctor immediately.
If you forget to take Tracleer
If you forget to take Tracleer, take a dose as soon as you remember. Then continue to take your tablets at the usual times. Do not take a double dose to make up for missed tablets.
If you stop taking Tracleer
If you suddenly stop your Tracleer treatment, your symptoms may worsen. Do not stop taking Tracleer unless your doctor tells you to. The doctor may instruct you to reduce the dose for a few days before stopping completely.
If you have any further questions about this medicine, ask your doctor or pharmacist.
Possible side effects
Like all medicines, this medicine can cause side effects, although not everybody gets them.
The most serious side effects of Tracleer are
Abnormal liver function, which may affect more than 1 in 10 people
Anemia (low blood count), may affect up to 1 in 10 people. Anemia can sometimes require a blood transfusion.
Your liver and blood values ​​will be monitored during your treatment with Tracleer (see section 2). You must take these tests as prescribed by your doctor.
Symptoms that indicate your liver is not working normally include:
nausea (feeling the need to vomit)
vomiting
stomach ache
jaundice (yellowing of the skin or whites of the eyes)
dark colored urine
skin itching
lethargy or tiredness (unusual tiredness or exhaustion)
flu-like symptoms (muscle and joint pain with fever)
Tell your doctor immediately if you experience any of these side effects.
Other side effects:
Very common (may affect more than 1 in 10 people):
Headache
Edema (swelling of the legs and ankles or other symptoms of fluid retention)
Common (may affect up to 1 in 10 people):
Facial or skin flushing
Hypersensitivity reaction (with skin inflammation, itching, and rash)
Gastroesophageal reflux disease (acid reflux)
Diarrhea
Short-term loss of consciousness (fainting)
Palpitations (rapid or irregular heartbeats)
Low blood pressure
Nasal congestion
Uncommon (may affect up to 1 in 100 people):
Thrombocytopenia (lack of platelets )
Neutropenia/leukopenia (low white blood cell count )
Elevated liver enzyme levels with hepatitis ( inflammation of the liver) including possible worsening of underlying hepatitis and/or jaundice (yellowing of the skin or whites of the eyes).
Rare (may affect up to 1 in 1,000 people):
Anaphylactic reactions (general allergic reaction ), angioedema (swelling, usually around the eyes, lips, tongue, or throat)
Cirrhosis (scarring) of the liver, liver failure (serious disturbance of liver function)
Blurred vision has also been reported with an unknown frequency (frequency cannot be estimated from the available data).
Side effects in children and adolescents
Children treated with Tracleer have the same reported side effects as adults.
How to store Tracleer
Keep this medicine out of the sight and reach of children.
Use before the expiry date which is stated on the carton and blister after "EXP"
Store at a maximum of 25 °C.
The remaining parts of a divided dispersible tablet can be stored at room temperature and should be used within 7 days.
Medicines must not be thrown into the drain or among the household waste. Ask the pharmacist how to dispose of medicines that are no longer used. These measures will help to protect the environment.
Contents of the packaging and other information
Contents declaration
The active substance is bosentan, a monohydrate. Each dispersible tablet contains 32 mg bosentan (as monohydrate).

Other ingredients are microcrystalline cellulose, anhydrous calcium hydrogen phosphate, croscarmellose sodium, colloidal anhydrous silica, tartaric acid, tutti-frutti flavor, aspartame (E951, more information at the end of section 2), acesulfame potassium, magnesium stearate.
Appearance and package sizes of the medicine
Tracleer 32 mg dispersible tablets are pale yellow to off-white, clover-shaped tablets with a cross score on one side and debossed with "32" on the other side.
Tear-off blister card with 14 dispersible tablets: the carton contains 56 dispersible tablets.
Marketing Authorisation Holder:
Janssen‑Cilag International NV
Turnhoutseweg 30
B‑2340 Beerse
Belgium
Manufacturer
Janssen Pharmaceutica NV
Turnhoutseweg 30
B-2340 Beerse
Belgium