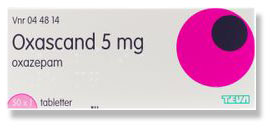 Oxascand 5 mg, 10 mg, 15 mg and 25 mg Oxazepam Tablets
What Oxascand Is And What It Is Used For
Oxascand contains the active substance oxazepam and belongs to a group of medicines called benzodiazepines. These work by enhancing the effect of a suppressant ( GABA ) in the brain. As a result, Oxascand has a
Calming
Anxiety-suppressing
Muscle-relaxing effect
Oxascand is used for anxiety, restlessness, and difficulty sleeping for nervous disorders. Oxascand can be used in combination with antidepressants for depression with elements of anxiety.
Oxascand can also be used to treat withdrawal symptoms from alcohol abuse, such as
Confusion
Anxiety
Tension
Excitement
Oxazepam contained in Oxascand may also be approved for the treatment of other conditions not mentioned in this leaflet. Ask your doctor, pharmacist, or other healthcare professionals if you have any further questions, and always follow their instructions.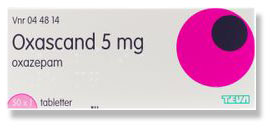 What You Need To Know Before You Take Oxascand
Do Not Take Tablet:
If you are allergic to oxazepam or any of the other ingredients of this medicine (listed in section 6).
If you suffer from sleep apnea, ie respiratory arrest during sleep.
Warnings And Cautions
Talk to your doctor, pharmacist, or nurse before taking Oxascand if you:
Is older. In the elderly, confusion may arise after overdosing.
Has impaired liver function.
Has impaired renal function.
Has a disease that causes muscle weakness ( myasthenia gravis ).
Have difficulty breathing ( respiratory insufficiency ).
Has a reduced general permit.
Have an addiction (eg drug or alcohol abuse).
Have had difficulty sleeping for a long time.
Take other medicines for mental illness (eg sedatives, medicines for insomnia, medicines for depression or psychosis ).
There is a risk that you will become addicted to this medicine, especially with long-term treatment. Follow your doctor's dose recommendations. Talk to a doctor if you are unsure.
Sudden discontinuation of treatment may cause withdrawal symptoms, see section 3 "If you stop taking Oxascand" for further information.
Children And Young People
The efficacy and safety of children under 18 years of age have not been established. Oxascand should not be given to children unless your doctor deems it necessary. The treatment time should be as short as possible.
Other Medicines And Oxascand
Tell your doctor or pharmacist if you are taking, have recently taken, or might take any other medicines.
This applies in particular to:
Opioid drugs (strong painkillers, opioid treatment drugs, and certain cough medicines). Concomitant use increases the risk of drowsiness, difficulty breathing ( respiratory depression ), and coma and can be life-threatening. Due to this, concomitant use should only be considered when other treatment options are not possible. If your doctor prescribes Oxascand at the same time as opioid medicines, your dose and treatment time should be limited by your doctor. Tell your doctor if you are taking any opioid medication and carefully follow your doctor's dose recommendations. It may be helpful to inform friends or relatives about paying attention to the signs and symptoms described above. Contact a doctor if you experience any of these symptoms.
Other sleeping pills or sedatives
Medicines for psychosis ( neuroleptics )
Antiepileptic drugs
Anesthetic
Drugs used in the treatment of opiate dependence (eg Subutex). Combination with benzodiazepines such as Oxascand can cause death due to respiratory arrest.
Birth control pills
Oxascand With Alcohol
You should avoid drinking alcohol during treatment with this medicine, as Oxascand and alcohol may enhance each other's effects.
Pregnancy, Breastfeeding, And Fertility
If you are pregnant or breastfeeding, think you may be pregnant, or are planning to have a baby, ask your doctor or pharmacist for advice before taking this medicine.
Pregnancy
There is a risk that the fetus may be affected. Therefore, always consult your doctor before using Oxascand during pregnancy.
Breast-feeding
Oxazepam passes into breast milk but is unlikely to affect breastfed infants. However, always consult your doctor before using Oxascand during breastfeeding, and be aware of oxazepam side effects.
Driving And Using Machines
During treatment with Oxascand, your ability to react may be reduced and you may experience side effects such as
Dizziness
Drowsiness
Hallucinations
Aggression
which may affect your ability to drive or use machines.
You are responsible for assessing whether you are fit to drive a motor vehicle or perform work that requires sharpened attention. One of the factors that can affect your ability in these respects is the use of drugs due to their effects and/or side effects.
Descriptions of these effects and side effects can be found in other sections. Read all the information in this leaflet for guidance. If you are not sure, talk to your doctor or pharmacist.
Oxascand Contains Wheat Starch And Lactose
Oxascand contains wheat starch
This drug contains only very low levels of gluten (from wheat starch) and it is very unlikely that it will cause problems if you have gluten intolerance ( celiac disease ).
One Oxascand 5 mg tablet contains no more than 2.75 micrograms of gluten.
A

oxascand 10 mg

tablet does not contain more than 4.5 micrograms of gluten.
A 15 mg tablet does not contain more than 6.75 micrograms of gluten.
One oxascand 25 mg tablet does not contain more than 7.0 micrograms of gluten.
If you are allergic to wheat (a disease other than gluten intolerance), do not use this medicine.
Oxascand contains lactose
If you have been told by your doctor that you have an intolerance to some sugars, contact your doctor before taking this medicine.
How To Take Oxascand
Always take this medicine exactly as your doctor has told you. Ask your doctor or pharmacist if you are unsure.
Dose one is determined by the doctor, who adjusts it individually for you.
The notch is not intended for splitting the tablet.
If You Take More Oxascand Than You Should
If you have ingested too much medicine or if, for example, a child has accidentally ingested the medicine, contact a doctor or hospital for assessment and advice. Bring this leaflet or some tablets with you so that your doctor knows what you have taken.
If You Forget To Take Oxascand
If you forget to take a dose, take it as soon as you remember unless it is time to take the next dose. Do not take a double dose to make up for a forgotten dose.
If You Stop Taking Oxascand
After a long period of treatment, the medication should not be stopped suddenly, but the dose should be reduced gradually. This reduces the risk of withdrawal symptoms. Sudden discontinuation of treatment may result in transient
Restless sleep
Mental symptoms
Abnormal sensations
Consult a physician.
If you have any further questions about the use of this product, ask your doctor or pharmacist.
Possible Oxascand Side Effects
Like all medicines, this medicine can cause side effects, although not everybody gets them. The side effects are dose-dependent and older patients are more sensitive.
Common (may affect up to 1 in 10 people):
Drowsiness is common, in 10-15% of users, but usually subsides after a few days of treatment.
Uncommon (may affect up to 1 in 100 people):
Headache
Dizziness
Difficulty coordinating muscle movements, muscle weakness
Memory slots at high doses
Rare (may affect up to 1 in 1,000 people):
Allergic skin reactions
Breathing difficulties
Depression
Insomnia
Nightmares
Hurried mood
Aggression
Hallucinations
How To Store Oxascand
Keep this medicine out of the sight and reach of children.
Do not use this medicine after the expiry date which is stated on the label and the carton after EXP.
The expiration date is the last day of the specified month.
Medicines should not be disposed of via wastewater or household waste. Ask your pharmacist how to dispose of medicines no longer required. These measures will help to protect the environment.
Contents of the package And Other Information
Content Declaration
The active substance is oxazepam. The tablet contains 5 mg, 10 mg, 15 mg, and 25 mg oxazepam respectively.
The other ingredients are

Lactose monohydrate
Wheat starch
Pregelatinized corn starch
Microcrystalline cellulose
Magnesium stearate
What The Medicine Looks Like And The Contents Of The Pack
5 mg: White, round, flat with beveled edge and center notch, diameter 6 mm.
Oxascand 10 mg: White, round, flat with beveled edge and center notch, diameter 7 mm, marked ¨phi beta 542¨.
oxascand 15 mg: White, round, flat with beveled edge and center notch, diameter 8 mm.
25 mg: White, round, flat with beveled edge and center notch, diameter 9 mm.
5 mg, 10 mg, and 15 mg tablets:

Plastic jar: 25, 100, 250, and 500 tablets (for dose dispensing only)
Blister: 25, 50×1, and 100 tablets

25 mg tablets:

Plastic jar: 25 and 100 tablets
Blister: 25 and 100 tablets

Not all pack sizes may be marketed