Hyprosan 3.2 mg/ml eye drops , Hypromellose Solution
1. What Is Hyprosan And What Is It Used For
Hyprosan is a tear substitute that acts as the natural tear fluid and lubricates and moisturizes the eye. Hyprosan eye drops to relieve symptoms of dry eyes.
You need to talk to a doctor if you do not feel better or worse.
Hypromellose contained in Hyprosan may also be approved for treating other conditions not mentioned in this leaflet. Ask your doctor, pharmacist, or another healthcare professional if you have further questions, and always follow their instructions.
2. What You Need To Know Before You Use Hyprosan
Do Not Use Hyprosan
If you are allergic to Hyprosan hypromellose or any of the other ingredients of this medicine (listed in section 6).
Warnings And Cautions
No.
Children And Young People
Hyprosan has not been tested in children or adolescents and should not be given to children or adolescents under 18.
Other Medicines And Hyprosan
If you are also taking any other ophthalmic medicine, always take Hyprosan at the latest 5 minutes after taking the other eye medicine.
Pregnancy, Breastfeeding, And Fertility
Hyprosan can be used during pregnancy and lactation.
Driving And Using Machines
Eye drops can cause transient blurred vision. If you experience this, wait to drive or use machines until your vision is completely restored.
You are responsible for assessing whether you can drive a motor vehicle or perform work requiring increased attention. One of the factors that can affect your ability in these respects is the use of drugs due to their effects and side effects. Descriptions of these effects and side effects can be found in other sections. Read all the information in this leaflet for guidance. If you are not sure, talk to your doctor or pharmacist.
Contact lenses
Hyprosan does not contain preservatives and can therefore be used with contact lenses.
Hyprosane Contains Phosphate
This medicine contains approximately 0.06 mg phosphate per drop, equivalent to 1.9 mg/ml. If you have severely damaged cornea, in rare cases, phosphate can cause cloudy spots on the cornea due to the accumulation of calcium during treatment.
3. How To Use Hyprosan
Hyprosan uses
Always use this medicine as described in this leaflet or as your doctor or pharmacist has told you. Ask your doctor or pharmacist if you are unsure.
The recommended dose for adults is 1 drop in each eye three times daily or as needed.
Before use:

Wash your hands before opening the bottle
The first time the bottle is opened, first push out a drop that you discard
Choose the position that feels most natural to you (for example, you can sit down, lie on your back or stand in front of a mirror)

Application:
1. Hold the bottle just below the cap and turn the cap to open the bottle. Avoid touching anything with the tip of the bottle so that the contents are not contaminated.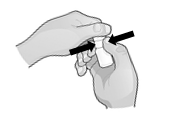 2. Tilt your head back and hold the bottle above your eye.

3. Pull the lower eyelid down and direct the gaze upwards. Gently push a drop into the eye. Note that it may take a few seconds for the drop to come out after printing. Do not press too hard.

4. Blink a few times so that the drop spreads.
5. Follow instructions 2-4 to drip Hyprosan into the other eye.

6. Before screwing on the cap, shake the bottle once to remove any remaining solution in the tip. This is necessary to ensure the usability of the bottle.
A small amount of solution may be left in the bottle when the use time is over. This is because all bottles are overfilled, so there is a guaranteed 10 ml solution. This volume also includes the solution removed from the bottle's tip before the cap is screwed on.
Due to the operation of the bottle, a maximum of 30 drops per day can be dosed from the bottle.
If you are taking any other ophthalmic medicine, always take Hyprosan at the earliest 5 minutes after taking the other eye medicine.
Use For Children And Adolescents
Hyprosan should not be given to children or adolescents under 18.
If You Take More Hyprosan Than You Should
No reactions have been reported with Hyprosan overdose.
If you have ingested too much medicine or if, e.g., a child has ingested the medicine by mistake, contact a doctor, hospital, or the Poison Information Center for risk assessment and advice.
4. Possible Hyprosan Side Effects
This medicine can cause side effects like all medicines, although not everybody gets them. The following side effects have been reported:
Uncommon (may affect up to 1 in 100 people):
Local burning
Eye pain
Blurred vision
Reporting of side effects
Talk to your doctor, pharmacist, or nurse if you get any side effects. This also applies to any side effects not mentioned in this information. You can also report side effects directly to the Medical Products Agency. By reporting side effects, you can help increase drug safety information.
5. How To Store Hyprosan
Keep this medicine out of sight and reach of children.
Do not store above 25 ° C. Do not freeze.
Do not use this medicine after the expiry date stated on the carton and bottle after "EXP." or "EXP." The expiration date is the last day of the specified month.
Opened bottle should be used within 4 weeks. The bottle must be stored tightly closed.
Medicines should not be disposed of via wastewater or household waste. Ask your pharmacist how to dispose of medicines that are no longer required. These measures will help to protect the environment.
6. Contents Of The Packaging And Other Information
Content Declaration
The active substance is hypromellose. 1 ml solution contains 3.2 mg hypromellose.
The other ingredients are disodium phosphate dodecahydrate, sodium dihydrogen phosphate dihydrate, sodium hyaluronate, sodium chloride, and water for injections.
What The Medicine Looks Like And The Contents Of The Pack
Hyprosan eye drops are a clear, colorless solution in a transparent plastic bottle with a white drip insert with a blue tip and white plastic screw cap.

Pack size: 1×10 ml, 3×10 ml

Not all pack sizes may be marketed.
Marketing Authorization Holder And Manufacturer
Sale
Santen Oy
Niittyhaankatu 20
33720 Tampere
Finland
Manufacturer
Santen Oy
Kelloportinkatu 1
33100 Tampere
Finland