cream
glucosaminoglycan polysulfate
1. What Hirudoid is and what it is used for
Hirudoid is used to accelerate the dissolution and regression of thrombophlebitis ( inflammation and blood clots in the venous wall) and hematoma (bruising).
Hirudoid penetrates through the skin into the superficial tissues where it counteracts the formation of superficial blood clots and accelerates the dissolution and regression of superficial blood clots, bruising, and swelling.
2. What you need to know before using Hirudoid
Do not use Hirudoid
if you are allergic to glucosaminoglycan polysulphate or any of the other ingredients of this medicine (listed in section 6).
Warnings and cautions
Talk to your doctor or pharmacist before using Hirudoid cream.
Should not be used on open wounds, on damaged skin, or in the eyes.
Pregnancy and breastfeeding
No known risks.
Driving and using machines
No known risks.
Hirudoid contains cetostearyl alcohol, methyl parahydroxybenzoate and propyl parahydroxybenzoate
Cetostearyl alcohol may cause local skin reactions (eg contact dermatitis).
Methyl parahydroxybenzoate and propyl parahydroxybenzoate may cause an allergic reaction (possibly delayed).
3. How to use Hirudoid
Always take this medicine exactly as described in this leaflet or as your doctor or pharmacist has told you. Ask your doctor or pharmacist if you are unsure.
3-5 cm cream string is applied and lightly massaged into the affected area one to several times daily. In painful conditions, Hirudoid can instead of being massaged in, be applied with a compress coated with cream. The length of the cream string is adapted to the size of the affected area.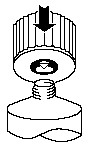 The tube is opened with the tip on the top of the cap. Press and turn firmly. Too small a hole can cause the tube to crack (see illustration).
If you use more Hirudoid than you should
If you have ingested too much medicine or if e.g. If a child has ingested the medicine by mistake, contact a doctor, hospital, or the Poison Information Center for risk assessment and advice.
4. Possible side effects
Like all medicines, this medicine can cause side effects, although not everybody gets them.
Rare (may affect up to 1 in 1,000 people):
Skin rash due to hypersensitivity to a substance contained in the cream.
Reporting of side effects
If you get any side effects, talk to your doctor, pharmacist, or nurse. This also applies to any side effects not mentioned in this information. You can also report side effects directly to the Medical Products Agency. By reporting side effects, you can help increase drug safety information.
5. How to store Hirudoid
Keep this medicine out of the sight and reach of children.
Do not use this medicine after the expiry date which is stated on the carton after EXP. The expiration date is the last day of the specified month.
Store below 25 ° C.
Used within 12 months after the first opening.
Medicines should not be disposed of via wastewater or household waste. Ask your pharmacist how to dispose of medicines no longer required. These measures will help to protect the environment.
6. Contents of the packaging and other information
Content declaration
1 g Hirudoid cream contains:
Glucosaminoglycan polysulfate 3 mg.
The other ingredients (excipients) are Glycerol , potassium hydroxide, stearic acid, wool fatty alcohols, white petroleum jelly, cetostearyl alcohol, myristyl alcohol, preservatives (methyl parahydroxybenzoate E 218, thymol, propyl parahydroxybenzoyl isopropyl enoate 21 water).
What the medicine looks like and contents of the pack
White cream.
Pack size: 1 x 50 g, 10 x 50 g, 1 x 100 g aluminum tube.
Not all pack sizes may be marketed.
Marketing Authorization Holder and Manufacturer
STADA Arzneimittel AG
Stadastrasse 2-18
61118 Bad Vilbel
Germany
Other manufacturers
Mobilat Produktions GmbH
Luitpoldstrasse 1, 85276 Pfaffenhofen
Germany
Local representative
STADA Nordic ApS
Marielundvej 46 A
2730 Herlev
Denmark
Tags:
benefits of glucosaminoglycan polysulfate
,
benefits of Hirudoid
,
glucosaminoglycan polysulfate
,
glucosaminoglycan polysulfate cream
,
glucosaminoglycan polysulfate side effects
,
Hirudoid
,
Hirudoid cream
,
Hirudoid side effects
,
what glucosaminoglycan polysulfate is used for
,
what Hirudoid is used for
,
what is glucosaminoglycan polysulfate
,
what is Hirudoid