1 mg / g + 20 mg / g rectal cream fluocortolone
Pivalate, lidocaine hydrochloride (Anhydrous)
What Doloproct is And What It Is Used For
Doloproct contains two different active substances: Fluocortolone pivalate and lidocaine hydrochloride.
The active substance fluocortolone pivalate belongs to the group of corticosteroids. It reduces the production of substances that cause inflammation in the body. This relieves ailments such as swelling, itching, and burning.
The active substance lidocaine hydrochloride belongs to the group of local anesthetics. It numbs the area where it is applied. This relieves pain and itching in that area.
Doloproct is used in adults to relieve
Nodular enlargement of blood vessels around the anus (hemorrhoid disease)
Inflammation of the rectal mucosa (non-infectious proctitis )
Inflammation of the upper skin layers around the anus with symptoms such as redness, swelling, itching, and dryness or discharge (anal eczema ).
Doloproct can not remove the causes of hemorrhoid disease, inflammation of the rectal mucosa (non-infectious proctitis ), and anus (anal eczema ).
You must talk to a doctor if you do not feel better or if you feel worse after 14 days
What You Need To Know Before Using Doloproct
Do Not Use
If you are allergic to fluocortolone pivalate, lidocaine hydrochloride, or any of the other ingredients of this medicine (listed in section 6).
If you have an infection in the skin around the anus and if you have symptoms of the following symptoms in this area:

Skin lesions caused by syphilis or tuberculosis
Chickenpox ( infection by the varicella-zoster virus)
Vaccination reactions
Genital herpes infection (genital herpes ).
Warnings And Cautions
Talk to your doctor or pharmacist before using Doloproct Rectal Cream.
Be careful not to get in your eyes. Wash hands thoroughly after use!
If latex-containing products, such as condoms, are used in the same area as Doloproct, the ingredients in Doloproct may damage the latex-containing products. This may mean that their protection against pregnancy and sexually transmitted diseases, such as HIV infection, is lacking. If you have any further questions, ask your doctor or pharmacist.
Contact a doctor if you experience blurred vision or other visual disturbances.
Children And Young People
The use of the cream is not recommended for use in children and adolescents below 18 years due to insufficient data on safety and efficacy.
Other Medicines And Doloproct
Tell your doctor or pharmacist if you are taking or have recently taken any other medicines, including medicines obtained without a prescription.
Some medicines may increase the effects of Doloproct and your doctor may want to monitor you closely if you are taking these medicines (eg some medicines for HIV: ritonavir, cobicistat).
As Doloproct also contains the active substance lidocaine, you should tell your doctor or pharmacist if you are taking other medicines to treat irregular heartbeat ( arrhythmia ).
Pregnancy And Breastfeeding
If you are pregnant or breastfeeding, think you may be pregnant, or are planning to have a baby, ask your doctor or pharmacist for advice before taking this medicine.
Pregnancy
To prevent any risk to your unborn baby, avoid using Doloproct when you are pregnant, especially during the first three months.
Breast-feeding
In general, you should not use Doloproct for an extended period of time to prevent your baby from ingesting the medicine through breast milk. Only use this medicine if your doctor tells you to.
Driving And Using Machines
Doloproct has no or negligible effect on the ability to drive and use machines.
Doloproct Rectal Cream contains Cetostearyl Alcohol
The ingredient cetostearyl alcohol may cause local skin reactions (eg contact dermatitis ).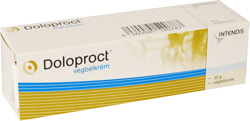 How To Use Doloproct
Always use this medicine exactly as your doctor has told you. Ask your doctor or pharmacist if you are unsure.
The recommended dose is one fingertip unit (up to 1 g) per application. A fingertip unit is the amount of rectal cream that is pushed out of the tube and applied from the outermost fold of the skin to the fingertip of an adult's index finger.
Use Doloproct rectal cream twice a day, once in the morning and once in the evening. The first few days you use cream one, you can apply it three times daily. Later, when the symptoms have improved, once a day is often enough.
Method of administration
Use Doloproct after emptying your bowels.
If your doctor has told you to apply Doloproct rectal cream around the anus and the surrounding area, follow the instructions below:
Thoroughly clean the anal area before use.
Apply a fingertip device (up to 1 g) Doloproct rectal cream to your fingertip.
Gently spread the cream on the sore or itchy anal area. Use your fingertip to overcome the resistance of the sphincter.
Wash your hands.
If your doctor has told you to apply a little cream deeper into the anus, follow the instructions below:
Thoroughly clean the anal area before use.
Screw the applicator firmly onto the tube.
Insert the applicator into the anus.
Gently squeeze the tube so that some cream comes out of the anus. Slowly pull out the applicator.
Clean the outside of the applicator with a paper towel after each use. Then remove remnants of the product in the applicator with a cotton swab and clean again with a paper towel. Rinse the applicator in warm water for about 1 minute and then wipe the outside with a paper towel. Do not use the applicator if it is damaged.
Wash your hands.
Treatment time
Doloproct should not be used for more than two weeks.
If You Use More Doloproct Then You Should
There is no acute risk of poisoning if you take too much in a single-use.
If you accidentally swallow Doloproct
The active substance lidocaine may alter cardiac function (for example slower heart rate or in extreme cases cardiac arrest)
You may develop symptoms related to the central nervous system (such as convulsions, shortness of breath, or in extreme cases impaired breathing).
The expected symptoms depend on dose one. To prevent any harmful effects after swallowing Doloproct, contact your doctor immediately.
If You Forget To Use Doloproct
If you forget to use it, use this medicine as soon as you find it. However, if it is almost time for your next dose, skip the missed dose. Do not take a double dose to make up for a forgotten dose.
If You Stop Using Doloproct
Do not stop treatment without consulting your doctor.
If you have any further questions on the use of this product, ask your doctor or pharmacist.
Doloproct Cream How To Use?
Dose and frequency of doloproct cream supervision If not fixed otherwise by your doctor, insert one suppository profound into the anus two times a day, one time in the morning and after that in the evening. In a while, when your signs are improved, a single daily application is often satisfactory.
Doloproct Cream Side Effects
Like all medicines, Doloproct cream usage can cause side effects, although not everybody gets them.
The following side effects may occur during treatment. They only apply to the skin in the anal area:
Common (may affect up to 1 in 10 people):
Uncommon (may affect up to 1 in 100 people):
Has been reported (occurs in an unknown number of users):
If you Doloproct cream usage for a longer period (more than 4 weeks ), there is a risk that you may develop local skin reactions, such as
Thinned skin ( atrophy )
Irregular areas on the skin that look like streaks (striae)
Enlarged blood vessels that become visible on the skin surface (telangiectasias).
Reporting of side effects
How To Store Doloproct
Keep this medicine out of the sight and reach of children.
Do not use this medicine after the expiry date which is stated on the carton and tube after "EXP". The expiration date is the last day of the specified month.
No special storage instructions.
Cream can be used for 4 weeks after opening.
Do not use this medicine if you notice that the cream is not white and opaque.
Medicines should not be disposed of via wastewater or household waste. Ask your pharmacist how to dispose of medicines no longer required. These measures will help to protect the environment.
Contents Of The Packaging And Other Information
Content Declaration
Doloproct rectal cream
The active substances are fluocortolone pivalate and lidocaine hydrochloride (anhydrous).
Each gram of rectal cream contains
1 mg fluocortolone pivalate and
20 mg lidocaine hydrochloride (anhydrous).
The other ingredients are polysorbate 60, sorbitan stearate, cetostearyl alcohol, liquid paraffin, white soft paraffin, sodium edetate, sodium dihydrogen phosphate dihydrate, disodium phosphate dodecahydrate, benzyl alcohol, and purified water. See section 2 rectal cream contains cetostearyl alcohol
What The Medicine Looks Like And The Contents Of The Pack
Doloproct rectal cream is a white, opaque cream.
The cream one is in an aluminum tube; an applicator is included.
There are three pack sizes:
Not all pack sizes may be marketed.
Doloproct is also provided as a suppository.
Manufacturer
LEO Pharma Manufacturing Italy Srl
Via E. Schering 21
20090 Segrate (Milano)
Italy
This medicinal product is authorized under the European Economic Area under the names :
Germany, Denmark, Iceland, Greece, Estonia, Hungary, Latvia, Slovakia, Cyprus, Malta, Austria, Lithuania, Bulgaria, Italy, and Slovenia
Finland – Neoproct
Portugal – Ultraproct