32 micrograms/dose nasal spray, suspension 
budesonide
1. What Desonix is ​​and what it is used for
Desonix contains budesonide, a synthetic corticosteroid. Corticosteroids are a group of drugs that work by fighting inflammation. Desonix is ​​used for:
Runny nose, nasal congestion, sneezing, and/or itching in the nose caused by allergies to e.g. pollen (so-called hay fever).
Budesonide contained in Desonix may also be approved for the treatment of other conditions not mentioned in this product information. Ask your doctor, pharmacist, or other healthcare professional if you have any further questions, and always follow their instructions.

What you need to know before you take Desonix
Do not take Desonix
if you are allergic to budesonide or any of the other ingredients of this medicine (listed in section 6).
Warnings and cautions
Talk to your doctor or pharmacist before taking Desonix
if you have been taking this medicine regularly for a long time. Your doctor will want to examine the inside of your nose at least every six months.
if you have taken larger amounts of this medicine than the recommended doses. Your doctor may prescribe cortisone tablets during periods of stress (eg if you have an infection ) or before surgery.
if you have a sore nose.
if you have contagious blisters on your lips (cold sores), in your nose,e or around your eyes.
if you get nosebleeds.
if you have had surgery on your nose or have any other damage to your nose that has not healed completely.
if you have a bacterial infection, a viral infection, or a fungal infection in your nose: You should only use Desonix if you have also been prescribed medicine for infection.
if you have liver problems because the amount of budesonide can be stored in your body. Your doctor may need to check your liver and as a result, reduce the dose one.
if you have switched from another dosage form to nasal spray and have problems with adrenal function.
if your doctor has told you that you have a respiratory infection or pulmonary tuberculosis. This is an infection that can affect the lungs.
In rare cases, corticosteroids given locally can cause side effects that affect the whole body. These are likely to depend on the dose, duration of treatment, adjunctive or previous corticosteroid therapy, and individual factors. Corticosteroids given through the nose can cause the following side effects: Cushing's syndrome, cushingoid symptoms, impaired adrenal function, growth retardation in children and adolescents, cloudy eye lens (cataracts), and increased pressure in the eye ( glaucoma ). In rarer cases, there are psychological or behavioral disorders, including psychomotor hyperactivity, sleep disorders, anxiety, depression, or aggression (especially in children).
Contact your doctor if you experience blurred vision or other visual disturbances.
Children
The long-term effects of children taking corticosteroids locally (such as in the nose) are not fully understood. If you are a child and take high doses of this medicine for a long period of time, your doctor will check your duration regularly.
Other medicines and Desonix
Tell your doctor or pharmacist if you are taking, have recently taken, or might take any other medicines, including medicines obtained without a prescription.

Be sure to tell your doctor if you are taking:

ketoconazole, a drug used to treat fungal infections, such as cod.
troleandomycin, a medicine to treat a bacterial infection you
itraconazole, a medicine used to treat fungal infections
ciclosporin, an immunosuppressive agent used in e.g. transplants
and Ethinyl estradiol, a contraceptive.
These medicines may also increase the concentration of budesonide in your body.

Some medicines may increase the effects of Desonix and your doctor may want to monitor you closely if you are taking these medicines (eg some medicines for HIV: ritonavir, cobicistat).
Pregnancy and breastfeeding
If you are pregnant or breast-feeding, think you may be pregnant, or are planning to have a baby, ask your doctor or pharmacist for advice before taking this medicine.

You should not use Desonix if you are pregnant unless you have discussed this with your doctor.

Budesonide passes into breast milk, but normal doses probably do not affect infants. Breastfeeding mothers can use Desonix, but only if the doctor has decided that the benefits to the mother outweigh the risks to the breastfed baby. Tell your doctor immediately if you are breast-feeding.
Driving and using machines
This medicine may cause blurred vision. If this happens to you, do not drive or use any machinery.

You are responsible for assessing whether you are fit to drive a motor vehicle or perform work that requires sharpened attention. One of the factors that can affect your ability in these respects is the use of drugs due to their effects and/or side effects. Descriptions of these effects and side effects can be found in other sections. Read all the information in this leaflet for guidance. If you are not sure, talk to your doctor or pharmacist.
Desonix contains potassium sorbate
Potassium sorbate is an ingredient in Desonix. It may irritate the skin or mucous membranes (eg contact dermatitis).

3. How to take Desonix
Always take this medicine exactly as described in this leaflet or as your doctor or pharmacist has told you. Ask your doctor or pharmacist if you are unsure.

Desonix is ​​intended for use in the nose. It should be sprayed into the nostrils as described below.

Dosage
Dose one should be adjusted to suit you. Use the lowest possible dose that still relieves your symptoms.

Starting dose
Adults, adolescents (12 years or older), and children over 6 years:
The recommended starting dose is a total of 8 sprays (256 micrograms) daily.

You can either take this medicine:
once daily by spraying 4 times in each nostril in the morning or
twice daily by spraying 2 times in each nostril in the morning and 2 times in each nostril in the evening.
Children should be treated under the guidance of an adult.

It is best if you can start taking this medicine up to 14 days before you expect your symptoms to start. Start taking this medicine about 2 weeks before your hay fever symptoms usually start to become a problem and stop taking this medicine when the allergy season is over.

Maintenance dose
It takes 7 to 14 days for the drug to work. If you get any effect within 14 days, consult a doctor.

Once the effect has been achieved, the lowest possible dose should be used, which still relieves your symptoms.
Using more than the recommended 8 sprays of this medicine every day does not take the medicine more effective.

Duration of treatment:
You must use the medicine regularly for it to work in the best way.
If you do not get any immediate relief, you should continue to take the medicine regularly as it may take a few days for it to start working.

How to take the medicine

1. If necessary, gently cheat so that the nose is clean.

2. Shake the bottle (Figure 1). Remove the protective cover.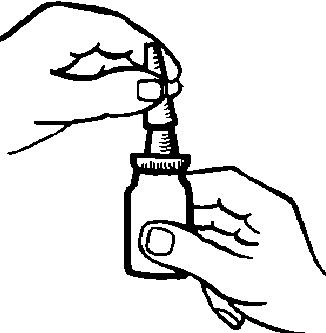 Figure 1

Hold the bottle as shown in Figure 2. Before using Desonix for the first time, you must charge the nasal applicator (ie fill it with medicine). Pump the nasal applicator up and down several times (5-10 times), spraying in the air until you get an even shower. The charging effect lasts for about 24 hours. If it takes longer before the next dose is taken, the nasal applicator must be charged (filled with medicine) again. If Desonix is ​​used at shorter intervals, it is sufficient to spray only once in the air.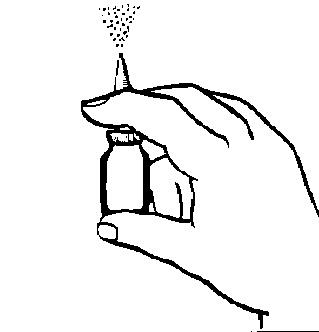 Figure 2

4. Insert the tip of the nasal applicator into the nostril according to Figure 3 and spray once (or more if your doctor has prescribed it). Use the spray in the other nostril in the same way. Remember that you do not need to inhale while spraying.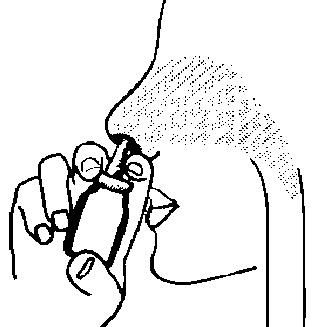 Figure 3

5. Wipe the tip of the nasal applicator with a clean paper towel and replace the protective cap.

6. Store the bottle in an upright position.

Cleaning your Desonix
You should clean the plastic tip of the nasal applicator on Desonix regularly and always when the spray from the medicine does not come out properly. If this happens, first check that the nasal applicator is loaded with medication (see the previous description). If the nasal applicator pump still does not work after recharging it, clean the nasal applicator as follows:
Remove the nasal applicator with a clean paper towel and rinse it in warm – not hot – water.
Rinse the nasal applicator thoroughly, dry it and then put it back on the top of the bottle.
Never attempt to clean the nasal applicator by using a needle or other pointed object.
After cleaning the nasal applicator, it must be recharged (filled with medicine) before it can be used.
If you take more Desonix than you should
You must take a dose as stated on the label on the package or as your doctor advised. Use only the amount prescribed by your doctor. Using too little or too much can make your symptoms worse.
If you take more Desonix then you should just continue with your usual dose. It is unlikely that you will have any medical problems.
But if you have taken more than 8 sprays per day for more than a month or if e.g. If a child has ingested the medicine by mistake, you should immediately contact a doctor, hospital, or the Poison Information Center for risk assessment and advice.
If you forget to take Desonix
If you forget to take your medicine on time, take it as soon as possible. Then go back to your regular dosing schedule. Never take more sprays per day than according to the dosing schedule to compensate for a missed dose.

If you have any further questions on the use of this product, ask your doctor or pharmacist.
4. Possible side effects
Like all medicines, this medicine can cause side effects, although not everybody gets them.
This medicine generally only treats symptoms that affect the nose (eg nasal congestion or runny nose). If you have previously been treated with steroid tablets or injections and your doctor has now prescribed this medicine instead, you may experience some other symptoms worsening (eg red and itchy eyes). If this happens, your doctor will need to treat these other symptoms differently.
Side effects of nasal corticosteroids are more likely to occur if you have used these medicines in high doses for several months.

The following side effects may occur during treatment with Desonix nasal spray:

Common (may affect up to 1 in 10 people)
These may occur immediately after the medicine has been used:
occasional sneezing, dry nose, or stinging sensation in the nose
slightly blood-mixed mucus from the nose
nosebleeds (immediately after application).
Uncommon (may affect up to 1 in 100 people)
swollen face, tongue and/or throat and/or difficulty swallowing or hives along with difficulty breathing ( angioedema ), in very rare cases a severe allergic reaction may occur: if this occurs, contact a doctor immediately
hives (itchy rash-like after burning yourself on stinging nettles)
rash
itching
skin irritation.
muscle spasm.
Rare (may affect up to 1 in 1,000 people)
anaphylactic reaction (severe allergic reaction )
osteoporosis (for long-term treatment)
bruises or bumps
increased pressure in the eyes
cloudy eye lens
dimsyn
areas with sores or soreness in the nose
perforation of the wall between the nostrils (nasal septum)
voice changes
slower growth in children and adolescents, especially after consuming high doses for a long time
Adrenal insufficiency: this can cause symptoms such as anorexia, abdominal pain, weight loss, nausea, headache, vomiting, decreased consciousness, low blood sugar, and seizures. Situations that could trigger an acute adrenal crisis are trauma, infection, surgery, or any form of rapid dose reduction. If you get these symptoms, contact your doctor immediately.
This medicine can cause side effects that affect the whole body, especially if used in high doses for a long time. However, these side effects are rare.

Potassium sorbate, an ingredient in this medicine, can irritate the skin or mucous membranes, for example on the inside of the nose.

5. How to store Desonix
Keep this medicine out of the sight and reach of children.

Do not use this medicine after the expiry date which is stated on the carton after EXP. The expiration date is the last day of the specified month.

Do not store above 30 ° C.
Do not freeze.

Discard opened bottle with remaining solution after 3 months.

Medicines should not be disposed of via wastewater or household waste. Ask your pharmacist how to dispose of medicines no longer required. These measures will help to protect the environment.
6. Contents of the packaging and other information
Content declaration
The active substance is budesonide
A dose of 0.05 ml (one spray) of this nasal spray suspension contains 32 micrograms of budesonide.
The other ingredients are:
Dispersible cellulose (microcrystalline cellulose and sodium carboxymethylcellulose [89:11, w / w])
Polysorbate 80
Potassium sorbate E202
Glucose, anhydrous
Disodium edit
Hydrochloric acid, concentrated
Ascorbic acid E300
Purified water
What the medicine looks like and the contents of the pack
Desonix is ​​a white homogeneous suspension.

Desonix is ​​supplied in a brown glass bottle with a plastic spray pump and a polypropylene nasal applicator. Pack sizes: 1 x 120 (1 x 10 ml) doses , 3 x 120 (3 x 10 ml) doses , 10 x 120 (10 x 10 ml) doses (prescription).

Not all pack sizes may be marketed.
Marketing Authorization Holder and Manufacturer
Marketing Authorisation Holder
Sandoz A / S, Edvard Thomsens Vej 14, 2300 Copenhagen S, Denmark

Manufacturer
Lek Pharmaceuticals dd, Verovškova 57, 1526 Ljubljana, Slovenia