10 mg / ml injection / infusion solution
Atracurium besilate
1. What Atracurium Kalceks is and what it is used for
Atracurium Kalceks belongs to a group of medicines called muscle relaxants.
Atracurium Kalceks is used to relax muscles during surgery and to help insert a trachea into the trachea and artificial respiration. It is also used as an aid in artificial respiration in patients undergoing intensive care.

Atracurium besylate contained in Atracurium Kalceks may also be approved for the treatment of other conditions not mentioned in this product information. Ask your doctor, pharmacist, or other healthcare professional if you have any further questions and always follow their instructions.

What you need to know before you are given Atracurium Kalceks
Atracurium Kalceks should not be given:
if you are allergic to atracurium besylate or any of the other ingredients of this medicine (listed in section 6).
If you think this may be true, talk to your doctor before taking Atracurium Kalceks.
Warnings and cautions
Talk to your doctor or nurse before using Atracurium Kalceks.
If you have any allergies or asthma;
If you have had an allergic reaction to another medicine reminiscent of Atracurium Kalceks which blocks the impulse conduction between a nerve and a muscle;
If you suffer from muscle weakness, fatigue, or if you have difficulty controlling your movements ( myasthenia gravis );
If you have a neuromuscular disease;
If you have heart disease or are sensitive to low blood pressure;
If you have a severe electrolyte disturbance (unusual levels of ions such as sodium, potassium, or chloride in the blood)
If you have recently suffered severe burns that required medical attention.
If you think any of these may apply to you, talk to a doctor.
Children
This medicine should not be used by infants less than 1 month of age.
Other medicines and Atracurium Kalceks
Tell your doctor if you are taking, have recently taken, or might take any other medicines. This also applies to over-the-counter medicines.

Some medicines may affect the effect of Atracurium Kalceks. Talk to your doctor if you are taking any of the following medicines:
anesthetics (used to reduce consciousness and pain during surgery), such as halothane, isoflurane, enflurane and ketamine.
antibiotics (used in the treatment of infections ) eg aminoglycosides, polymyxins, spectinomycin, tetracyclines, lincomycin, and clindamycin;
antiarrhythmics (used to regulate heart rhythm) eg propranolol, oxprenolol, calcium channel blockers, lidocaine, procainamide, and quinidine;
diuretics ( diuretics ) such as furosemide , mannitol, thiazides, and acetazolamide;
magnesium salts (used to prevent low levels of magnesium in the body);
drugs used in mental illnesses such as lithium and chlorpromazine;
drugs used to treat high blood pressure ( hypertension ) such as trimethaphan and hexamethonium;
drugs used to treat arthritis (anti-rheumatic drugs) such as chloroquine and penicillamine;
drugs used in Alzheimer's disease, such as donepezil;
steroids (used to treat inflammation in asthma ), such as prednisolone;
drugs used to treat seizures ( epilepsy ), such as phenytoin;
Pregnancy and breastfeeding
If you are pregnant or breast-feeding, think you may be pregnant or are planning to have a baby, ask your doctor for advice before using this medicine. Your doctor will decide if the benefits of Atracurium Kalceks outweigh the risks to your baby.

Atracurium Kalceks can be used during a cesarean section to maintain muscle relaxation.
Driving and using machines
Atracurium Kalceks has a major impact on the ability to drive and use machines. Consult a doctor when it is considered safe to drive and use machines again.
Do not drive or use machines in case of nausea.

You are responsible for assessing whether you are fit to drive a motor vehicle or perform work that requires sharpened attention. One of the factors that can affect your ability in these respects is the use of drugs due to their effects and/or side effects. Descriptions of these effects and side effects can be found in other sections. Read all the information in this leaflet for guidance. If you are not sure, talk to your doctor or pharmacist.

How to use Atracurium Kalceks
Atracurium Kalceks is used for procedures that require you to be put under anesthesia (unconscious) or severely anesthetized. This medicine will always be given under the supervision of an experienced doctor.

What dose is given
Your doctor will decide which dose of Atracurium Kalceks is right for you depending on:
your body weight;
how much muscle relaxation is required, and for how long;
your expected response to treatment with the drug;
How Atracurium Kalceks is given
Atracurium Kalceks is given to you by injection directly into a vein or as a continuous infusion (usually using an infusion pump) into a vein. In this case, the drug is given slowly over a period of time.

Instructions for opening the ampoule:
Turn the ampoule one by one with the colored part facing up. If the solution is in the upper part of the ampoule one, tap your fingers gently to bring the solution down into the lower part of the ampoule one.
Use both hands to open; while holding the lower part of the ampoule one with one hand, use the other hand to break off the upper part of the ampoule one in the direction away from the colored dot (see pictures below).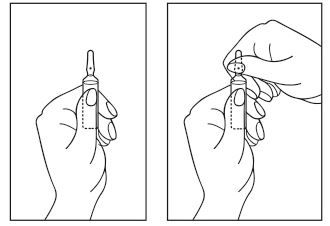 Use for children
Infants up to 1 month of age should not receive this medicine.
If you take more Atracurium Kalceks than you should
This medicine should only be given by a doctor with appropriate specialist knowledge of how to give it. Because this medicine is given to you when you are in hospital, it is unlikely that you will be given too much or too little medicine. However, always talk to a doctor or healthcare professional if you experience anxiety. In case you are given too large a dose, immediate action will be taken.
4. Possible side effects
Like all medicines, this medicine can cause side effects, although not everybody gets them.

If you experience any of the following side effects, talk to your doctor immediately:
Severe allergic reaction: you may experience sudden redness with itching ( hives ), swelling of the hands, feet, ankles, face, lips, mouth, or throat (which may cause difficulty swallowing or breathing), and you may feel dizzy.
shock;
heart failure;
cardiac arrest;
The above serious side effects are very rare. You may need urgent medical attention.
If you experience any of the following side effects, tell your doctor as soon as possible:

Common side effects are (may affect up to 1 in 10):
low blood pressure ( hypotension ), usually mild and transient;
reddening of the skin;
Less common side effects are (may affect up to 1 in 100)
– difficulty breathing and wheezing ( bronchospasm )

Has been reported (occurs in an unknown number of users)
– cramps;
– weak or dysfunctional muscles ( myopathy );

Reporting of side effects
If you get any side effects, talk to your doctor, pharmacist, or nurse. This includes any possible side effects not listed in this leaflet. You can also report side effects directly to the Medical Products Agency, www.lakemedelsverket.se. By reporting side effects, you can help increase drug safety information.
5. How to store Atracurium Kalceks
Keep this medicine out of the sight and reach of children.
Do not use this medicine after the expiry date which is stated on the label and carton after EXP. The expiration date is the last day of the specified month.

Store in a refrigerator (2 ° C – 8 ° C). Do not freeze.
Store in the outer carton. Sensitive to light.

For single use only. The product should be used immediately after opening.

The appearance of the product should be inspected before use. Only a clear solution free of foreign particles should be used.

Medicines should not be disposed of via wastewater or household waste. Ask your pharmacist how to dispose of medicines no longer required. These measures will help to protect the environment.
6. Contents of the packaging and other information
Atracurium Kalceks contains
The active substance is atracurium besylate.1 ml solution contains 10 mg atracurium besylate.Each ampoule (2.5 ml) contains 25 mg of atracurium besylate.Each ampoule (5 ml) contains 50 mg of atracurium besylate.
The other ingredients are benzenesulfonic acid (for pH adjustment), water for injections.
What Atracurium Kalcek looks like and contents of the pack
Ready to yellowish solution for injection/infusion, free from visible particles.
2.5 ml or 5.0 ml solution filled in a 5 ml color I ampoule glass ampoule .
Pack size: 1 or 5 ampoules.
Not all pack sizes may be marketed.
Marketing Authorization Holder and Manufacturer
AS KALCEKS
Krustpils iela 53, Rīga, LV ‑ 1057, Latvia
Tel .: +371 67083320
Email: kalceks@kalceks.lv

This medicinal product is authorized under the European Economic Area under the names:
| Bulgaria | Atracurium Kalceks 10 mg / ml Injection Injection / Infusion |
| --- | --- |
| Czech Republic | Atracurium Kalceks |
| Estonia | Atracurium besilate Kalceks |
| France | ATRACURIUM KALCEKS 10 mg / ml, injectable solution / for perfusion |
| Hungary | Atracurium besilate Kalceks 10 mg / ml oldatos injection / infusion |
| Ireland | Atracurium besilate 10 mg / ml solution forinjection / infusion |
| Latvia | Atracurium besilate Kalceks 10 mg / ml šķīdums injekcijām / infūzijām |
| Lithuania | Atracurium besilate Kalceks 10 mg / ml injekcinis ar infuzinis tirpalas |
| Netherlands | Atracurium Kalceks 10 mg / ml solution for injection / infusion |
| Poland | Atracurium Kalceks |
| Romania | Atracurium Kalceks 10 mg / ml injectable / perfusible solution |
| Slovakia | Atracurium Kalceks 10 mg / ml injectable / infused solution |
| | |
| UK | Atracurium besilate 10 mg / ml solution for injection / infusion |