Inhalation powder, divided dose 50 micrograms / 250 micrograms / dose
(White, homogeneous powder. The powder is contained in a foil strip in divided doses and is inhaled from a purple plastic dry powder inhaler.)
1. What Airflusal Forspiro is and what it is used for
Airflusal Forspiro is used to treat:
This medicine contains two active substances:
Salmeterol: a long-acting tracheal dilator
Fluticasone: a corticosteroid ( cortisone ) that reduces swelling and inflammation in the lungs
Salmeterol and fluticasone contained in Airflusal Forspiro may also be approved for the treatment of other conditions not mentioned in this product information. Ask your doctor, pharmacist, or another healthcare professional if you have any further questions, and always follow their instructions.
2. What you need to know before using Airflusal Forspiro
Do not use Airflusal Forspiro
if you are allergic to salmeterol, fluticasone, or any of the other ingredients of this medicine (listed in section 6).
Warnings and cautions
Talk to your doctor or pharmacist before using Airflusal Forspiro if you have:
heart disease, e.g. fast or irregular heartbeat
overactive thyroid gland
high blood pressure
diabetes
low potassium in the blood
or have had tuberculosis or other infection in your lungs.
Contact a doctor if you experience blurred vision or other visual disturbances.
Airflusal Forspiro prevents shortness of breath and wheezing. The medicine does not help if you already have shortness of breath or wheezing.

If you have such a bout of shortness of breath, take a short-acting bronchodilator that provides a quick effect, e.g. salbutamol.
Contact your doctor immediately if your asthma worsens or you have difficulty breathing. Signs may be that:
your breathing becomes more wheezing
you feel pressure over your chest more often
you need to use more of your short-acting bronchodilators
Continue to use Airflusal Forspiro if any of these occur, but do not increase the number of inhalations. Your condition may worsen and you may become seriously ill. Talk to a doctor, as you may need additional treatment.
Children and young people
Airflusal Forspiro is not recommended for children under 12 years.
Other medicines and Airflusal Forspiro
Tell your doctor or pharmacist if you are taking, have recently taken, or might take any other medicines, including medicines obtained without a prescription.
The following medicines may affect or be affected by Airflusal Forspiro:
medicines for high blood pressure, heart disease, or other diseases with active substances ending in "lol" ( beta-blockers ), e.g. atenolol, propranolol, and sotalol
drugs against viruses, e.g. certain anti- HIV drugs, such as ritonavir or cobicistat; Your doctor may want to monitor you closely if you are taking these medicines.
drugs against fungal infections, e.g. ketoconazole, itraconazole, and erythromycin
cortisone (orally by mouth or injection ): medicines that treat inflammation or prevent transplant rejection
diuretics, also known as diuretics, are used to treat high blood pressure
other bronchodilators (eg salbutamol )
xanthines. These are often used to treat asthma.
Pregnancy, breastfeeding, and fertility
If you are pregnant or breast-feeding, think you may be pregnant or are planning to have a baby, ask your doctor or pharmacist for advice before taking this medicine. Your doctor will decide if you can take Airflusal Forspiro in this case.
Driving and using machines
It is unlikely that Airflusal Forspiro would affect your ability to drive or use machines.

You are responsible for assessing whether you are fit to drive a motor vehicle or perform work that requires sharpened attention. One of the factors that can affect your ability in these respects is the use of drugs due to their effects and/or side effects. Descriptions of these effects and side effects can be found in other sections. Read all the information in this leaflet for guidance. If you are not sure, talk to your doctor or pharmacist.
Airflusal Forspiro contains excipients
If you have been told by your doctor that you have an intolerance to some sugars, contact your doctor before taking this medicine.
This amount normally does not cause any problems for lactose intolerant individuals.
3. How to use Airflusal Forspiro
Always use this medicine exactly as your doctor has told you. Ask your doctor or pharmacist if you are unsure.
asthma recommended dose for adults and children over 12 years is:
1 inhalation 2 times daily.
Your doctor will monitor your asthma symptoms regularly.
If the symptoms are well controlled when you take Airflusal Forspiro twice a day, your doctor may reduce the dose once to once a day:
1 time in the evening if you have problems at night
Once in the morning if you have problems during the day
Method of use
Use Airflusal Forspiro every day as prescribed by your doctor, preferably just before a meal in the morning and/or in the evening.
Rinse mouth with water after use.

If you do not use Airflusal Forspiro correctly or as prescribed, your breathing difficulties may get worse. To achieve optimal treatment results, you must use Airflusal Forspiro every day even if you have no symptoms.

Instructions for use
Doctors, nurses, or pharmacists should show you how to use the inhaler and regularly check how to use it.
The inhaler contains 60 doses in powder form in a rolled foil strip. The inhaler has a dose counter that counts down from 60 to 0 and shows how many doses you have left. When the number of remaining doses is 10 or less, the numbers are given against a red background.
The inhaler cannot be refilled – therefore discard the inhaler when it is empty and replace it with a new one.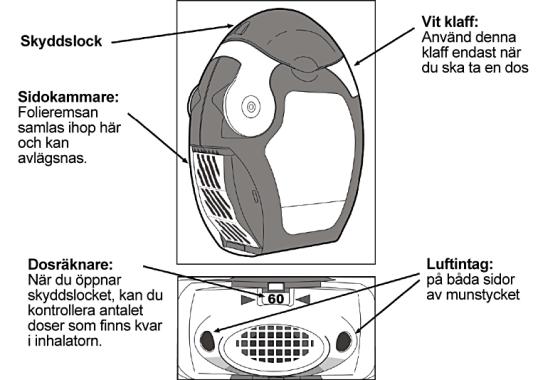 Before using the inhaler
Open the transparent door to the side chamber.
Remove the piece of foil strip located in the side chamber by carefully tearing off the entire strip against the "teeth" on the side of the chamber. See the picture below. Do not pull or pull on the strip.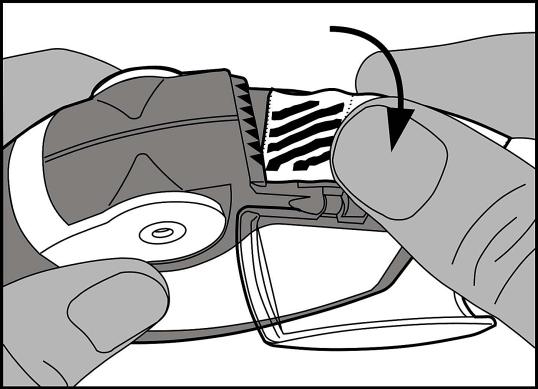 Close the side chamber door and discard the used foil strip. Note: When you use the inhaler, the side chamber will eventually be filled with the foil strip used. The foil strips marked with black lines do not contain any medicine. Eventually, numbered sections of the foil strip will appear in the side chamber. Do not allow more than 2 sections of the foil strip to collect in the side chamber. Otherwise, the inhaler may become clogged. Carefully tear off the strip as shown in the picture above. Dispose of the strip safely.
How to use the inhaler
Hold the inhaler as shown in the pictures.
1. Open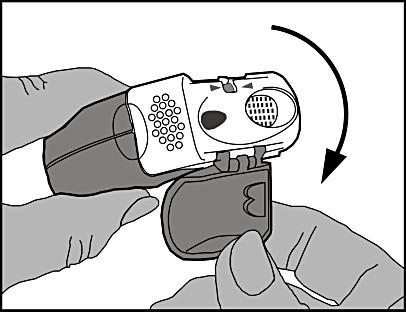 Open the protective cover downwards for the nozzle to come out.
Check the dose counter to see how many doses you have left in the inhaler.
2. Prepare dosage one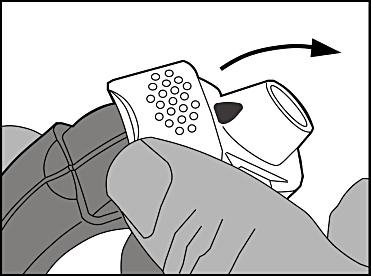 Lift up the end of the white flap. Make sure the side chamber is closed. Note: Use the white flap only when you are ready to inhale a dose of the medicine in the inhaler. If you play with the white flap, drug doses in the inhaler will be lost.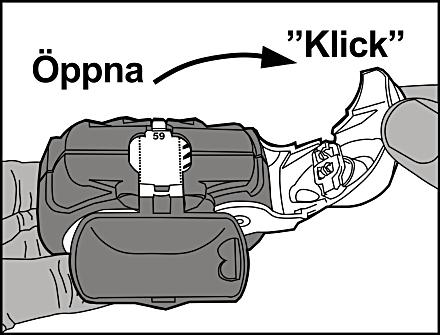 Open: Turn the white flap to the outer position until you hear a click. This movement moves a new dose in the correct position with the number facing up.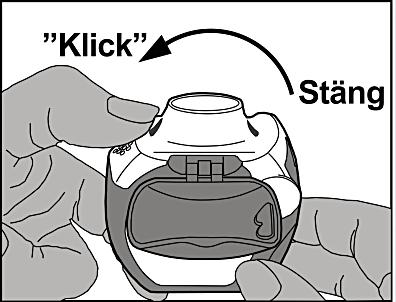 Close: Then close the white flap completely so that it returns to its original position with one click. The inhaler is now ready for immediate use.
3. Inhale
Exhale as much as you can without feeling uncomfortable. The exhalation should be with the mouth away from the mouthpiece. Never exhale through the inhaler, as this may affect the dosage.
Hold the inhaler so that the protective cap points downwards.
Close your lips tightly around the nozzle.
Inhale evenly and deeply though the inhaler, not through the nose.
Remove the inhaler from your mouth and hold your breath for 5-10 seconds or as long as you can without feeling uncomfortable.
Then exhale slowly, but not through the inhaler.
Place the protective cap on the nozzle.
Rinse your mouth with water and spit it out. This reduces the risk of fungal infection in the mouth and hoarseness.
Cleaning
If necessary, wipe the outside of the nozzle with a clean, dry cloth.
Do not attempt to disassemble the inhaler to clean it or for any other purpose!
Do not use water or damp cloths to clean the inhaler parts, as moisture can affect the dosage.
Never insert a needle or other sharp object into the mouthpiece or any other part of the inhaler, as the inhaler may be damaged!
Symptoms of overdose are:
dizziness
headache
fast pulse
muscle weakness
joint pain
feeling of shakiness
If you have been taking more medicines for a long time, talk to your doctor or pharmacist. Larger amounts of Airflusal Forspiro may reduce the production of steroid hormones in the adrenal glands.
If you forget to use Airflusal Forspiro
Do not take a double dose to make up for a forgotten dose. Take the next dose at the usual time.
If you stop using Airflusal Forspiro
Do not suddenly stop taking Airflusal Forspiro and do not reduce the dose without your doctor's permission, as this may aggravate your breathing difficulties and in rare cases cause side effects, such as:
abdominal pain
fatigue and loss of appetite, nausea
nausea and diarrhea
weight loss
headache or drowsiness
low blood sugar levels
low blood pressure and seizures
In very rare cases of infection or if you are exposed to extreme stress (such as in a serious accident or surgery) you may also experience similar side effects. To prevent this, your doctor may prescribe extra cortisone supplements (such as prednisolone ).
If you have any further questions on the use of this product, ask your doctor or pharmacist.
4. Possible side effects
Like all medicines, this medicine can cause side effects, although not everybody gets them.
Allergic reactions: You may suddenly notice difficulty breathing after taking Airflusal Forspiro. Your breathing becomes wheezing or you experience coughing, itching, rash ( hives ), swelling (usually on your face, lips, tongue, or throat), or you may suddenly feel your heart beating very fast or feel weak and dizzy (like may lead to collapse or unconsciousness). Contact a doctor immediately if you notice any of this, especially if it happens suddenly after taking Airflusal Forspiro. Allergic reactions are less common (may affect up to 1 in 100 people).

Other side effects may occur with the following frequencies:

Very common, may affect more than 1 user in 10
Headache
Usually disappears after a certain period of use.
More cold spells in patients with chronic obstructive pulmonary disease (COPD)
Common, may affect up to 1 in 10 users
Fungal infection (so-called cod, appears as sore, yellowish, raised spots) in the mouth and throat. Irritation of the tongue and throat and hoarseness. The risk of fungal infection is reduced if you rinse your mouth with water (and spit it out immediately) and/or brush your teeth after each inhalation. Your doctor may prescribe a medicine for the fungal infection.
Painful, swollen joints and muscle aches
Muscle cramps
The following side effects have also been reported in patients with chronic obstructive pulmonary disease (COPD):
Pneumonia ( infection of the lungs). Tell your doctor if you have any of the following symptoms while taking Airflusal Forspiro as they may be symptoms of pneumonia: Increased mucus production changed the color of the mucus- Fever- Frossa- Increased cough- Increased difficulty breathing
Bruises and broken bones
Sinusitis
Decreased potassium levels in the blood (which can cause irregular heartbeats, muscle weakness, and/or cramps)
Uncommon, may affect up to 1 in 100 people
Very fast heartbeat ( tachycardia )
Feeling of shaking, fast or irregular heartbeat ( palpitation )This is usually harmless and disappears after a certain period of use.
The feeling of anxiety occurs mainly in children.
High blood sugar (hyperglycemia)
If you have diabetes, you may need to do more frequent blood sugar checks and possibly change your usual diabetes treatment.
Difficulty sleeping
Allergic skin rash
Chest pain
Clouding of the lens of the eye ( cataract )
Rare may affect up to 1 in 1,000 people
Difficulty breathing or wheezing that worsens shortly after taking Airflusal Forspiro. Stop taking Airflusal Forspiro. Use the inhaler with the fast-acting bronchodilator medicine and contact a doctor immediately.
Abnormal production of certain hormones, especially if you have been taking high doses for a long time.
Signs of this are:- Delayed height growth in children and adolescents- Reduced bone density- Cataracts ( glaucoma )- Weight gain- Moon face (Cushing's syndrome)Your doctor will monitor your treatment regularly to make sure you are taking the lowest dose that keeps your asthma under control to reduce the risk of these side effects.
Behavioral disorders, e.g. overactivity and irritation
Occurs mainly in children.
Irregular heartbeats or extra heartbeats
Tell your doctor but do not stop taking Airflusal Forspiro until your doctor advises you to stop.
A fungal infection of the esophagus can cause difficulty swallowing.
Has been reported (occurs in an unknown number of users):
Depression or aggressionThese side effects are seen mainly in children.
Tamsyn
Reporting of side effects
If you get any side effects, talk to your doctor, pharmacist, or nurse. This includes any possible side effects not listed in this leaflet. You can also report side effects directly to the Medical Products Agency, www.lakemedelsverket.se. By reporting side effects, you can help increase drug safety information.
5. How to store Airflusal Forspiro
Keep this medicine out of the sight and reach of children.
Do not store above 25 ° C.
Do not use this medicine after the expiry date which is stated on the label/carton after EXP or EXP. The expiration date is the last day of the specified month.
Medicines should not be disposed of via wastewater or household waste. Ask your pharmacist how to dispose of medicines no longer required. These measures will help to protect the environment.
6. Contents of the packaging and other information
Content declaration
Airflusal Forspiro 50 micrograms / 250 micrograms inhalation powder, divided dose:
The active substances are salmeterol and fluticasone. A divided dose of Airflusal Forspiro contains 50 micrograms salmeterol (as salmeterol xinafoate) and 250 micrograms fluticasone propionate. This corresponds to an inhaled dose of:
45 micrograms salmeterol (as salmeterol xinafoate) and 233 micrograms fluticasone propionate.

The other ingredient is lactose monohydrate.
What the medicine looks like and the contents of the pack
The purple plastic dry powder inhaler contains 60 doses of your powder mixture in an aluminum foil strip.
Each dose is divided.
Pack sizes:
1, 2, 3, 4, 5, 6 or 10 inhaler (s) containing 60 doses .
Not all pack sizes may be marketed.
Marketing Authorization Holder and Manufacturer
Marketing Authorisation Holder
Sandoz A / S, Edvard Thomsens Vej 14, 2300 Copenhagen S, Denmark

Manufacturer
Aeropharm GmbH, Francois-Mitterrand-Allee 1, 07407 Rudolstadt, Germany
Tags:
Airflusal Forspiro
,
benefits of Airflusal Forspiro
,
benefits of Fluticasone propionate
,
fluticasone propionate
,
Fluticasone propionate powder
,
Salmeterol
,
Salmeterol benefits
,
Salmeterol side effects
,
side effects of Airflusal Forspiro
,
side effects of Fluticasone propionate
,
what Airflusal Forspiro is used for
,
what Fluticasone propionate is used for
,
what is Airflusal Forspiro
,
what is Salmeterol
,
what Salmeterol is used for