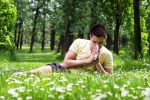 Pollen allergy, also called hay fever, causes problems such as red, itchy eyes, nasal congestion, repeated sneezing, and runny nose. How severe the problems you get depends on how sensitive you are and how much and what types of pollen are in the air.
The pollen season lasts from early spring to late autumn and varies depending on where in the country you live in. Prescription drugs can often alleviate the hassle, but not always completely remove them.
Symptoms of pollen allergy
In the case of pollen allergy, it is common for you to have one or more symptoms:
You have both watery snout and nasal congestion.
You sneeze a lot.
You have itching in your nose.
You get red, itchy eyes that flow.
You may feel tired. Pollen allergy, also called hay fever, causes problems such as red, itchy eyes, nasal congestion, repeated sneezing, and runny nose. How severe the problems you get depends on how sensitive you are and how much and what types of pollen are in the air.
You have both watery snout and nasal congestion.
You sneeze a lot.
You have itching in your nose.
You get red, itchy eyes that flow.
You may feel tired.
Pollen allergy can also affect the trachea. You may get coughing and shortness of breath, which is usually worse if you exert yourself.

The trouble begins during the pollen season. In spring, birch pollen is most common, and in summer, grass pollen is most common. If you are allergic to gray pollen, it is common to have problems during the late summer.
Pollen allergy is similar to the common cold. But when you have a cold, you also often get sore throats, sometimes thick yellow fever and sometimes high fever, which you do not get in case of pollen allergy. In addition, the symptoms of pollen allergy can vary from day to day and last for a longer period of time than colds.
What can I do for myself?
Often it is difficult to avoid pollen because it is spread by the wind. Keep this in mind:
Whether the bedroom at night or early in the morning when the pollen levels are low.
Do not hang clothes or bedding on-air or dry outside.
Exercise outdoors in the morning while the dew still binds pollen or completely avoids exercising outdoors.
Avoid being on a newly mowed lawn or mowing the grass when it is dewy.
Rinse pollen from your hair before going to bed.
Do not take in plants with pollen indoors.
Avoid contact with pets that have been out and received pollen in their fur.
Have the windows closed during the day?
Change clothes when you have been outdoors.
Follow the pollen forecasts to be prepared for high pollen levels in the air.
Pollen allergy is exacerbated by tobacco smoke. Therefore, it is good to avoid smoking and to be in smoky environments.
Investigations
The symptoms of pollen allergy are usually easy to recognize. In most cases, you do not need to do any special allergy test to know what has caused the trouble. If your doctor is unsure, you can still have a test, either a blood test or a so-called dot test. Both test methods measure if you have allergy antibodies and produce equally safe results.
Treatment for pollen allergy
Without treatment, many may feel that hassles affect everyday life. For example, children with pollen allergy tend to be more difficult to manage school work during the pollen season.

The goal of the treatment is that you should be trouble-free throughout the pollen season. At the pharmacy, you can get advice on appropriate prescription drugs for treating eye and nose problems. Often you can manage the treatment yourself and become completely symptom-free with the help of prescription drugs.
Read more about pollen allergy medicines and allergen immunotherapy.
What is pollen allergy?
An allergy means that you are hypersensitive to any substance, a so-called allergy. It is a substance that is completely harmless to most, but that causes some people to have allergic problems.
In those who are prone to allergies, the body can begin to produce allergy antibodies, called IgE. IgE antibodies can be formed against many different substances, such as cat allergens and pollen. Cat allergens and pollen are found everywhere in our environment, both in homes and schools.
The antibodies attach to the surface of some cells in the body that contain histamine and other irritants. The next time the allergenic substance enters the body, it sticks to the antibodies and causes the cells to release the irritating substances. These substances lead to the allergic reaction: runny nose, sneezing, itching of the nose and eyes, asthma.
Pollen allergy is common
During spring and summer, about one-fifth of all teenagers and adults suffer from pollen disorders. Most people react to birch and grass pollen. But even pollen from the herb gourd and other plants can cause allergies. The number of people with a pollen allergy has increased, although the increase seems to have stopped somewhat recently. The reason for the increase is unclear.
Most often, the problems start at school age or early adulthood and decrease with age. After the middle age, pollen allergy is not usually that troublesome.
Pollen season varies
The birch pollen season usually begins in early April. In northern Europe, it starts in mid or late April and in the north a little later. It usually takes two to three weeks to differentiate between the pollen season in southern and northern.
Many people who are allergic to birch pollen are also allergic to al- and hazel pollen, which is present in the air considerably earlier. Hasselpollen is already available from the end of February and the pollen from the middle of March. In June, the levels of birch pollen decrease, but instead the amount of grass pollen increases and will remain until August.
In late summer from the end of July and throughout August, grayling blooms. It is a herb plant that is common at ditches and roadsides. Gray allergy can cause symptoms as early as September. Although birch and grass pollen allergy is most common, many have problems throughout the pollen season, from March to August.
The largest amount of pollen comes from conifers. But pollen from spruce and pine is not allergenic.
Pollen levels in the air vary from day to day, but also between different years. There is mostly pollen in the air when it is rainy and windy, while it will be low in cold and rainy days.
Why do I become allergic?
The risk of getting pollen allergy increases if one or both parents have or have had an allergy, but many suffer from problems without a close relative or have had allergy problems.
Why some people become allergic is not clear and you can not prevent a pollen allergy. However, it is possible to relieve the symptoms with drugs and by trying to reduce contact with what you are allergic to.
Anyone who is pollen allergic can get asthma
Sometimes you may get coughing or shortness of breath during the pollen season. This may be because the allergy causes asthma problems. Typical symptoms of asthma due to pollen are that you get persistent coughing, difficulty breathing and wheezing. Most commonly, you get asthma symptoms on days when there is a lot of pollen in the air. You may also have asthma problems when exercising during the pollen season. It is important to contact a doctor at a health center or a specialist clinic if you have asthma due to pollen. The doctor can then help you with the appropriate medication.
Common with food allergy
Two out of three who are allergic to birch pollen have one or more cross allergies, that is, are also hypersensitive to certain foods. Cross allergy is due to the fact that there are substances in certain foods that are similar to the allergenic substances in birch pollen. Grass pollen and gray pollen can also cause cross-allergy to foods.

The most common symptoms of cross allergy are usually itching in the mouth. Lips can swell, as will the mucous membrane of the mouth and throat. Some also have trouble with the eyes and nose itching and flowing.

Cross allergy to birch is caused by nuts, such as hazelnuts, peanuts, soy, apples and so-called stone fruits, such as cherries, pears, plums, peach, and apricots. Those who have a cross allergy can also get symptoms from carrots and from peeling raw potatoes.

There are cross allergies between grass pollen and wheat, peas, peanuts, and soy, among other things, but it is unusual for you to get symptoms of these foods because you are cross allergic to grass pollen.

There is also a cross allergy to the gray pollen, and then you can react to for example parsley, coriander, celery. and carrots. It is also much more unusual than a cross allergy to birch pollen.

It is unusual for cross allergy to cause severe allergic reactions. This is because the cross-reacting substances are very sensitive and quickly break down in the stomach and intestines. Large quantities of cross-reactive foods have exceptionally caused serious reactions during the pollen season, especially during concomitant exertion.

Avoid eating things that you get the trouble of. Because allergies that cross-react with birch pollen are usually destroyed by heat, you can usually eat the food if it is cooked. However, this does not apply to nuts.