Espranor 2mg and 8 mg Freeze-dried tablet Buprenorphine
1. What is Espranor And What Is Espranor 8 mg Used For?
What Is Espranor 8 mg Used For?
Espranor freeze-dried tablet is melts quickly on the tongue.
Espranor 8 mg used for adults and adolescents over the age of 15, as part of a medical, social, and psychological treatment program for addiction.
Espranor 2mg contains buprenorphine, which is a painkiller opioid (a narcotic). When used to treat patients who are addicted to opiates (drugs), e.g. morphine or heroin, it acts as a substitute for these drugs and thus helps the patient to be weaned from them over a period of time.

If treatment is stopped quickly, withdrawal symptoms may occur.
Espranor 2mg can not be replaced with other oral buprenorphine products, and dose one may differ from dose one of other buprenorphine products.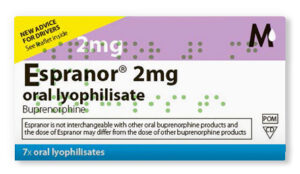 2. What You Need To Know Before Taking Espranor Tablets
Do Not Take Espranor
If you are allergic (hypersensitive) to buprenorphine or any of the other ingredients of espranor 8 mg.
If you have severe breathing problems
If you have severe liver problems
If you are addicted to alcohol or suffer from acute alcoholism, including delirium or hallucinations
if you are pregnant (unless your doctor tells you to)
Warnings And Cautions
Talk to your doctor, pharmacist, or nurse before taking Espranor:
If you suffer from breathing problems, e.g. asthma
If you have liver problems
If you have kidney problems
If you have low blood pressure
If you have a recent head injury or brain disease
If you have urinary tract problems (especially associated with an enlarged prostate in men)
If you have thyroid problems
If you have adrenocortical disorders (eg Addison's disease )
If you are breast-feeding
If any of the above apply to you, talk to your doctor before taking Espranol as your doctor may need to lower your dose of Espranor, or you may need extra treatment to control it.
Important Things To Keep In Mind:
Extra Follow-up
Your doctor can follow you up more closely if you are under 18 years of age. Espranor Tablets should not be given to children or adolescents under 15 years of age.
Misuse And Abuse
This medicine may be desirable for people abusing prescription drugs and should be stored safely to protect it from theft. Never give the medicine to anyone else; it could lead to death or injury.
Respiratory Problems
Some people have died of respiratory depression (severe difficulty breathing) due to misuse of this drug or taking it together with drugs that affect the central nervous system. Alcohol, benzodiazepines (sedatives), or other opioids.
This medicine can cause severe, possibly fatal respiratory paralysis (difficulty breathing) in children and people who do not have an addiction and take medicine intentionally or unintentionally.
Dependent
This medicine may be addictive.
Withdrawal Symptoms
This medicine may cause withdrawal symptoms if you take it earlier than 6 hours after using a short-acting opioid (eg morphine or heroin) or earlier than 24 hours after using a long-acting opioid such as methadone.
This medicine can also cause withdrawal symptoms if you suddenly stop taking it.
Liver Damage
Liver damage has been reported with the use of this medicine, especially if the medicine is used incorrectly. This liver damage can also be due to viral infections ( chronic hepatitis C), alcohol abuse, anorexia, or the use of other drugs that can damage the liver (listed in section 4). Doctors may perform regular blood tests to monitor the condition of your liver. Tell your doctor if you have liver problems before starting treatment with Esprinol.
Blood Pressure
This medicine may cause your blood pressure to drop rapidly, making you feel dizzy if you get up quickly from a sitting or lying position.
Diagnosis Of Unrelated Medical Conditions
This medicine can hide pain which is a sign of certain diseases. Remember to tell your doctor that you are taking this medicine.

Other Medicines And Espranor
Tell your doctor or pharmacist if you have recently taken, or might take any other medicines.
The following medicines have sedative effects (they may make you drowsy/drowsy). These effects are enhanced if you take these medicines while you are being treated with Espranor:

Benzodiazepines (medicines used to treat anxiety or sleep disorders) e.g. diazepam (valium). Your doctor will prescribe the right dose for you. If you take the wrong dose of benzodiazepines, you may die from respiratory failure (inability to breathe).
Barbiturate is, e.g. phenobarbital.
Other opioids are opioid derivatives, e.g. morphine, strong painkillers, or cough medicines.
Certain antidepressants, e.g. fluoxetine
Monoamine oxidase inhibitors ( MAOIs ) (drugs used to treat major depression), e.g. phenelzine.
Drugs that cause drowsiness, e.g. antihistamines or sedatives.
Some medicines for high blood pressure.
Antipsychotic drugs (drugs used for certain mental illnesses). If you are taking any of the following medicines, your doctor may need to lower the dose of one of your Espranor:
Ketoconazole (a medicine used to treat fungal infections and may increase the amount of Espranor in the blood if both are taken simultaneously).
Gaston (found in some birth control pills ).
Drugs used against HIV, e.g. ritonavir, indinavir, and saquinavir.
Fenprocumon (a blood-thinning drug). If you are taking any of the following medicines, your doctor may need to increase the dose of one of your Espranol:
Enzyme inducers, e.g. phenobarbital, carbamazepine, phenytoin, and rifampicin. Naltrexone can prevent the treatment effects of Esprinol. If you are currently taking Espranor Tablets while taking naltrexone, you may suddenly experience prolonged and intense abstinence. Tell your doctor or pharmacist if you are taking or have recently taken any other medicines, including medicines obtained without a prescription.
Espranor With Food, Drink, And Alcohol
Espranor should not be taken with food or drink.
You should not drink alcohol or take any medicines containing alcohol while taking Espranor as it will increase the risk of
Drowsiness
Respiratory depression (Inability to breathe)
Fatal overdose
Pregnancy, Breastfeeding, And Fertility
If you are pregnant or breastfeeding, think you may be pregnant, or are planning to have a baby, ask your doctor or pharmacist for advice before taking this medicine.
If you become pregnant while treated with Espranor, tell your doctor immediately.
As Esprinol passes into breast milk, you should not breastfeed while taking this medicine.
Ask your doctor or pharmacist for advice before taking any medicine.

Driving And Using Machines
This medicine may cause drowsiness, which may be aggravated if you drink alcohol or take sedatives or anxiolytics. If you are drowsy, do not drive or use machines.
One of the factors that can affect your ability to drive or use machines is the use of medicines due to their effects and/or side effects.
Descriptions of these effects can be found in other sections. Read all information in this leaflet for guidance. If you are unsure, talk to your doctor, pharmacist, or nurse.

Espranor Contains Aspartame
This medicine contains 0.5 mg aspartame in each 2 mg lyophilized tablet.
This medicine contains 2 mg aspartame in each 8 mg lyophilized tablet.
Aspartame is a source of phenylalanine. 
It can be harmful if you have phenylketonuria (PKU), a rare, inherited disease that accumulates high levels of phenylalanine in your body.
3. How To Take Espranor
Always take Espranor exactly as your doctor has told you. Ask your doctor or pharmacist if you are unsure.
When Can You Start Taking Espranor?
Start treatment with Espranor if you are addicted to heroin or a short-acting opioid – take your first dose of Espranol at least 6 hours after you last used an opioid or when you experience withdrawal symptoms.

Start treatment with Espranor Tablets if you are addicted to methadone or a long-acting opioid – do not start treatment with Espranor until your daily dose of methadone is 30 mg daily or less. The first dose of Espranor should be taken when signs of abstinence occur but not less than 24 hours after the last use of methadone.

During the first 24 hours, it may feel uncomfortable with some mild symptoms of opiate withdrawal, e.g. sweating, and nausea (see section 4 Possible side effects ).

How Much Medicine Should You Take
Your doctor will decide which dose you need to start treatment with.
During treatment, your doctor will adjust the dose depending on how you react. The highest possible dose is 18 mg per day. After a period of successful treatment, your doctor may gradually lower your dose and, depending on your condition, discontinue it completely.
You should not suddenly stop taking Espranor as it may lead to withdrawal symptoms.

Instructions For
Take Espranor by placing the tablet ON the tongue, not under the tongue.
Espranor is sensitive to moisture. Make sure your hands are dry before handling the lyophilized tablet. Take the lyophilized tablet by following the instructions below:
1. Tear off a box from the blister pack along the perforated lines.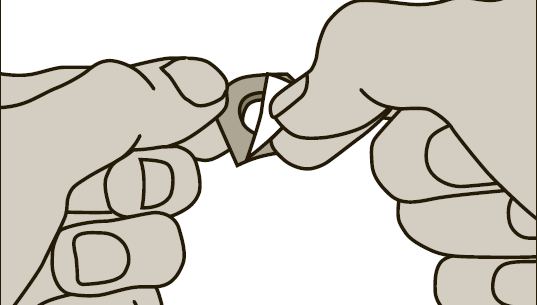 2. The foil is easy to pull off. Do not push the lyophilized tablet through the foil as it is brittle and may break easily. Instead, fold up the foil and then pull it off.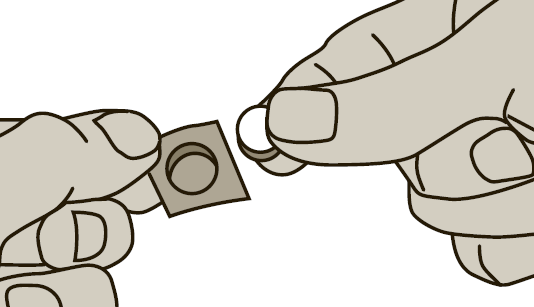 3. Carefully remove the lyophilized tablet from the foil and remove it from the package immediately.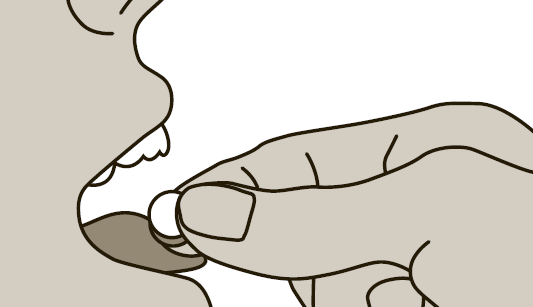 4. Place the tablet on your tongue and close your mouth. Leave it for a few seconds until it is dissolved. Try to avoid swallowing for the first 2 minutes. Avoid eating or drinking for at least 5 minutes.

If You Take More Espranor Then You Should
If you have ingested too much medicine or if e.g. a child ingested the medicine by mistake, contact a doctor, hospital, or the Poison Information Center for risk assessment and advice. Remember to take the pack and the rest of the freeze-dried tablets with you.

If You Forget To Take Espranor
Tell your doctor and follow your doctor's instructions. Do not take a double dose to make up for a forgotten dose unless your doctor tells you to.

If You Stop Taking Espranor
You should not suddenly stop taking the tablets unless your doctor has told you to, as it may cause withdrawal symptoms.
If you have any further questions about the use of this product, ask your doctor or pharmacist.

4. Possible Espranor Side Effects
Espranor Side Effects like all medicines, although not everybody gets them.
During the first 24 hours of treatment, it may feel uncomfortable with some mild symptoms of opiate withdrawal.
Contact your doctor immediately or seek emergency medical attention if you experience unusual side effects, such as:
Swelling of the face, lips, tongue, or throat may make it difficult to swallow or breathe, or severe hives. This may be a sign of a life-threatening allergic reaction.
You feel sleepy or have difficulty coordinating your movements, have blurred vision, slurred speech, have difficulty thinking logically or clearly, or your breathing becomes much slower than normal for you.

Also, tell your doctor immediately if you get any unusual side effects, such as:
Severe fatigue, itching with yellow skin or yellow whites of the eyes. This may be a sign of liver damage.
To see or hear things that do not exist (hallucinations)
A very common side effect (which can occur in more than 1 in 10) includes:
Insomnia, constipation, nausea or vomiting, sweating, headache, withdrawal syndrome.
Common side effects of espranor (may affect up to 1 in 10) are:
Weight loss, swelling (in hands and feet), fatigue, drowsiness, anxiety, nervousness, crawling, depression, decreased sexual drive, increased muscle tension, abnormal thinking.
Increased tearing (watery eyes) or other tearing disturbances, blurred vision, redness.
High blood pressure, fast heartbeat, dilated blood vessels, migraine.
Cold, sore throat and difficulty swallowing, worsening cough.
Anxious stomach or other stomach problems, diarrhea, abnormal liver function, gas, vomiting.
Numbness in the tongue or mouth, skin rash, itching, hives.
Pain, joint pain, muscle pain, leg cramps (muscle spasm), difficulty getting or maintaining an erection, abnormal urine, abdominal pain, back pain, and weakness.
Infection, chills, chest pain, fever, flu-like symptoms, and general malaise.
Body injury is caused by impaired alertness or coordination, weakness and dizziness, drop in blood pressure when changing posture from sitting or lying to standing.
Less common espranor side effects (which may affect up to 1 in 100 people) are:
Swollen glands, agitation, tremors, abnormal dreams, excessive muscle activity.
Feeling of not being yourself, drug addiction, amnesia (memory disorder), indifference, excessive sense of well-being.
Seizures (seizures), speech disorder, small pupils, difficulty urinating, eye inflammation, or eye infection.
Fast or slow heartbeat, low blood pressure, myocardial infarction (heart attack), chest tightness, shortness of breath, asthma, yawning.
Pain and sores in the mouth, discolored tongue, acne, lumps in the skin, hair loss, dry or scaly skin.
Inflammation of joints, urinary tract infection, abnormal blood tests, loss of appetite, blood in the urine, abnormal ejaculation, menstrual or vaginal problems, and kidney stones.
Sensitivity to heat or cold, heatstroke, feelings of hostility.
Rare side effects (which may affect up to 1 in 1000 people) are:
Slow or strenuous breathing, liver damage with or without jaundice, swelling of the face and throat, or life-threatening allergic reactions.
Side effects without a known frequency (which cannot be calculated from the available data) include:
Sudden withdrawal syndrome caused by taking Esprinol prematurely after using illegal opioids, withdrawal syndrome in newborns.
If any side effects get serious, or if you notice any side effects not listed in this leaflet, please tell your doctor or pharmacist.

If you are unsure what the listed side effects are, ask your doctor to explain them to you.

5. How To Store Espranor Tablets
Keep this medicine out of sight and reach of children.
Do not use this medicine after the expiry date, which is stated on the carton, and blister after EXP. The expiration date is the last day of the specified month.
Store in the original package (blister). Sensitive to light. Moisture sensitive.
This medicine does not require any special temperature instructions.
Medicines should not be disposed of via wastewater or household waste. Ask your pharmacist how to dispose of medicines no longer required. These measures will help to protect the environment.

6. Contents Of The Packaging And Other Information
Content Declaration
The active substance is buprenorphine. A lyophilised tablet contains 2 mg or 8 mg of buprenorphine (as hydrochloride).
The other ingredients are gelatin, mannitol, aspartame, mint flavor, and citric acid.
What The Medicine Looks Like And The Contents Of The Pack
Espranor 2 mg tablets lyophilized tablet is a white to off-white, round lyophilized tablet marked with "M2" on one side.
Espranor 8 mg lyophilized tablet is a white to off-white, round lyophilized tablet marked with "M8" on one side.
The medicine is available in blisters containing 7 x 1 or 28 x 1 lyophilized tablet in an outer carton.

Not all pack sizes may be marketed.
Marketing Authorization Holder And Manufacturer
Ethypharm
194 Bureaux de la Colline
Building D
92213 Saint-Cloud Cedex
France

Manufacturer:
Macarthys Laboratories Limited T / A Martindale Pharma
Bampton Road
Harold Hill
Romford, Essex
RM3 8UG
UK

For further information on this medicine,
contact the representative of the holder of
the marketing authorization
Unimedic Pharma AB
Box 6216
102 34 Stockholm