Terracortril with Polymyxin B Eye and Ear Drops, Suspension, or Eye and Ear Ointment
What Is Terracortril With Polymyxin B, And What Is Terracortril Ointment Used For?
Terracortril with Polymyxin B is a combination preparation containing hydrocortisone, oxytetracycline, and polymyxin B. Hydrocortisone is mild-acting cortisone with an anti-inflammatory and anti-allergic effect. Oxytetracycline and polymyxin B inhibit the growth of bacteria.
Terracortril with Polymyxin B is used for allergic inflammation of the edge of the eyelid and the eye's conjunctiva, where bacterial infection may occur simultaneously. Terracortril med polymyxin with B can also be used for other eye diseases, such as corneal inflammation and inflammatory diseases of the external auditory canal, e.g. different forms of eczema, where simultaneous bacterial infection can occur.
What You Need To Know Before You Use Terracortril With Polymyxin B
Do Not Use Terracortril With Polymyxin B
If you are allergic to oxytetracycline hydrochloride, hydrocortisone acetate, polymyxin B sulfate, or any of the other ingredients of this medicine (listed in section 6).
If you have a fungal or viral infection in the eye or ear. When treating with cortisone-containing eye drops/ointment, there is a risk that the symptoms of an underlying infection will be masked. Oxytetracycline and polymyxin B are effective against many, though not all, bacteria but are ineffective against fungi and viruses.
If you have a persistent eye infection.
Warnings And Precautions
Talk to your doctor or pharmacist before using Terracortril with Polymyxin B
when used in children. Consult a doctor before treating children under 8 years of age, as an impact on growing teeth and bones cannot be completely excluded.
Terracortril with Polymyxin B eye and ear drops/ointment can cause yellow spots on textiles.
Contact a doctor if you experience blurred vision or other visual disturbances.
Pregnancy, Breastfeeding, And Fertility
Pregnancy
There are no studies investigating the external use of this medicine in pregnant women. Medicines in this group should only be used during pregnancy when the benefits outweigh the risks. Therefore, consult a doctor before using this medicine during pregnancy.
Breast-feeding
It is unknown whether this medicine passes into breast milk when used topically. The benefit of breastfeeding must be weighed against the possible risks of side effects for the child. Therefore, consult a doctor before using this medicine while breastfeeding.
Driving Ability And Use Of Machinery
Terracortril med polymyxin is not expected to affect the ability to drive or use machines. As with other ophthalmic preparations, temporary blurred vision may occur after administration into the eye.
You should, therefore, not drive a car or use machinery until your vision is completely clear. You are responsible for assessing whether you can drive a motor vehicle or perform work requiring increased attention.
One of the factors that can affect your ability in these respects is the use of drugs due to their effects and side effects. A description of these effects and side effects can be found in other sections. Read all the information in this leaflet for guidance. Discuss with a doctor or pharmacist if you are unsure.
Terracortril With Polymyxin B Contains Oxytetracycline, hydrocortisone Acetate, and Polymyxin B Sulfate.
How To Use Terracortril With Polymyxin B?
Always use this medicine as directed by your doctor or pharmacist. Ask your doctor or pharmacist if you are unsure. The usual dose is:
Eye drops 1-2 drops in the eye 3 times daily.
Ear drops 2-4 drops in the ear's external auditory canal 3 times daily.
Eye ointment: Apply 1-1.5 cm of ointment inside the lower eyelid edge 2-3 times daily.
Ear ointment: Apply 1-1.5 cm into the ear canal 3-4 times daily.
Eye and ear drops:

Shake the tube well before use.
How to open the tube?
The tube contains a plastic ring, a screw cap, the top of the tube with a screw cap, and the lower part of the tube with a closure.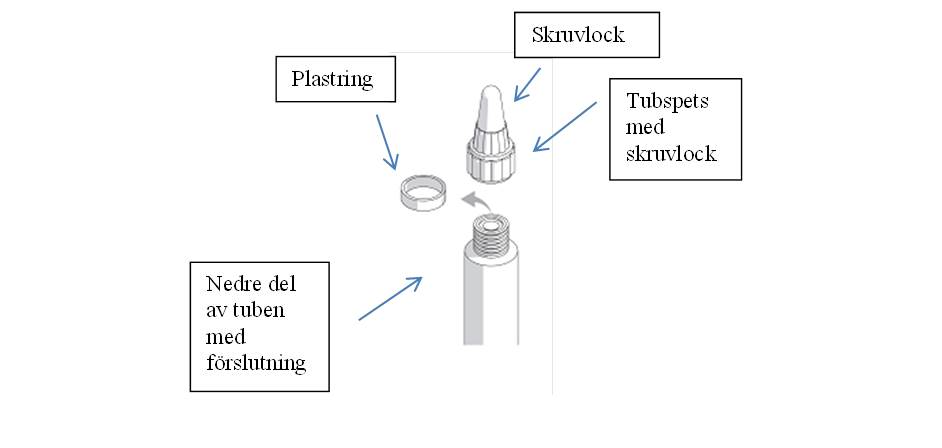 The tube is sealed the first time you use it.
Before using the tube for the first time, unscrew the entire tube tip, including the screw cap, and remove the plastic ring.
Screw the tube tip back all the way to break the perforation.
Unscrew the screw cap. The tube is now ready for use.
Carefully squeeze out the contents of the tube.
If You Have Used Too Much Terracortril With Polymyxin B
If you have ingested too much medicine or, for example, a child has ingested the medicine by mistake, immediately contact a doctor or hospital for an assessment of the risk and advice.
Contact your doctor or pharmacist if you have further questions about this medicine.
Possible Terracortril With Polymyxin B Side Effects
This medicine can cause side effects like all medicines, although not everybody gets them.
Common (may affect up to 1 in 10 users):
Burning
Long-term treatment can cause corneal damage and increased pressure inside the eye.
Uncommon (may affect up to 1 in 100 users):
Activation of keratitis caused by viruses
Rare (may affect up to 1 in 1,000 users): 
In diseases that cause cornea thinning, this can break more easily when treated with cortisone preparations. With long-term treatment, clouding of the eye's lens and cataracts have been reported.
Has been reported (occurring in an unknown number of users):
Infection
A bacterial infection is a fungal infection
Hypersensitivity reaction
Burning sensation
Increased tear flow
Glaucoma (cataract)
Optic nerve damage
Blurred vision
Rash
Pain at the site of administration
The sensation of foreign particles
Impaired healing
How To Store Terracortril With Polymyxin B?
Keep this medicine out of sight and reach of children.
Store at a maximum of 25 °C. Store protected from cold.
Use before the expiry date stated on the packaging after EXP.
The expiration date is the last day of the specified month.
Opened packaging is usable for 1 month.
Medicines must not be thrown into the drain or among household waste. Ask the pharmacist how to dispose of medicines that are no longer used. These measures will help to protect the environment.
Contents Of The Packaging And Other Information
Contents Declaration
Drops
The active substances are oxytetracycline hydrochloride corresponding to oxytetracycline 5 mg/ml, hydrocortisone acetate 15 mg/ml, polymyxin B sulfate 10,000 IU
Other ingredients are aluminum stearate, liquid paraffin
Ointment
The active substances are oxytetracycline hydrochloride corresponding to oxytetracycline 5 mg/ml, hydrocortisone acetate 10 mg/ml, polymyxin B sulfate 10,000 IU
Other ingredients are white vaseline, liquid paraffin
Appearance And Package Sizes Of The Medicine
Eye and ear drops, suspension: Tube 5 and 15 ml
Eye and ear ointment: Tube 3.5 g
Marketing Authorization Holder And Manufacturer
Holder of sales
Pfizer AB
191 90 Sollentuna
Phone: 08-550 520 00
Email: eumedinfo@pfizer.com
Manufacturer
Farmasierra Manufacturing, SL
Carretera de Irún, Km. 26, 200
28700 San Sebastián de los Reyes (Madrid)
Spain