Stesolid 5 mg, 10 mg Diazepam Rectal Solution
What Is Stesolid And What Is It Used For
Stesolid belongs to a drug group called benzodiazepines. It enhances the effect of a depressant substance ( GABA ) in the brain. As a result, it acts as a tension reliever, sedative, muscle relaxant, and antispasmodic. Stesolid rectal solution contains a solution of diazepam intended for administration in the rectum. The effect comes faster and is more pronounced than after the same dose in tablet form.
Stesolid rectal tube solution is used when an immediate effect of diazepam is desired, for example, in febrile convulsions, epilepsy, and the like, but also as a sedative and relaxing agent, among other things, just before unpleasant examinations, sampling, and operative procedures.
The diazepam in Stesolid may also be approved to treat other conditions not mentioned in this leaflet. Ask your doctor, pharmacist, or another healthcare professional if you have further questions, and always follow their instructions.
What You Need To Know Before Using Stesolid
Do Not Use Stesolid Diazepam If You:
Are allergic to diazepam or other benzodiazepines or any of the other ingredients of this medicine (listed in section 6).
Have a disease called myasthenia gravis, which causes the muscles to weaken and tire quickly.
Suffer from sleep apnea (a sleep disorder involving abnormal breathing pauses during sleep).
Have serious liver disease.
Have acute respiratory depression (slow or shallow breathing).
Warnings And Precautions
Talk to your doctor or pharmacist before taking Stesolid if you:
Have suffered from alcoholism or drug abuse
Are older. Stesolid can confuse and affect the muscles, leading to falls and injuries.
Have breathing problems
Suffering from depression
Have suicidal thoughts
Have epilepsy or have previously had seizures
Other important aspects
Mental side effects – contact your doctor if you experience side effects such as agitation, restlessness, aggressiveness, nightmares, or hallucinations. Such side effects occur more often in children or the elderly. See section 4, " Possible side effects".
Memory loss – during treatment, you may experience memory loss, which occurs more often during treatment with high doses of Stesolid. Symptoms often occur several hours after taking the drug, so ensure you can get an uninterrupted 7-8 hour sleep period to reduce the risks.
Dependence – with treatment with this medicine, there is a risk of dependence. The risk increases with the dose and duration of treatment and in patients who previously had alcohol and drug problems. Therefore, it would be best if you took Stesolid for as short a time as possible.
Tolerance – if after a few weeks you notice that the effect of the medicine is not as strong as at the beginning of the treatment, you should talk to your doctor.
Withdrawal – withdrawal symptoms such as a relapse in sleep problems and anxiety can occur even at normal doses during a short treatment period. The treatment must be gradually tapered to reduce the risk of withdrawal symptoms. See section 3, " If you stop taking Stesolid."
Other Medicines And Stesolid
Tell your doctor or pharmacist if you have recently used or might be using other medicines. Above all:
If the following medicines are taken in combination with Stesolid, they can affect your mental health, make you very tired and worsen your breathing and blood pressure:
Antidepressants (e.g., fluvoxamine, fluoxetine )
Antipsychotics such as clozapine (for treating mental health problems)
Antihistamines (for treating allergies )
Anesthetic
Sedative (used for calming effect)
Sleeping pills (for sleeping problems)
Muscle relaxants (eg suxamethone, tubocurarine)
Some strong painkillers, such as morphine ( opioids )
Phenobarbital (to treat epilepsy or mental disorders)
Simultaneous use of Stesolid and opioid medicines (strong painkillers, medicines for the treatment of opioid dependence, and certain cough medicines) increases the risk of drowsiness, breathing difficulties ( respiratory depression ), and coma and can be life-threatening. Because of this, concomitant use should only be considered when other treatment options are impossible.
If the doctor prescribes Stesolid at the same time as opioid drugs, the dose and duration of treatment must be limited by the doctor.
Tell your doctor if you are taking any opioid medication and follow your doctor's dosage recommendations carefully. It may be helpful to inform friends or relatives to be aware of the signs and symptoms described above. Contact a doctor if you experience any of these symptoms.
Stesolid can affect or be affected by certain medicines that contain the following active substances:
Disulfiram (for the treatment of alcohol dependence)
Medicines against epilepsy, such as phenytoin and carbamazepine
Theophylline (for treating asthma and other breathing problems)
Cimetidine, omeprazole, or esomeprazole (medicines that reduce stomach acid)
Rifampicin ( antituberculosis antibiotic )
Atazanavir, ritonavir, delavirdine, efavirenz, indinavir, nelfinavir or saquinavir (antiviral medicines)
Fluconazole , itraconazole, ketoconazole or voriconazole (medicines for fungal infections)
Isoniazid (for the treatment of tuberculosis )
Oral contraceptives ( birth control pills ) can make diazepam leave the body more slowly and increase its effect. Breakthrough bleeding can occur during simultaneous treatment with diazepam and oral contraceptives, but the preventive effect remains.
Corticosteroids (anti-inflammatory drugs)
Levodopa (for the treatment of Parkinson's disease )
Valproic acid (for the treatment of epilepsy and mental disorders)
Ketamine (an anesthetic)
Use Of Stesolid Together With Food, Drink, And Alcohol
Do not drink alcohol during treatment with Stesolid. Alcohol can increase the sedative effect of Stesolid and make you very tired.
Grapefruit and grapefruit juice should be avoided when taking Stesolid. Grapefruit can increase the effect of Stesolid.
Pregnancy, Breastfeeding, And Fertility
If you are pregnant or breastfeeding, think you may be pregnant, or are planning to have a baby, ask your doctor or pharmacist for advice before using this medicine.
If you take Stesolid late in pregnancy or during childbirth, the baby may have a low body temperature and suffer muscle weakness and breathing difficulties. If the medicine is taken regularly during the latter part of the pregnancy, the child may develop abstinence. Your doctor will decide whether the benefit of the treatment outweighs the risk to the unborn child and whether the medicine is suitable for you.
Do not use Stesolid if you are breastfeeding.
Driving Ability And Use Of Machinery
Stesolid can make you feel sleepy and can affect your ability to concentrate. It can also affect the muscles. These side effects may persist for several days, even after treatment with diazepam has ended. You should not drive a car or use tools or machines if you experience such side effects.
You are responsible for assessing whether you can drive a motor vehicle or perform work requiring increased attention. One of the factors that can affect your ability in these respects is the use of drugs due to their effects and side effects. A description of these effects and side effects can be found in other sections. Read all the information in this leaflet for guidance. Discuss with your doctor or pharmacist if you are unsure.
Stesolid Contains
Benzoic acid (E 210)
This medicine contains 1 mg of benzoic acid per ml. Benzoic acid may cause local irritation and increase the risk of jaundice (yellowish skin and eyes) in newborns (up to 4 weeks of age).
Benzyl alcohol
This medicine contains 15 mg of benzyl alcohol per ml. Benzyl alcohol can cause allergic reactions and mild local irritation.
Propylene glycol
This medicine contains 400 mg of propylene glycol per ml.
How To Use Stesolid
Always use this medicine exactly as your doctor or pharmacist has told you. Ask your doctor or pharmacist if you are unsure.
Dosage instructions

Dose and treatment time are determined by the doctor, who adjusts it individually for you.
Each package contains instructions on how to take Stesolid.

Instructions for use:
Important information
1. Remove the cap by twisting it 2-3 times without pulling.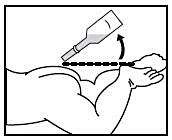 2. Place the patient on the stomach or side with a pillow under the hip. A small child can lie across the knees.

3. Insert the tip into the rectum. In children between 0 and 3 years, the tip is inserted into the first mark.

4. Always keep the tube pointing downwards during delivery.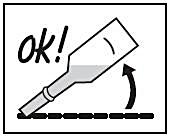 5. Like this.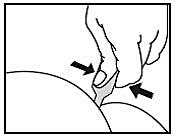 6. Once the tube is in place, empty it by squeezing it between your thumb and forefinger.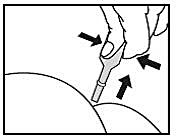 7. Continue to compress the tube as it is removed. Hold the buttocks together to prevent the liquid from seeping out.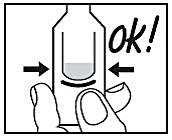 8. The small amount of liquid in the tube is insignificant for correct dosing.
Elderly patients
If you are older or frail, there is a greater risk that you are sensitive to the side effects of Stesolid, and the dose may need to be reduced. Your doctor decides which dosage of Stesolid suits you and how often you should dose.
Impaired kidney function
The Stesolid dosis normally does not need to be adjusted.
Impaired liver function
The dose must be lowered if you have liver cirrhosis or impaired liver function.
If You Have Used Too Much Stesolid
If you have taken too large a dose or think a child has swallowed the solution, you should immediately contact the nearest doctor or hospital for an assessment of the risk and advice.
Signs of overdose include impaired coordination, sleep-like drowsiness, fatigue, confusion, slurred speech, muscle weakness, and low blood pressure. Severe overdose can lead to coma (unconsciousness that cannot be lifted), cardiac arrest, and severe breathing difficulties.
If You Forget To Use Stesolid
If you forget to take a dose, you should take it as soon as you realize that you previously forgot to take medicine. If it is almost time for the next dose, skip the missed dose. Do not take a double dose to make up for the missed dose.
If You Stop Using Stesolid
Do not stop treatment with the drug without consulting your doctor. Should one be reduced gradually before stopping treatment completely? If you suddenly stop treatment with Stesolid, the risk of withdrawal symptoms increases.
With withdrawal symptoms, you may experience the following, among other things:

Headache
Anxiety
Panic
Palpitations
Sweating
Tremors
Stomach problems
Irritation
Aggression
Sensory disturbances
Muscle spasms
General malaise
Loss of appetite
Insomnia, mental side effects such as severe confusion, and seizures. The probability of withdrawal and its severity depends on the duration of treatment, dosage strength, and degree of dependence.

If you have epilepsy or have previously had seizures and discontinue treatment with Stesolid, there is a risk of convulsions or prolonged epileptic seizures. There is also a risk of seizures if you have alcohol or drug problems and suddenly stop treatment with Stesolid.
Contact your doctor or pharmacist if you have further questions about this medicine.
Possible Stesolid Side Effects
This medicine can cause side effects like all medicines, although not everybody gets them.
Contact your doctor immediately or go to the nearest emergency department if any of the following occur:
Uncommon (may affect up to 1 in 100 users):
Respiratory depression (very slow and shallow breathing)
Rare (may affect up to 1 in 1,000 users):
Respiratory arrest (respiratory arrest)
Unconsciousness
Very rare (may affect up to 1 in 10,000 users):
Anaphylactic reaction (severe allergic reaction ) with symptoms such as sudden wheezing, swelling of the lips, tongue, and throat or the rest of the body, rash, fainting, or difficulty swallowing.
Other side effects:
Very common (may affect more than 1 in 10 users):
Common (may affect up to 1 in 10 users):
Fatigue
Withdrawal symptoms (for symptoms, see "If you stop taking Stesolid" in section 3)
Confusion
Impaired coordination of muscle movements ( ataxia ) and other movement disorders, tremors
Uncommon (may affect up to 1 in 100 users):
Muscle weakness ( Myasthenia gravis )
Memory loss
Concentration difficulties
Balance disorders
Dizziness
Headache
Slurred speech
Stomach and intestinal problems such as nausea, vomiting, constipation, diarrhea
Increased saliva production
Allergic skin reactions in the form of itching, redness, and swelling, as well as rashes.
Rare (may affect up to 1 in 1,000 users):
Mental side effects include excitement, agitation, restlessness, irritation, aggressiveness, memory loss, delusions, tantrums, psychoses, nightmares, inappropriate behavior, or hallucinations. It can become serious. Children and the elderly are at higher risk of being affected. Talk to your doctor if this happens.
Decreased alertness
Depression
The feeling of emotional emptiness
Insomnia
Heart problems include slow heart rhythm ( bradycardia ), heart failure, and cardiac arrest.
Low blood pressure, fainting
The increased amount of mucus in the airways
Dry mouth
Increased appetite
Jaundice (yellowing of the skin and whites of the eyes)
Changes in liver enzymes shown in blood test results
Inability to empty the bladder, poor bladder control ( urine leakage)
Enlargement of mammary glands in men
Impotence, altered sex drive
Very rare (may affect up to 1 in 10,000 users):
Low white blood cell count ( leukopenia )
High levels of certain enzymes in the blood ( transaminases )
Has been reported (occurring in an unknown number of users):
Blurred vision, double vision, and involuntary eye movements (these side effects disappear after the end of treatment with diazepam )
How Stesolid Should Be Stored
Store at a maximum of 25ºC.
Use before the expiry date stated on the carton and label after EXP. The expiration date is the last day of the specified month.
Keep this medicine out of sight and reach of children.
Medicines must not be thrown into the drain or among household waste. Ask the pharmacist how to dispose of medicines that are no longer used. These measures will help to protect the environment.
Contents Of The Packaging And Other Information
Contents Declaration
1 tube contains:

The active substance is Diazepam 5 mg and 10 mg, respectively.

Other ingredients are Benzoic acid, anhydrous ethanol, propylene glycol, sodium benzoate, benzyl alcohol, and water.
Appearance And Package Sizes Of The Medicine
Yellow, transparent tubes labeled STESOLID 5 mg and STESOLID 10 mg, respectively.
Instructions for use are included in the packaging.
Rectal solution 5 mg: 5 tubes of 2.5 ml
Rectal solution 10 mg: 5 tubes of 2.5 ml
Marketing Authorization Holder And Manufacturer
Actavis Group PTC EHF.
Reykjavikurvegi 76-78
IS-220 Hafnarfjordur
Iceland
Manufacturer:
Merkle GmbH
Graf-Arco-Str. 3
89079 Ulm
Germany
Actavis Group PTC EHF
Reykjavik travel guide 76-78
220 Hafnarfjordur
Iceland
Balkanpharma – Dupnitsa AD
3 Samokovsko Shosse Str.
Dupnitsa 2600
Bulgaria