21 micrograms/dose nasal spray, solution
What Rinivent is and what it is used for
What is Rinivent?
Reinvent contains ipratropium bromide, which belongs to the group anticholinergic. When ipratropium bromide is sprayed into the nose, the amount of fluid (runny nose) that forms in the nasal mucosa decreases within 15 minutes.
What is Rinivent used for?
Rinivent is used in adults from the age of 18 to reduce the amount of runny nose in allergic rhinitis (which is caused by eg pollen) or non-allergic rhinitis (which can be triggered by eg temperature changes). The runny nose in these conditions is clear and watery.
Ipratropium bromide contained in Rinivent may also be approved for the treatment of other conditions not mentioned in this product information. Ask your doctor, pharmacist, or another healthcare professional if you have any further questions, and always follow their instructions.
What you need to know before using Rinivent
Do not use Rinivent
if you are allergic to ipratropium bromide, benzalkonium chloride, or any of the other ingredients of this medicine (listed in section 6)
if you are hypersensitive to atropine or similar substances, such as hyoscyamine or scopolamine
Warnings and cautions
If you have any of the following problems, talk to your doctor or pharmacist before using Rinivent:
prostate enlargement,
bladder narrowing (makes it difficult to empty the bladder)
eye disease glaucoma ( glaucoma ) with a narrow ventricular angle
cystic fibrosis. In people with cystic fibrosis, the risk of developing bowel function may increase.
Try to avoid getting the spray in your eyes. If Rinivent is accidentally sprayed into the eyes, the eyes should be rinsed with running cold water. In rare cases, eye problems (pupillary enlargement, pressure increase in the eye, glaucoma with a narrow ventricular angle, eye pain) have been reported when Rinivent comes into contact with the eyes.
Eye irritation and pain, visual phenomena, and red, irritated eyes, may be signs of acute glaucoma with a narrow ventricular angle. Seek an ophthalmologist immediately in such cases.
Rinivent can cause dry mouth, which increases the risk of damage to the teeth. To protect your teeth, you should use toothpaste that contains fluoride and brush your teeth thoroughly twice a day.
Rinivent may in rare cases give rise to allergic reactions shortly after use. They can show up as hives or swelling in the upper respiratory tract.
Stop taking Rinivent and contact your doctor immediately if you get any of the following symptoms ( angioedema ):
swelling of the face, tongue, or throat
difficulty swallowing
hives and difficulty breathing.
Children and young people
Use in children and adolescents under 18 years of age is not recommended.
Other medicines and Rinivent
Tell your doctor or pharmacist if you are taking, have recently taken, or might take any other medicines.
Do not use at the same time as another nasal spray containing ipratropium bromide. The effect of Rinivent may be enhanced if you are also taking other medicines with Rinivent or other medicines with similar effects (anticholinergic medicines). Talk to your treating physician before using Rinivent.
In people suffering from glaucoma with a narrow ventricular angle, the combination of Rinivent and certain bronchodilators (so-called beta-2 stimulators, such as salbutamol and terbutaline ) may increase the risk of acute glaucoma.
Pregnancy and breastfeeding
If you are pregnant or breastfeeding, think you may be pregnant, or are planning to have a baby, ask your doctor or pharmacist for advice before taking this medicine.
Do not use Rinivent during pregnancy and lactation without a doctor's recommendation.
Driving and using machines
Rinivent may cause dizziness and visual disturbances. If you get these side effects, avoid driving and using machines.
You are responsible for assessing whether you are fit to drive a motor vehicle or perform work that requires sharpened vigilance. One of the factors that can affect your ability in these respects is the use of drugs due to their effects and/or side effects. Descriptions of these effects and side effects can be found in other sections. Read all the information in this leaflet for guidance. If you are not sure, talk to your doctor or pharmacist.
Atrovent Nasal contains benzalkonium chloride
This medicine contains 17.5 micrograms of benzalkonium chloride ( preservative ) per spray dose. Benzalkonium chloride can irritate and swell inside the nose, especially with prolonged use.
How to use Rinivent
Always use this medicine exactly as described in this leaflet or as your doctor advised. Ask your doctor or pharmacist if you are unsure.
The recommended dose for adults is:
2 sprays in each nostril 2-3 times daily.
Do not exceed the recommended dosage. Do not use Rinivent for more than 14 days without a doctor's recommendation or if symptoms worsen or do not improve.
Instructions for use
Read the operating instructions carefully and follow the instructions.
Remove the protective cover.
Before using the nasal spray for the first time, spray several times in the air until an even shower comes from the spray bottle (see figure 1). Hold the bottle with your thumb against the bottom, middle finger, and index finger on each side of the tip. Make sure the bottle is upright and keep it away from the eyes (figure 1). Press your thumb quickly and firmly against the bottom. The spray is now ready for use. If the pump has not been used for 24 hours, spray in the air again 1-2 times.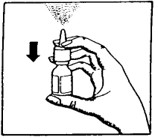 Figure 1
3. Sniff out the nose.
4. Clo
se one nostril by placing a finger on the side of the nose. Bend your head slightly forward. Hold the bottle as in Figure 1 and insert the tip of the bottle into the other nostril (Figure 2). The tip of the bottle should be directed obliquely backward and outwards towards the nose wing.
5. Activate the nasal spray by pushing the thumb upwards quickly and firmly. Inhale deeply through the nose and exhale through the mouth.
6. After each spraying, remove the bottle from the nose and tilt the head back for a few seconds so that the spray is evenly distributed.
7. Repeat steps 4-6 in the same nostril.
8. Repeat steps 4-7 in the other nostril.
9. Replace the protective cover.

Cleaning: Clean the nasal spray regularly. Remove the protective cap, keep the tip under running lukewarm water for a few minutes and let it dry. Spray according to point 2 and replace the protective cap.
If you use more Rinivent than you should
In case of overdose, dry mouth, visual disturbances, and palpitations may occur.
If you have ingested too much medicine or if e.g. a child ingested the medicine by mistake, contact a doctor or hospital for risk assessment and advice.
Possible side effects
Like all medicines, this medicine can cause side effects, although not everybody gets them.
Contact a doctor immediately and stop using Rinivent if you notice any of the following:
Signs of an allergic reaction such as difficulty breathing, talking, or swallowing, swelling of the face, lips, tongue, or throat (which has been reported, occurs in an unknown number of users )
respiratory or laryngeal cramps ( may affect up to 1 in 100 people)
Palpitations and increased heart rate or disturbance of heart rhythm ( may affect up to 1 in 100 people )
Visual disturbances, and eye pain (including blurred vision, worsening of glaucoma, or increased pressure in the eye) ( may affect up to 1 in 100 people )
Common (may affect up to 1 in 10 people):
Headache, nose irritation, nosebleeds, dry nose, throat irritation.
Uncommon (may affect up to 1 in 100 people):
Dizziness, dry throat, dry mouth, nausea, intestinal dysfunction, inflammation of the oral mucosa, swelling of the oral mucosa, and difficulty emptying the bladder.
Rare (may affect up to 1 in 1,000 people):
Itching, hives.
How to store Rinivent
Keep this medicine out of the sight and reach of children.
Store Rinivent with the protective cap tightly closed.
Do not use this medicine after the expiry date which is stated on the label. The expiration date is the last day of the specified month.
The bottle should not be used more than 1 year after it was first opened.
Medicines should not be disposed of via wastewater or household waste. Ask your pharmacist how to dispose of medicines no longer required. These measures will help to protect the environment.
Contents of the pack and other information
Content declaration
The active substance is ipratropium bromide (as ipratropium bromide monohydrate).
The other ingredients are purified water, sodium chloride, disodium edetate 0.5 mg/ml and benzalkonium chloride 0.25 mg/ml ( preservative ), and hydrochloric acid for pH adjustment.
What the medicine looks like and the contents of the pack
The pack contains about 180 doses = 15 ml.
Marketing Authorization Holder and Manufacturer
Opella Healthcare France SAS
85 Avenue Raspail
94250 Gentilly France
Manufacturer
Instituto De Angeli Srl
Loc. Paul, 103 / C
I-50066 Reggello (FI)
Italy