What Nasacort is and what it is used for
Nasacort contains a substance called triamcinolone acetonide. This substance belongs to a group of medicines called corticosteroids. The drug is used to treat allergic symptoms from the nose and is given as a nasal spray.
Symptoms of allergy from the nose include sneezing, itching, nasal congestion, or runny nose. These symptoms can be caused by different types of pollen during different parts of the year. This type of allergy is called "seasonal allergic rhinitis", or hay fever.
This medicine is only effective if it is taken regularly and it is not certain that the symptoms will disappear immediately. Some people are helped on the first day of treatment, while it may take 3 to 4 days for others before the symptoms decrease.
What you need to know before using Nasacort
Do not use Nasacort
if you are allergic to triamcinolone acetonide or any of the other ingredients of this medicine (see section 6).
Signs of an allergic reaction to Nasacort include: skin rash ( hives ), itching , difficulty swallowing or breathing, swelling of the lips, face, throat or tongue.
Warnings and cautions
Talk to your doctor or pharmacist before taking Nasacort:
if you have any untreated nose or throat infection . If you get a fungal infection while using Nasacort, stop using the spray until infection has been treated.
if you have recently had nose surgery or have had an injury or a sore nose.
if you have been transferred from treatment with steroids such as injection or tablets to Nasacort spray.
if you have had glaucoma ( cataracts ) or cataracts (cataracts).
If you are not sure if any of the above applies to you, talk to your doctor or pharmacist before taking this medicine.
Contact a doctor if you experience blurred vision or other visual disturbances.
Children and young people
Children and adolescents under 18 years of age should not use this medicine.
Other medicines and Nasacort
Tell your doctor or pharmacist if you are taking or have recently taken any other medicines, including medicines obtained without a prescription. Nasacort can affect the effectiveness of other medicines. Likewise, other medicines may affect the way Nasacort works.
Some medicines may increase the effects of Nasacort and your doctor may want to monitor you closely if you are taking these medicines (eg some medicines for HIV: ritonavir, cobicistat).
Pregnancy, breastfeeding and fertility
If you are pregnant or breastfeeding, think you may be pregnant, or are planning to have a baby, ask your doctor or pharmacist for advice before taking this medicine.
Driving and using machines
Nasacort has no or negligible effect on the ability to drive and use machines.
Nasacort contains benzalkonium chloride
This medicine contains 15 micrograms of benzalkonium chloride in each spray dose. Benzalkonium chloride can cause irritation or swelling of the nose, especially if used for a long time.
How to use Nasacort
Nasacort is for use in the nose only.
Always use this medicine exactly as described in this leaflet or as your doctor or pharmacist has told you. Ask your doctor or pharmacist if you are unsure. The drug only has an effect if taken regularly. It may take 3 to 4 days before you notice any symptoms.
How much Nasacort to take
Adults (18 years and older): The usual starting dose is 2 sprays in each nostril once daily. When allergy problems are under control, the dose can be reduced to 1 spray in each nostril once a day.
If symptoms worsen or do not improve after 14 days of regular use, consult a doctor.
Also, consult a doctor if the medicine needs to be used daily for more than 3 months.
How to use the spray
Before using your nasal spray, cheat gently to clear your nostrils.
| | |
| --- | --- |
| 1. Finish the bottle remove the protective cover by pulling it upwards. Shake the bottle lightly before use. | |
| 2. If you are using the spray bottle for the first time hold the bottle upright. Aim the spray away from you while doing this. Fill the dosing pump with spray by pushing down the nozzle. This is called activation. Press down and release the nozzle 5 times. Do this until you get a nice spray shower. The spray bottle is now ready for use. | |
| 3. Use the sprayhood one nostril with your finger. Hold the bottle upright and insert the nozzle as far up into the other nostril as possible, without feeling uncomfortable. Inhale lightly through the nose with the mouth closed. When doing this, push the nozzle down to get a spray dose. | |
| 4. Then exhale through your mouth. | |
| 5. Repeat steps 3 and 4 if you need to spray again in the same nostril and the other nostril. | |
| 6. After using the spray to keep the nozzle clean, wipe it thoroughly with a clean napkin or handkerchief after each use. Put the protective cap back on the nozzle. | |
If the nasal spray has not been used for at least two weeks:
To fill the nozzle with spray, the dose pump needs to be activated again.
Aim the nozzle away from you while doing this.
To activate, spray in air once before use.
Always shake the bottle lightly before use.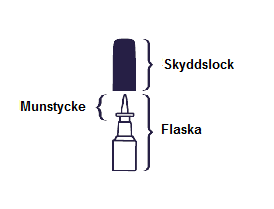 Cleaning the spray bottle
If the spray does not work, the nozzle may be clogged. Never try to clean it or enlarge the small spray hole with a needle or other sharp object. It may damage the spray mechanism.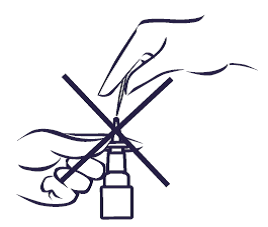 The nasal spray should be cleaned at least once a week. If it clogs, it can be cleaned more often.
Instructions for use for cleaning the spray bottle:
Remove the protective cover.
Soak the protective cap and nozzle in warm water for a few minutes.
Shake off excess water.
Air drying.
Replace the nozzle.
Activate the spray so that a fine spray shower is formed.
Use as usual.
If you use more Nasacort than you should
You must take a dose as indicated on the label of the package or as your doctor has told you. Use only the amount prescribed by your doctor. Using too little or too much can aggravate your symptoms.
An overdose probably does not cause any problems. However, if you have ingested the entire contents of the bottle by mouth, you may have stomach or intestinal problems. If you have ingested too much medicine or if e.g. If a child has ingested the medicine, contact a doctor or hospital by mistake for assessment of the risk and advice.
If you forget to use Nasacort
If you forget to take Nasacort, take it as soon as you remember. Do not take a double dose to make up for a forgotten dose.
If you stop taking Nasacort
If you stop taking this medicine, the symptoms may return within a few days.
If you have any further questions on the use of this product, ask your doctor or pharmacist.
Possible side effects
Like all medicines, this medicine can cause side effects, although not everybody gets them.
Discontinue treatment and consult a doctor or hospital immediately if:
You have an allergic reaction to Nasacort. Symptoms (have been reported) include: skin rash ( hives ), itching , difficulty swallowing or breathing, swelling of the lips, face, throat or tongue.
Common side effects (may affect up to 1 in 10 people)
Runny nose, headache, sore throat and / or cough
Nasal bleeding
Inflammation / irritation of the respiratory tract ( bronchitis )
Heartburn or indigestion
Flu-like symptoms (fever, muscle aches, weakness and / or tiredness)
Problems with the teeth
Other side effects (have been reported: occur in an unknown number of users)
Irritated and dry nasal mucosa
Sinuses can be swollen or clogged
Sneezing
Change of taste and smell
Nausea
Sleep problems, dizziness or fatigue
Shortness of breath ( dyspnoea )
Decreased blood cortisol levels (laboratory value)
Clouding of the lens of the eye ( cataract ), increased pressure inside the eye ( glaucoma )
Dimsyn
In some people, Nasacort can damage the middle part of the inside of the nose (nasal septum). If you have any further questions, ask your doctor or pharmacist.
How to store Nasacort
Keep this medicine out of the sight and reach of children.
Do not use this medicine after the expiry date which is stated on the carton and bottle after "EXP". The expiration date is the last day of the specified month.
Do not store above 25 ° C.
After opening Nasacort for the first time, the 30-dose pack should be used within 1 month and the 120-dose pack within 2 months.
The medicine should not be disposed of via wastewater or household waste. Ask your pharmacist how to dispose of medicines no longer required. These measures will help to protect the environment.
Contents of the pack and other information
Content declaration
The active substance is triamcinolone acetonide. One spray does contain 55 micrograms of triamcinolone acetonide.
Other ingredients are:
microcrystalline cellulose
and carmellose sodium (dispersible cellulose)
polysorbate 80
purified water
anhydrous glucose
benzalkonium chloride 50% (w / v) solution
disodium edetate
hydrochloric acid or sodium hydroxide (for pH adjustment)
What the medicine looks like and contents of the pack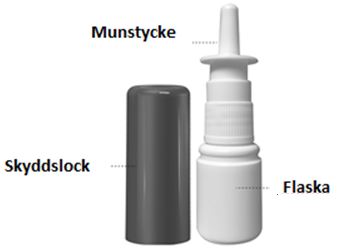 Nasacort is a suspension for nasal spray. It is delivered in a white plastic bottle with a dosing pump so that Nasacort can be sprayed into your nostrils through the nozzle. The bottle has a protective cap to keep the nozzle clean and to prevent the spray from being accidentally triggered.
The spray bottle contains at least 120 spray doses (16.5 g suspension with 9.075 mg triamcinolone acetonide) or at least 30 spray doses (6.5 g suspension with 3.575 mg triamcinolone acetonide).
Not all pack sizes may be marketed.
Marketing Authorization Holder and Manufacturer
Opella Healthcare France SAS
82 Avenue Raspail, 94250
Gentilly, France
Manufacturer:
Recipharm HC Limited,
London Road, Holmes Chapel
Cheshire, CW4 88E
UK
or
SANOFI WINTHROP INDUSTRY
30-36, avenue Gustave Eiffel 37100 Tours
France
Local representative
STADA Nordic ApS
Marielundvej 46 A
2730 Herlev
Denmark