Patch for provocation test. Mekostest consists of 3 patch strips, each patch strip contains 12 patches. 35 of the patches are coated with a film containing a specific allergen or a mixture of allergens. A note (note no. 9) is an empty note.
What Mekostest 36 is and what it is used for
Mekostest 36 is used for testing allergic contact dermatitis. Contact dermatitis is a skin reaction caused by exposure to foreign substances which causes an allergic reaction.
Mekostest 36 is a ready-to-use patch test to determine the cause of allergic contact dermatitis.
Mekostest 36 is intended for use in adults.
The test consists of 3 patch strips. Each patch contains 12 patches. Each patch is coated with a film that contains a substance that can cause a skin reaction in sensitive people. Such substances are called allergens. Each patch contains a special allergen and there is also an empty patch. Mekostest 36 contains 35 of the most common allergens/allergen mixtures as well as a blank note.
Mekostest 36 works by showing if you are allergic to any of the test substances ( allergens ) in the notes. If a substance that you are allergic to comes in contact with your skin, this causes an inflammatory reaction called contact dermatitis.
These substances can be an ingredient in your perfume or shaving water, in an ointment or cream, rubber gloves, industrial chemicals, etc. The substances in Mekostest 36 are well-known allergens. If you are allergic to the substance in a specific patch in Mekostest 36, the skin under this patch will react to this substance by becoming red and inflamed. If you are not allergic to a specific patch, the skin under that patch will not react. You may be allergic to more than one patch.
What you need to know before using Mekostest 36
Do not use Mekostest 36
if you have severe or severe eczema . The test should be postponed until the acute course is over.
if you are allergic to any of the other ingredients of Mekostest 36 (see excipients in section 6).
Warnings and cautions
if you stay in the sun regularly as you should avoid exposing the test area to sunlight. Tanned skin can cause you to miss positive reactions to allergens that you are actually allergic to.
Avoid sweating profusely when wearing the patch test.
if you are taking medicines that suppress the immune system, such as steroid medicines (eg prednisolone ) or use steroid ointments / creams (eg hydrocortisone ). These should not be used for at least two weeks before the test.
if you have "excited skin syndrome" ("angry back"). This is a condition with over-irritation in the skin caused by a reaction elsewhere on the body. If you react to all the patches, your doctor may need to repeat the test at another time.
if you have had any anaphylactic reactions before. The use of Mekostest 36 should be carefully considered.
Talk to a doctor before using Mekostest 36 if any of the above applies to you. Your doctor will decide what to do.
Sensitization: In rare cases, you may be sensitized to a substance in the notes while using Mekostest 36. A test reaction that occurs later than 10 days after the test is applied may be a sign of contact sensitization.
Mekostest 36 should only be placed on the skin that:
do not have acne
do not have scars
do not have eczema
is in a state that can not interfere with the test results. You should check with your doctor if you are unsure.
Moisture must be avoided around the test area. Therefore, you must be careful when bathing or showering so that the patch test or the surrounding area does not get damp. If the patch test becomes damp, it may come off and cause the test substance to be rinsed off.
Avoid activities such as sunbathing or exercising, which can cause the patches to come loose.
Butyl hydroxyanisole (BHA) (E320) and butylhydroxytoluene (BHT) (E312) are found in allergen patch no. 7 rosin ( patch 1) for stability reasons. BHA and BHT can cause local skin reactions (eg contact dermatitis), which means that a false-positive reaction for rosin may occur.
Children and young people
Mekostest 36 is not recommended for use in children as its safety and efficacy have not been established in this patient population.
Other medicines and Mekostest 36
Tell your doctor or pharmacist if you are taking, have recently taken, or might take any other medicines, including medicines obtained without a prescription, before using Mekostest 36. Remember that a dermatologist may not be familiar with your other medicines.
As steroids can attenuate a positive test reaction, the use of local steroids in the test area or oral steroids (tablets) equivalent to 20 mg prednisolone or more per day should be discontinued for at least two weeks before testing.
Pregnancy, breastfeeding and fertility
Pregnant women should not use Mekostest 36. You must tell your doctor if you are pregnant or think you may be pregnant.
You should not breastfeed your baby while using Mekostest 36.
Driving and using machines
It is unlikely that Mekostest 36 would affect your ability to drive or use machines. Talk to your doctor if you have any questions about this.
How to use Mekostest 36
Mekostest is put on by your doctor.
1. Open the package and remove the patches.
2. Remove the protective plastic from the test surface of the patch. Make sure that you do not touch the test substances. There is a desiccant in the pack for patch 2 to keep the allergens dry during storage.
3. Place the patches on the patient's upper back – the outside of the upper arm may be used. Gently smooth against the edges so that each of the allergens has proper contact with the skin. The two patches are placed on each side of the spine, a few cm from the centerline. The third patch is placed next to one of the other patches.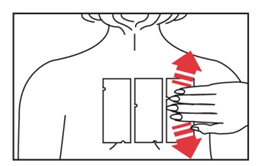 4. Mark on the skin the location of the two jackets (top left and bottom) on each patch with a medical marker.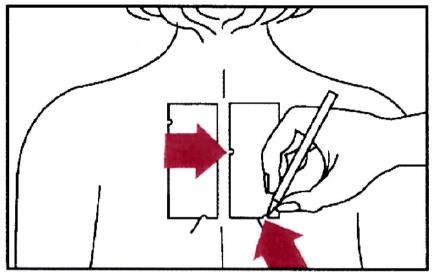 You should wear the patch strips for 48 hours without removing them and you should make sure not to soak the test area (water, sweat).
If the patch is removed or comes off too soon, there is a risk that you will miss positive reactions to the allergens that you are allergic to. Contact a doctor if the patch is removed or comes off before 48 hours.
After 48 hours, you or your doctor may remove the patches.
When should the results be read?
Your doctor will read the test results half an hour after the test has been removed and then again 1-2 days after the test has been removed when a possible allergic reaction has fully developed and a possible irritating reaction has passed. A few allergens can sometimes cause reactions that may not occur until 4-5 days after the test has been removed. Tell your doctor if this happens.
What is the doctor looking for?
The doctor will examine the test area carefully and look for signs of an allergic reaction. This reaction usually consists of a rash with swelling, redness, and small blisters. But redness alone does not necessarily mean that it is an allergic reaction. If you are allergic, your doctor will provide you with the following information:
Be somewhere in your daily environment it is likely that you will come in contact with the troublesome subject.
How to best avoid these substances. Your doctor may suggest different alternatives on how to avoid the substances.
If you have any further questions on the use of this product, ask your doctor or pharmacist.
Contact a doctor if you feel a strong discomfort in the test area. The doctor may decide to remove the test.
Possible side effects
Like all medicines, this medicine can cause side effects, although not everybody gets them.
Very common side effects (may affect more than 1 in 10 people):
Irritation caused by the adhesive in the patch may occur, but this usually disappears quickly.
Burning sensation
Prolonged test reactions. A positive test reaction usually disappears within 1-2 weeks, while a long-term test reaction can last for several weeks or months.
Common side effects (may affect up to 1 in 10 people):
Test reactions can leave an area of ​​skin that is temporarily either pale or has a darker color.
Red skin caused by irritation or inflammation ( erythema )
Uncommon side effects (may affect up to 1 in 1,000 people):
Rare side effects (may affect up to 1 in 1,000 people):
Sensitization to a substance in the test strip may occur when using a patch test.
Unknown frequency (can not be calculated from available data)
Anaphylactic reaction (reaction that may affect the whole body, possibly with life-threatening drop in blood pressure)
Hypersensitivity ( allergic reaction )
In very rare cases, and only about certain substances, hypersensitivity reactions (which can affect the whole body, possibly with life-threatening drops in blood pressure) have occurred. The allergy clinics are for other reasons prepared to treat this type of event. Anaphylactic reactions about the application of Mekostest have not been documented.
How to store Mekostest 36
Store in a refrigerator (2 ° C-8 ° C).
Keep this medicine out of the sight and reach of children.
Do not use this medicine after the expiry date which is stated on the carton after EXP. The expiration date is the last day of the specified month.
Medicines should not be disposed of via wastewater or household waste. Ask your pharmacist how to dispose of medicines no longer required. These measures will help to protect the environment.
Contents of the pack and other information
Content declaration
| | | | |
| --- | --- | --- | --- |
| | Active substance | micrograms / cm 2 | micrograms / patch |
| Patches 1 | 1. Nickel sulfate2. Wool fat alcohols3. Neomycin sulfate4. Potassium dichromate5. Kainmix a)6. Perfume mix b)7. Rosin8. Paraben mix c)9. Empty note10. Perubalsam11. Ethylenediamine dihydrochloride12. Cobalt Chloride | 2001,000600546304301 2001,000-8005020 | 16281048644510348972810-6484116 |
| Patches 2 | 13. p-test-butyl-phenol-formaldehyde resin14. Epoxy resin15. Carbamic d)16. Black rubber mix e) 0.075 0.06017. Cl + Me-isothiazolinone 0.0040 0.003218. Chloroallylhexaminium chloride (Quaternium-15)19. Methyldibromoglutaronitrile20. p-phenylenediamine21. Formaldehyde f)22. Merkaptomix g)23. Thiomersal 0.0080 0.006524. Tiurammix h) | 45502507541005.08018075727 | 3641203613814.16514661622 |
| Patches 3 | 25. Diazolidinyl urea | 550 | 450 |
| | 26. Quinoline Mix i) | 190 | 154 |
| | 27. Thixocortol-21 pivalate28. Sodium aurothiosulfate29. Imidazolidinylurea30. Budesonide31. Hydrocortisone -17-butyrate32. Mercaptobenzothiazole33. Bacitracin34. Parthenolid35. Disperse Blue 10636. 2-Bromo-2-nitropropane-1,3-diol | 3.0756001.020756003.050250 | 2.4614900.8116614902.441200 |
Five parts benzocaine, one part cincocaine hydrochloride and tetracaine hydrochloride.
Five parts geraniol and oak moss extract, four parts hydroxycitronellal and cinnamon alcohol, two parts cinnamaldehyde and eugenol and one part isoeugenol and alpha-amyl cinnamaldehyde.
Equal parts by weight of methyl parahydroxybenzoate, ethyl parahydroxybenzoate, propyl parahydroxybenzoate, butyl parahydroxybenzoate and benzyl parahydroxybenzoate.
Equal parts by weight of diphenylguanidine, zinc diethyldithiocarbamate and zinc dibutylthiocarbamate.
Two parts N-isopropyl-N'-phenyl-paraphenylenediamine, five parts N-cyclohexyl-N'-phenyl-paraphenylenediamine and five parts N, N'-diphenyl-paraphenylenediamine.
Contains N-hydroxymethylsuccinimide.
Equal parts by weight of morpholinyl mercaptobenzothiazole, N-cyclohexylbenzothiazylsulfenamide and dibenzothiazyl disulfide.
Equal parts by weight of disulfiram , dipentamethylenetiuram disulfide, tetramethyltiuram disulfide and tetramethyltiuram monosulfide.
Equal parts by weight clioquinol and chlorquinaldol.
The other ingredients are: polyester fiber tape plus binder (ethylene vinyl acetate copolymer) with acrylic adhesive, polyester patches, povidone 90, hydroxypropylcellulose, methylcellulose, beta-cyclodextrin, sodium carbonate, sodium bicarbonate, butylhydroxyanitol and butyl.
What the medicine looks like and contents of the pack
Each patch is coated with a protective film consisting of silicone-coated polyethylene and the patch is packaged in a sealed bag of laminated foil.
The foil bag for Plåster 2 also contains a desiccant to keep the allergens dry during storage.
Package contents: 10 tests (1 test = one patch 1, one patch 2, and one patch 3).
Marketing Authorization Holder and Manufacturer
SmartPractice Denmark ApS
Herredsvejen 2
DK-3400 Hillerød
Denmark
Tel: +45 4820 7100
Email: Info@smartpractice.dk
Further information on this medicine can be obtained from the local representative of the marketing authorization holder:
Navamedic AB
Tel: +46 31 335 11 90
Email: infose@navamedic.com