1% eye ointment
fusidic acid
1. What Fucithalmic is and what it is used for
Fusidic acid is an antibiotic with a bactericidal effect.
Fucithalmic is used in acute conjunctivitis caused by staphylococci.

Fusidic acid contained in Fucithalmic may also be approved for the treatment of other conditions not mentioned in this product information. Ask your doctor, pharmacist, or another healthcare professional if you have any further questions, and always follow their instructions.

2. What you need to know before using Fucithalmic
Do not use Fucithalmic
if you are allergic to fusidic acid or any of the other ingredients of this medicine (listed in section 6).
Warnings and cautions
It is important that you only use this medicine as your doctor prescribed. Improper use increases the risk of antibiotic resistance, which can lead to the drug becoming less effective.

Do not wear contact lenses while you are being treated with this medicine. Fucithalmic contains microcrystals that can scratch the contact lens or cornea if contact lenses are used. Contact lenses can be used again after the end of treatment.
Other drugs and Fucithalmic
Tell your doctor or pharmacist if you are taking, have recently taken, or might take any other medicines, including medicines obtained without a prescription.
Pregnancy and breastfeeding
Fucithalmic can be used during pregnancy and lactation.
Driving and using machines
Fucithalmic has no or negligible effect on the ability to drive and use machines. However, fucithalmic may cause temporary blurred vision after use. Wait until you regain normal vision before driving or using machines.

You are responsible for assessing whether you are fit to drive a motor vehicle or perform work that requires sharpened attention. One of the factors that can affect your ability in these respects is the use of drugs due to their effects and/or side effects. Descriptions of these effects and side effects can be found in other sections. Read all the information in this leaflet for guidance. If you are not sure, talk to your doctor or pharmacist.
Fucithalmic contains benzalkonium chloride
This medicine contains 0.11 mg of benzalkonium chloride per gram of eye ointment.

Benzalkonium chloride can be absorbed by soft contact lenses and can discolor the contact lenses. Contact lenses should not be used during treatment with Fucithalmic, see section "Warnings and precautions".

Benzalkonium chloride can be irritating to the eyes, especially if you have dry eyes or problems with the cornea (the clear membrane at the front of the eye). If you experience irritation, tingling, or pain in the eye after using the medicine, consult a doctor.

3. How to use Fucithalmic
Always use this medicine exactly as your doctor or pharmacist has told you. Ask your doctor or pharmacist if you are unsure.

Dosage
The recommended dose is one drop twice daily.
Treatment should be continued for two days after the symptoms have disappeared to avoid recurrent infection.

Fucithalmic eye ointment is viscous, but in combination with the tear fluid, the ointment becomes completely clear and thin.

Instructions for use
Always wash your hands before using Fucithalmic.
Remove the cover from the tube. Do not use the tube if the lid is damaged.
Stand or sit comfortably and tilt your head back. Hold the tube above the eye.
Carefully pull the lower eyelid down and push a drop from the tube down into the lower eyelid, as shown.
Avoid touching the eye or any other surface with the tip of the tube. It may contaminate the contents of the tube.
Put the lid back on the tube after use.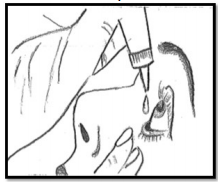 Use for children
If this medicine is to be used on a child, it may be easier to give the ointment when the child is lying down
If you use more Fucithalmic then you should
If you have used too much medicine or if e.g. If a child has inadvertently ingested the medicine, contact a doctor, hospital, or the Poison Information Center for risk assessment and advice.
If you forget to use Fucithalmic
If you forget to use your medicine, use it as soon as you remember. If it is almost time for your next dose, do not take the missed dose but continue to use it according to your usual schedule. Do not take a double dose to make up for a forgotten dose.
If you stop using Fucithalmic
Follow your doctor's advice regarding the length of treatment. Do not stop treatment without first consulting your doctor. If you have any further questions on the use of this product, ask your doctor or pharmacist.
4. Possible side effects
Like all medicines, this medicine can cause side effects, although not everybody gets them.

Stop taking Fucithalmic and contact a doctor immediately or see the nearest emergency department if you experience the following symptoms:
Fever, rash, swelling, and sometimes a drop in blood pressure ( allergic reaction ) (may affect up to 1 in 100 people).
Swelling of the face, lips, tongue, or throat, sometimes with shortness of breath or difficulty swallowing ( angioedema ) (may affect up to 1 in 100 people).
Common (may affect up to 1 in 10 people):
blurred vision (transient)
pain at the application site (including burning and stinging sensation in and around the eye)
itching in and around the eye
irritation/discomfort in and around the eye
Uncommon (may affect up to 1 in 100 people):
swelling around the eyes ( edema )
watery eyes
rash
Rare (may affect up to 1 in 1,000 people):
deterioration of conjunctivitis
hives
5. How to store Fucithalmic
Keep this medicine out of the sight and reach of children.

Store below 25 ° C.

Do not use this medicine after the expiry date which is stated on the carton after EXP.
The expiration date is the last day of the specified month.
Opened tube should be used within 4 weeks.

The medicine should not be disposed of via wastewater or household waste. Ask your pharmacist how to dispose of medicines no longer required. These measures will help to protect the environment.
6. Contents of the packaging and other information
Content declaration
The active substance is fusidic acid hemihydrate corresponding to fusidic acid 10 mg / g.
The other ingredients are benzalkonium chloride, carbomer, mannitol, sodium edetate, sodium hydroxide, and water for injections.
What the medicine looks like and the contents of the pack
Viscous white to off-white watery ointment.

Tube with 5 g
Marketing Authorisation Holder
Amdipharm Limited
Temple Chambers
3 Burlington Road
Dublin 4
Ireland

Manufacturer
LEO Laboratories Ltd, Dublin, Ireland