400 micrograms (1 mg / ml), nasal drops suspension
fluticasone propionate
1. What Flutide Nasal Nasal Drops are and what they are used for
Flutide Nasal nasal drops contain the substance fluticasone propionate. This substance belongs to a group of medicines called steroids (also called corticosteroids ).
Steroids work by reducing inflammation
they reduce swelling and irritation in the nose
thus reducing itching, sneezing, nasal congestion, or runny nose.
Flutide Nasal nasal drops are used to treat:
small growths inside the nose ( polyps )
Symptoms associated with nasal congestion.
2. What you need to know before using Flutide Nasal nasal drops
Do not use Flutide Nasal nasal drops
if you are allergic to fluticasone propionate or any of the other ingredients of this medicine (see section 6).
Warnings and cautions
Talk to your doctor before treatment with Flutide Nasal Nasal Drops:

if you have a nose infection.
If you are not sure if the above applies to you, talk to your doctor or pharmacist before using Flutide Nasal nasal drops.

Flutide Nasal nasal drops can lower the normal production of steroid hormones in the body, especially if higher doses than those recommended are used for a long time. In such a situation, some people may need to take extra steroids during extreme stress, such as after a serious injury or before surgery.

It is therefore important that you take the lowest possible dose of Flutide Nasal nasal drops needed to keep your symptoms under control. Your doctor will check for any signs of a problem.

Contact a doctor if you experience blurred vision or other visual disturbances.
Other medicines and Flutide Nasal nasal drops
Tell your doctor or pharmacist if you are taking or have recently taken any other medicines, including medicines obtained without a prescription, including (traditional) herbal medicines and herbal medicines.
Especially if:
you are being treated with a type of antiviral medicine called a protease inhibitor (such as ritonavir)
you are being treated with medicines for fungal infections (such as ketoconazole )
you have been treated with steroids for a long time, by injection or tablets.
Some medicines may increase the effect of Flutide Nasal nasal drops and your doctor may want to monitor you closely if you are taking such medicines (including certain HIV medicines: ritonavir, cobicistat).
Pregnancy and breastfeeding
Do not use Flutide Nasal nasal drops if you are pregnant, planning to become pregnant, or breast-feeding unless your doctor tells you to.
Driving and using machines
Flutide Nasal nasal drops are unlikely to affect your ability to drive.

You are responsible for assessing whether you are fit to drive a motor vehicle or perform work that requires increased attention. One of the factors that can affect your ability in these respects is the use of drugs due to their effects and/or side effects. Descriptions of these effects and side effects can be found in other sections. Read all the information in this leaflet for guidance. If you are not sure, talk to your doctor or pharmacist.

3. How to use Flutide Nasal nasal drops
Always use this medicine exactly as your doctor has told you. Do not take more than the recommended dose. Ask your doctor or pharmacist if you are unsure.
Children or adolescents under 16 years of age should not use this medicine.
Use only in the nose, avoid contact with eyes.
It may take a few weeks for the medicine to start working. Therefore, you should continue to use the medicine, even if you do not feel better at once.
Flutide Nasal nasal drops should be used every day.
Dosage for adults (over 16 years):
The usual starting dose is one single-dose pipette (400 micrograms) evenly distributed on each nostril once or twice daily.
As your symptoms improve, your doctor may ask you to reduce dose one.
If your symptoms do not improve after 4-6 weeks, your doctor may change your treatment.
What an endospipette looks like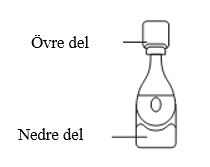 Using Flutide Nasal nasal drops
1. Open the foil package by tearing off one side. Do not open the package until the nasal drops are needed.
2. Remove a pipette strip from the foil and pull off a pipette.



3. Add back the other pipette are in the foil package and place them back in the packing carton.
4. 'Snap' with the nail and shake the pipette several times. The contents must be well mixed before use.
5. Then shake downwards to ensure that no liquid is left in the upper part of the pipette.
6. Hold the lower part of the endospipet tightly. Turn and remove the top seal.


How the drops are applied
Before inserting the drops, you must select a position as shown in the pictures below. Even if it is not easy, the positions will make the drops end up where they are needed.
1. Gently sniff your nose to clean it.
2. When standing up, bend forward.


If you can not do this, you can kneel instead and then bend forward.


4. Insert the opened pipette into a nostril and gently push.
5. Continue pressing until the walls of the pipette touch each other. This means that half a dose has been given (approximately 6 drops).
6. Repeat this step to apply the rest to your other nostril.
7. Continue to hold your head down for at least one minute after dropping the drops.
If these positions are difficult, you can lie down on a bed with your head tilted over the edge. After dropping the drops, you can lay your head on its side and then rest on the bed for at least one minute.


Avoid getting the nasal drops in the eyes or on damaged skin. Should this occur, immediately rinse your eyes or skin with water.
If you use more Flutide Nasal nasal drops then you should
Tell your doctor if you have taken more than you should.
If you have ingested too much medicine or if e.g. a child has ingested the medicine by mistake, contact a doctor, hospital, or the Poison Information Center for risk assessment and advice.
If you forget to take Flutide Nasal nasal drops
If you miss a dose, take the next dose at the right time. Do not take a double dose to make up for a forgotten dose.
If you stop taking Flutide Nasal nasal drops
Do not stop treatment even if you feel better unless your doctor tells you to. If you stop treatment, the symptoms may return.

If you have any further questions on the use of this product, ask your doctor or pharmacist.
4. Possible side effects
Like all medicines, this medicine can cause side effects, although not everybody gets them. The following side effects may occur.

Allergic reactions: contact a doctor immediately
A small number of people may experience allergic reactions with Flutide Nasal nasal drops. This can develop into more serious and in some cases life-threatening complications if no treatment is initiated. Symptoms include:
wheezing, coughing, or difficulty breathing
a sudden feeling of weakness or fainting (which may lead to collapse or unconsciousness)
swelling of the face, mouth, or tongue
skin rash or redness.
In many cases, these symptoms are signs of less serious side effects. However, you must be aware that the symptoms can be severe, so if you experience any of these symptoms – consult a doctor.

Allergic reactions to Flutide Nasal nasal drops are very rare ( affects less than 1 in 10,000 people).

Other side effects include:
Very common (affects more than 1 in 10 people):
Common (affects less than 1 in 10 people):
dryness and irritation of the nose and throat.
Very rare (affects less than 1 in 10,000 people):
the cloudy lens in the eye ( cataract ), increased pressure in the eye that can cause vision problems ( glaucoma ). These eye problems can occur in people who use Flutide Nasal nasal drops for a long time.
small holes ( perforations ) in the nasal wall, inside the nose, which separate the nostrils
Has been reported (occurs in an unknown number of users):
dimsyn
sores in the nose.
Also, the production of steroids in the body can be affected. This is more likely to occur if you use high doses for a long time. Your doctor will help prevent this from happening by making sure you use the lowest possible dose needed to control your symptoms.

5. How to store Flutide Nasal nasal drops
Keep this medicine out of the sight and reach of children.
Do not store above 30 ° C.
Do not freeze.
The endospipets are stored in the foil package upright in the outer carton.
Do not use this medicine after the expiry date which is stated on the label and carton after "EXP". The expiration date is the last day of the specified month.
Discard any unused Flutide Nasal nasal drops 28 days after first opening the foil package.
Medicines should not be disposed of via wastewater or household waste. Ask your pharmacist how to dispose of medicines no longer required. These measures will help to protect the environment.
6. Contents of the packaging and other information
Content declaration
The active substance is fluticasone propionate.
The other ingredients are polysorbate 20, sorbitan laurate, sodium dihydrogen phosphate dihydrate, anhydrous disodium phosphate, sodium chloride, sterile water.
What the medicine looks like and the contents of the pack
Each endospipette contains 400 micrograms of fluticasone propionate, which corresponds to a strength of 1 milligram per milliliter.

Each package contains 4 strips of 7 endospipets in plastic (a total of 28 endospipets per package) or 12 strips of 7 endospipets in plastic (a total of 84 endospipets per package).

Not all pack sizes may be marketed.
Marketing Authorisation Holder
GlaxoSmithKline AB, Box 516, 169 29 Solna
Tel: 08-638 93 00
Email: info.produkt@gsk.com
This medicinal product is authorized under the European Economic Area under the names:
| | |
| --- | --- |
| Denmark | Otrason nasal drops |
| Finland | Flixonase nenätipat |
| Netherlands | Flixonase nasal drops suspension |
| Spain | Flixonase Gotas Nasales |
| UK | Flixonase Nasule Drops |