100 mg and 200 mg Capsules, soft Dimethicone
1. What Dimetikon Meda uses
Dimethicone Meda has a so-called surface tension-reducing effect, which means that foam and bubbles in the intestinal tract formed by swallowed air disappear.
Dimethicone Meda is not absorbed by the body but acts only in the intestine.
Dimethicone Meda is used for flatulence, ie the accumulation of gas in the intestines.
Dimethicone contained in Dimethicone Meda may also be approved for the treatment of other conditions not mentioned in this leaflet. Ask your doctor, pharmacist, or another healthcare professional if you have any further questions, and always follow their instructions.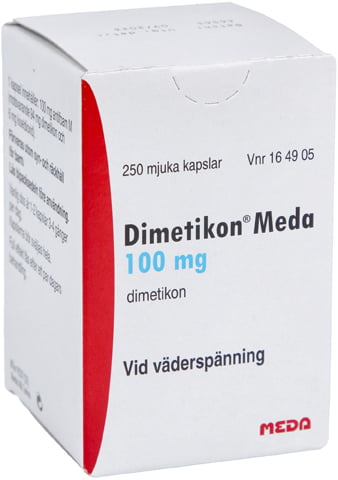 What you need to know before Dimetikon Meda Tablet Uses
Do not take Dimetikon Meda:
if you are allergic to dimethicone, silica, or any of the other ingredients of this medicine (listed in section 6)
if you have intestinal upset, severe diarrhea, are constipated, or have a swollen stomach
if you have intestinal damage such as narrowing of the rectal canal, abscesses, holes in the intestinal wall, or immediately after bowel surgery
Pregnancy and Breastfeeding
No adverse effects on the fetus have been demonstrated.
Dimethicone Meda does not pass into breast milk.
Driving and using Machines
Dimetikon Meda has no known effects on the ability to drive or use machines.
You are responsible for assessing whether you are fit to drive a motor vehicle or perform work that requires sharpened attention. One of the factors that can affect your ability in these respects is the use of drugs due to their effects and/or side effects. Descriptions of these effects and dimethicone side effects can be found in other sections. Read all the information in this leaflet for guidance. If you are not sure, talk to your doctor or pharmacist.
Dimethicone Meda contains sorbitol as well as sodium ethyl parahydroxybenzoate and sodium propyl parahydroxybenzoate
Dimethicone Meda 100 mg contains 8.2 mg sorbitol per capsule.
Dimethicone Meda 200 mg contains 11.9 mg sorbitol per capsule.
This medicine contains the preservatives sodium ethyl parahydroxybenzoate and sodium propyl parahydroxybenzoate which may cause an allergic reaction (possibly delayed).

Dose of Dimetikon Meda Tablet
Always take this medicine exactly as described in this leaflet or as directed by your doctor, pharmacist, or nurse. If you are not sure, talk to your doctor, pharmacist, or nurse.
The recommended Dose is

1-2 capsules of 100 mg or
1 capsule of 200 mg 3-4 times a day.
The capsules should be swallowed whole.
The full effect is obtained after a couple of days of treatment.
If you take more Dimetikon Meda then you should
If you have ingested too much medicine or if e.g. If a child has ingested the medicine by mistake, always contact a doctor, hospital, or the Poison Information Center for risk assessment and advice.
4. Dimethicone Side Effects
Like all medicines, Dimethicone medicine can cause side effects, although not everybody gets them.
Has been reported (occurs in unknown numbers of users): 
Hypersensitivity Reactions
Rash 
Facial Edema
Heavy Edema
Nausea
Flatulence
5. How to store Dimetikon Meda
Keep this medicine out of the sight and reach of children.
Do not use this medicine after the expiry date which is stated on the carton. The expiration date is the last day of the specified month.
Medicines should not be disposed of via wastewater or household waste. Ask your pharmacist how to dispose of medicines no longer required. These measures will help to protect the environment.
Empty packaging can be recycled via the packaging collection. The jar is sorted as hard plastic. The blister cards are sorted as soft plastic.
6. Contents of the packaging and other information
Content declaration
The active substance is Dimethicone (Antifoam M corresponding to dimethicone and silica). 1 capsule contains 100 mg and 200 mg of antifoam M, respectively.
Other ingredients: gelatin, glycerol (85%), sorbitol.
Preservatives: sodium ethyl parahydroxybenzoate (E 215), sodium propyl parahydroxybenzoate (E 217).
Marketing Authorization Holder and Manufacturer
Box 906
170 09 Solna
Phone: 08-630 19 00