20 mg/ml solution for injection in a pre-filled syringe of
glatiramer acetate
What Copaxone is and what it is used for
Copaxone is a medicine used to treat relapsing-remitting multiple sclerosis (MS). It affects the way the body's immune system works and is classified as an immunomodulatory agent. The symptoms of MS are thought to be due to a defect in the body's immune system. This leads to the formation of small areas of inflammation in the brain and spinal cord.

Copaxone is used to reduce the number of relapses (clear periods of discomfort) in MS. It has not been shown that Copaxone helps if you have a relapse-free or almost relapse-free form of MS. It is not guaranteed that treatment with Copaxone has an effect on the duration or severity of the relapse.

Copaxone is used to treat patients who can walk on their own.

Copaxone can also be used in patients who have symptoms for the first time and who have a high risk of developing MS. Your doctor will rule out other causes that may explain these symptoms before starting treatment.

Glatiramer acetate contained in Copaxone may also be approved for the treatment of other conditions not mentioned in this product information. Ask your doctor, pharmacist, or another healthcare professional if you have any further questions, and always follow their instructions.
2. What you need to know before you use Copaxone
Do not use Copaxone:
if you are allergic to glatiramer acetate or any of the other ingredients of this medicine (listed in section 6).
Warnings and cautions
Talk to your doctor or pharmacist before using Copaxone
if you have kidney or heart problems because then you may need to be checked regularly.
if you have or have had liver problems (including problems due to alcohol consumption).
Children
Copaxone should not be used in patients under 12 years of age.

Elderly
Copaxone has not been specifically studied in the elderly. Ask your doctor for advice.
Other medicines and Copaxone
Tell your doctor or pharmacist if you are taking, have recently taken, or might take any other medicines.
Pregnancy and breastfeeding
If you are pregnant or breast-feeding, think you may be pregnant or are planning to have a baby, ask your doctor for advice and assessment of your Copaxone treatment while you are pregnant and/or breast-feeding.
Driving and using machines
It is not known whether Copaxone affects the ability to drive or use machines.

You are responsible for assessing whether you are fit to drive a motor vehicle or perform work that requires sharpened attention. One of the factors that can affect your ability in these respects is the use of drugs due to their effects and/or side effects. Descriptions of these effects and side effects can be found in other sections. Read all the information in this leaflet for guidance. If you are not sure, talk to your doctor or pharmacist.

3. How to use Copaxone
Always use this medicine exactly as your doctor has told you. Ask your doctor or pharmacist if you are unsure.

The recommended dose for adults and adolescents from 12 years of age is a pre-filled syringe (20 mg glatiramer acetate) which is injected under the skin once a day.

It is very important to inject Copaxone correctly:
Inject only into tissue one under the skin ( subcutaneous use) (see "Instructions for use").
Follow your doctor's instructions regarding dosage. Use only the dose prescribed by your doctor.
Each pre-filled syringe is for single use only. Residues of the medicine or used syringes should be disposed of properly, see below.
The contents of Copaxone pre-filled syringes should not be mixed or given with any other product.
If the solution contains particles, it should not be used. Take a new syringe instead.
When you use Copaxone for the first time, you will receive complete instructions from your doctor or nurse. They will be with you when you inject and half an hour afterward, to make sure you do not get any discomfort.

Instructions for use

Read these instructions carefully before you start using Copaxone.

Before injecting one, make sure you have everything you need:
a one-piece packaged blister with Copaxone pre-filled syringe
a safe waste container for used needles and syringes
tear only a blister from the package. Store all unused syringes in the outer carton.
if your syringe has been stored in the refrigerator, remove the blister with the syringe at least 20 minutes before injection to make sure it is at room temperature.
Wash your hands thoroughly with soap and water.

If you want to use an auto-injector to make your injection, a CSYNC auto-injector can be used with Copaxone. CSYNC auto-injector is only approved for use with Copaxone and has not been tested with other products. See the instructions for use that come with the CSYNC auto-injector.

Select the injection site in the areas shown below.
There are seven possible areas for injection:

Area 1: The abdomen around the navel. Avoid an area of ​​5 cm around the navel.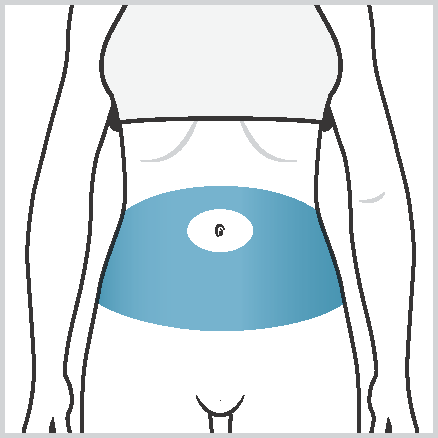 Areas 2 and 3: Thighs (above your knees)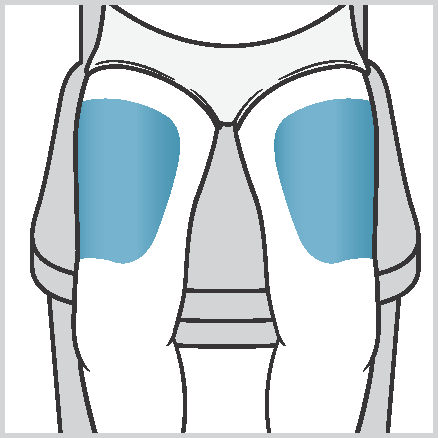 Areas 4, 5, 6, and 7: The back of your upper arms and the back, upper of your hips (below your waist)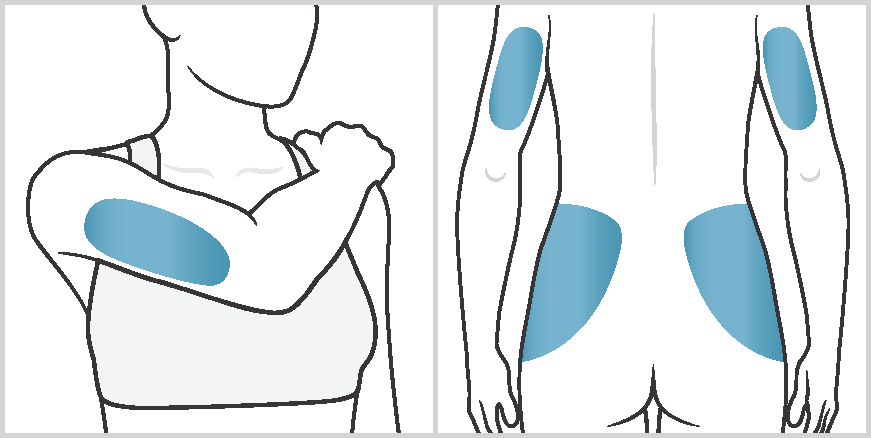 Within each injection site, there are several injection sites. Choose a new skin area for injection one every day. This reduces the risk of irritation or pain at the injection site. Vary the injection area and also vary the injection sites within an area. Do not use the exact same place every time.

Note: Do not inject into an area that is painful, discolored, or if you feel lumps or bumps.
It is recommended to have a schedule of how to vary the injection sites and to keep a diary of this. There are certain areas of your body that can be difficult to access to inject yourself (such as the back of your arms) and for these areas, you may need help.
How to inject:
Remove the syringe from the blister by pulling off the blister cap.
Remove the needle cover from the needle, do not use your mouth or teeth to remove the needle cover.
Gently pinch the skin with your thumb and forefinger (picture 1).
Push the needle into the skin (see picture 2).
Inject the medicine by pushing the plunger all the way down until the syringe is empty.
Pull the syringe and needle straight out of the skin.
Dispose of the syringe in a safe waste container. Do not dispose of used syringes in household waste without first packing them carefully in a safe waste container, according to the recommendations of your doctor or nurse.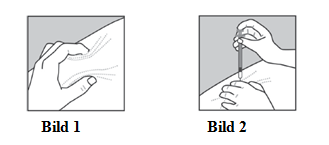 If you have the impression that the effect of Copaxone is too strong or too weak, talk to your doctor.
If you forget to use Copaxone
Take it as soon as you remember, but do not take a double dose to compensate for the dose you forgot. Take the next dose 24 hours later.
If you stop using Copaxone
Do not stop using Copaxone without talking to your doctor.

If you have any further questions on the use of this product, ask your doctor or pharmacist.
4. Possible side effects
Like all medicines, this medicine can cause side effects, although not everybody gets them.

Allergic reaction (hypersensitivity)
You may develop a severe allergic reaction to this medicine but it is rare.
If you experience any of the following side effects, stop using Copaxone and contact your doctor immediately or go to the emergency department at the nearest hospital:
skin rash (red spots or hives )
swelling of eyelids, face, or lips
sudden difficulty breathing
cramps (seizures)
fainting.
Other reactions that may occur after injection (reaction immediately after injection ):
It is uncommon but some people may experience one or more of the following symptoms a few minutes after injecting Copaxone. These symptoms usually cause no problems and usually disappear within half an hour. However, if the following symptoms last longer than 30 minutes, contact your doctor immediately or go to the emergency room at the nearest hospital:
redness of the breast or face ( vasodilation )
shortness of breath ( dyspnoea )
chest pain
fast, throbbing heartbeat ( palpitation, tachycardia )
Liver problem
Liver problems or worsening of liver problems, including liver failure, may occur in rare cases with Copaxone. Contact a doctor immediately if you have symptoms such as:
nausea
loss of appetite
dark-colored urine and pale stools
yellowing of the skin or whites of the eyes
bleeds more easily than normal
The following side effects have been reported with Copaxone:

Very common (may affect more than 1 in 10 people) :
infection is, flu
anxiety, depression
headache
feeling sick
rash
joint or back pain
the feeling of weakness, skin reactions at the injection site such as redness of the skin, pain, marks on the skin, itching, swelling, inflammation, and hypersensitivity at the injection site (these reactions at the injection site are not uncommon and usually decrease with time), nonspecific pain.
Common (may affect up to 1 in 10 people) :
inflammation of the airways, gastritis, cold sores, ear infections, runny nose, abscesses, vaginal fungal infection
non-malignant growth of the skin (non-malignant tumor of the skin), tissue growth ( tumor )
swollen lymph nodes
allergic reaction
loss of appetite, weight gain
nervousness
altered taste, increased muscle tension, migraines, speech difficulties, fainting, tremors
double vision, eye problems
ear problems
cough, hay fever
rectal problems, constipation, caries, indigestion, difficulty swallowing, fecal incontinence, vomiting
abnormal liver samples
bruising, heavy sweating, itching, skin disease, hives
neck pain
urgent need for bladder emptying, frequent urination, inability to empty the bladder properly
chills, swollen face, decreased tissue under the skin at the injection site, local reactions, swelling due to accumulation of fluid, fever
Uncommon (may affect up to 1 in 100 people):
abscess, inflammation of the skin and soft tissues under the skin, abscesses, shingles, inflammation of the kidneys
skin cancer
increased white blood cell count, decreased white blood cell count, enlarged spleen, low platelet levels, altered white blood cell shape
the enlarged thyroid gland, overactive thyroid gland
low alcohol tolerance, gout , high levels of blood lipids ( lipid s), increased content of sodium in the blood, decreased content of ferritin in the blood
strange dreams, confusion, euphoria, seeing, hearing, smelling, tasting, or feeling something that does not exist (hallucinations), aggression, abnormally elevated mood, personality disorder, suicide attempt
numbness and pain in the hands ( carpal tunnel syndrome ), mental disorder, seizures (convulsions), difficulty writing and reading, muscle problems, movement problems, muscle cramps, nerve inflammation, abnormal nerve-muscle coupling leading to abnormal muscle function, involuntary rapid movements of the eyeballs, paralysis, drip foot (peroneuspares), decreased alertness ( stupor ), visual field disorders
cataracts, corneal ulcers, dry eyes, bleeding in the eye, drooping eyelids, dilated pupil, loss of optic nerve leading to vision problems
extra heartbeat, slow heartbeat, intermittent palpitations
varicose veins
intermittent pauses in breathing, nosebleeds, abnormally fast or deep breathing ( hyperventilation ), feeling of tightness in the throat, lung problems, difficulty breathing due to feeling of tightness in the throat (suffocating feeling)
inflammation of the intestines, polyps in the colon, belching, ulcers in the esophagus, inflammation of the gums, bleeding from the rectum, enlarged salivary glands
gallstones, enlarged liver
swelling of the skin and soft tissues, contact dermatitis, painful red bumps, lumps of the skin
swelling, inflammation, and pain in joints ( arthritis or osteoarthritis ), inflammation and pain in the mucous sac around the joint (found in some joints), flank pain, decreased muscle mass
blood in the urine, kidney stones, urinary tract problems, abnormal urine
miscarriage
swollen breasts, difficulty getting an erection, pelvic organs falling or slipping out of position (prolapse), persistent erection, prostate disease, abnormal gynecological cell sample (cell sampling to detect cervical cancer), testicular disease, vaginal bleeding, vaginal disease
cysts, "day-after" feeling, low body temperature ( hypothermia ), nonspecific inflammation, tissue damage at the injection site, mucosal problems
a range of symptoms that may occur after vaccination ("post-vaccination syndrome")
Reporting of side effects
If you get any side effects, talk to your doctor, pharmacist, or nurse. This includes any possible side effects not listed in this leaflet. You can also report side effects directly to the Medical Products Agency, www.lakemedelsverket.se. By reporting side effects, you can help increase drug safety information. Postal address
5. How to store Copaxone
Keep this medicine out of the sight and reach of children.

Do not use this medicine after the expiry date which is stated on the label and carton (EXP). The expiration date is the last day of the specified month.

Store in a refrigerator (2 ° C-8 ° C).

Copaxone pre-filled syringes can be stored outside the refrigerator at 15 ° C -25 ° C once. for a maximum of one month. If Copaxone pre-filled syringes have not been used during this one-month period, and are still in their original packaging, they must be put back in the refrigerator.

Do not freeze.

Store the pre-filled syringes in the outer carton. Sensitive to light.

Syringes containing particles must be discarded.

Medicines should not be disposed of via wastewater or household waste. Ask your pharmacist how to dispose of medicines no longer required. These measures will help to protect the environment.
6. Contents of the packaging and other information
Content declaration
The active substance is glatiramer acetate. 1 ml solution for injection (contained in a pre-filled syringe ) contains 20 mg glatiramer acetate, equivalent to 18 mg glatiramer.
The other ingredients are mannitol and water for injections.
What the medicine looks like and the contents of the pack
Copaxone solution for injection in a pre-filled syringe is a clear solution, with no visible particles.

Each pre-filled syringe is packaged in one piece in a blister pack of polyvinyl chloride (PVC).

Copaxone is supplied in packs containing 7, 28, or 30 pre-filled syringes with 1 ml solution for injection or in a multipack containing 3 cartons of 30 pre-filled syringes each containing 1 ml solution for injection.

Not all pack sizes may be marketed.
Marketing Authorization Holder and Manufacturer
Marketing Authorisation Holder:
TEVA GmbH,
Graf-Arco-Str. 3,
89079 Ulm,
Germany

Manufacturer:
Teva Pharmaceuticals Europe BV
Swensen 5
2031 GA Haarlem
Netherlands

Norton Healthcare Limited T / A IVAX Pharmaceuticals UK (Teva Runcorn)
Aston Lane North, Whitehouse Vale Industrial Estate
Runcorn, Cheshire, WA7 3FA
UK