1,662,500 IU inhalation powder, hard capsules
colistimethate sodium
1. What Colobreathe is and what it is used for
Colobreathe contains colistimethate sodium, a type of antibiotic called polymyxin.

Colobreathe is used to control persistent lung infections caused by the bacterium Pseudomonas aeruginosa in adult patients and children over 6 years of age with cystic fibrosis. Pseudomonas aeruginosa is a very common bacterium that infects almost all patients with cystic fibrosis at some point in their lives. Some people get this infection when they are very young, but others get it much later. If this infection is not managed properly, the lungs will be damaged.

This is how it works:
Colobreathe works by destroying the bacteria's cell membranes. It has a deadly effect on them.

2. What you need to know before taking Colobreathe
Do not use Colobreathe
if you / your child are allergic to colistimethate sodium, colistin sulfate, or polymyxins
Warnings and cautions
Talk to your doctor or pharmacist before using Colobreathe.

Tell your doctor if any of the following have ever affected you / your child
have reacted negatively to drugs with dry powder for inhalation, unless this has already been discussed with your doctor
already have a muscle condition called myasthenia gravis or the inherited condition porphyria
blood in accumulated mucus.
After each inhalation of Colobreathe, rinse your mouth with water. Do not swallow the water. Rinsing can reduce the risk of developing superinfection of fungus in the oral cavity during treatment, and may also reduce the unpleasant taste associated with colistimethate sodium.

When you / your child starts using Colobreathe, you / your child may notice that you may cough, become short of breath, have a feeling of tightness in the chest, or get a wheezing breathing sound. The number of these side effects may decrease as you continue to use the inhaler or your doctor may prescribe a tracheal dilator that you should take before taking Colobreathe. Contact your doctor if any of these effects become problematic so that he/she can change the treatment. If you / your child have any problems with the kidneys or nerves, you must be careful when using Colobreathe but your doctor should be aware of this.

If you / your child needs to take other forms of colistimethate, either as an injection or in a nebulizer, caution should be exercised but your doctor should be aware of this.
Children
Do not give Colobreathe to children under 6 years of age as it is not suitable for them.
Other drugs and Colobreathe
Tell your doctor if you / your child are taking, have recently taken, or might take other medicines, and especially:
if you / your child are taking aminoglycoside antibiotics used to treat the infection you need to be careful
if you / your child has myasthenia gravis and is taking antibiotics type macrolide you such as azithromycin and clarithromycin, or fluoroquinolones you such as norfloxacin and ciprofloxacin. Using these at the same time as Colobreathe can cause muscle weakness
if you / your child is taking colistimethate as an injection or via a nebulizer, caution should be exercised
if you / your child needs anesthesia, caution must be exercised.
Pregnancy and breastfeeding
If you are pregnant or breast-feeding, think you may be pregnant, or are planning to have a baby, ask your doctor or pharmacist for advice before taking this medicine.

There is no information on the safety of Colobreathe in pregnant women. Your doctor should talk to you about whether the benefits of this medicine outweigh the risks before using Colobreathe.

Colistimethate sodium can be excreted in human milk. Discuss the use of Colobreathe with your doctor.
Driving and using machines
It is possible that when you use Colobreathe, you may experience dizziness, confusion, or vision problems. Do not drive or use any machinery until symptoms have resolved.
Colobreathe contains sodium
This medicine contains less than 1 mmol (23 mg) sodium per capsule, ie essentially 'sodium-free'.
3. How to use Colobreathe
Always use this medicine exactly as your doctor has told you. Consult your doctor if you / your child is unsafe/unsafe.

The first dose should be given under medical supervision.

The recommended dose is

Adults and children over 6 years
The contents of a Colobreathe capsule should be inhaled twice daily using the Turbospin inhaler.
There should be 12 hours between each dose.
The order in which other treatments are to be taken or performed

If you / your child receives other treatment for cystic fibrosis, they should be taken in this order:
Inhaled tracheal dilators
Breathing gymnastics
Other inhaled drugs
Sedan Colobreathe
You / your child should go through the order of your treatments with the doctor.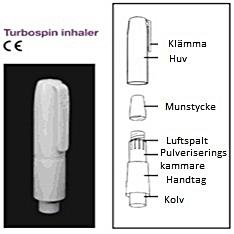 Method of administration
Colobreathe is inhaled into the lungs as a powder from the capsule using the inhaler called Turbospin. Colobreathe can only be taken with the help of Turbospin.

Do not swallow the Colobreathe capsules.

Inhale Colobreathe from the capsule through the Turbospin inhaler according to the procedure described below. Your doctor or nurse will show you / your child how to inhale the medicine when you / your child starts treatment:

How to take Colobreathe using the Turbospin inhaler

Preparation of Turbospin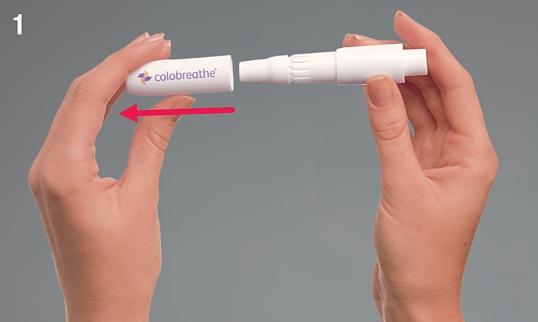 1. Remove the cover. It comes loose if you pull carefully.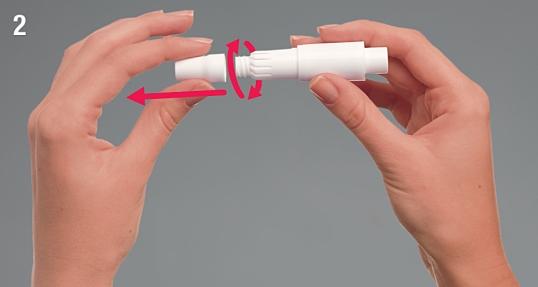 2. Unscrew the nozzle so that the chamber of the Turbospin inhaler is exposed.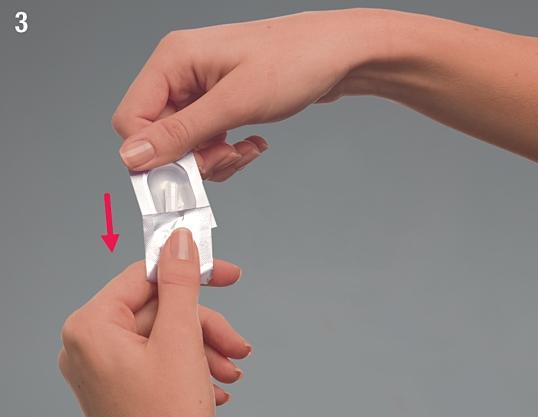 3. Remove a single capsule from the blister pack. After removing the capsule, it must be used immediately.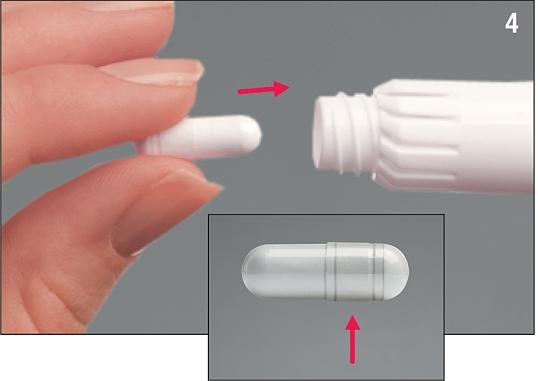 4. Carefully insert the capsule into the chamber with the widest end first. No power needed.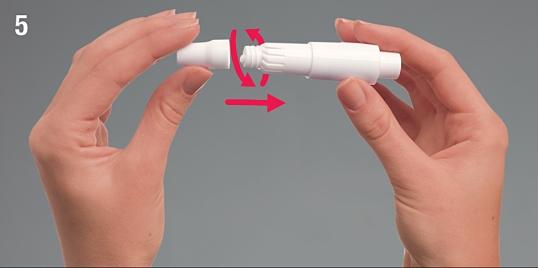 5. Now replace the nozzle by screwing it in place.

How to pierce the capsule and inhale the medicine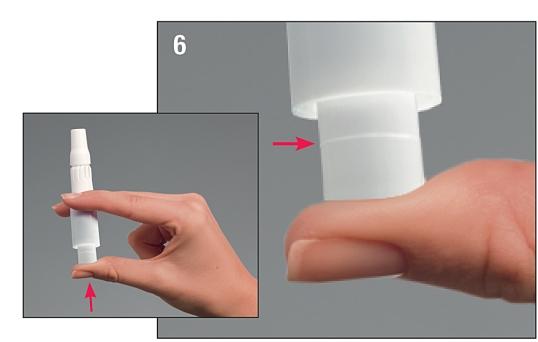 6. To pierce the capsule:
Hold the inhaler with the mouthpiece straight up, gently push the plunger upwards until the visible line is reached – you will feel resistance here and this locks the capsule ready to be pierced. Hold that position before continuing with the piercing.
Now that the capsule is locked, continue to push the plunger as far as it will go and then release it.
The capsule is now pierced and the contents can be inhaled.
Pierce is not the capsule more than once. You can see a small amount of powder being released from the chamber after the capsule has been pierced. This is normal.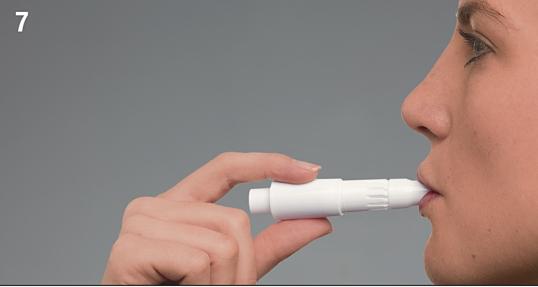 7. Exhale slowly. Place the nozzle between your lips and teeth. Make sure it is tight between the lips and the nozzle. Be careful not to cover the air gaps with your fingers or mouth during inhalation.

8. Then inhale slowly and deeply through your mouth at a rate sufficient for you to hear or feel the capsule spin.

9. Remove the Turbospin inhaler from your mouth and hold your breath for about 10 seconds, or as long as it feels comfortable, then exhale slowly.

10. If you do not hear the capsule spin, the capsule may be stuck in the compartment. If this happens, you can release the capsule by gently tapping the inhaler chamber. Do not attempt to release the capsule by repeatedly pressing the plunger. If the capsule cannot be released and the powder cannot be inhaled, discard the broken capsule and any powder left in it and use another.

11. Inhale the medicine again by repeating steps 7 and 8 to make sure you have emptied the capsule.

12. You can check if the capsule is empty by unscrewing the nozzle and checking the capsule. If it is not empty, repeat steps 7, 8, and 9 until you have inhaled all the contents.

13. When all contents have been inhaled, rinse the mouth thoroughly with water and spit out.

How to remove the empty capsule from Turbospin
14. When the capsule is empty, unscrew the nozzle, remove and discard the empty capsule.

More information

When you inhale slowly, suck in air through the Turbospin inhaler and into the capsule chamber. The small drug particles in the capsule are captured by the airflow and transported through the airways down to the lungs.

Sometimes very small parts of the capsule cover can enter the mouth or respiratory tract.
If this happens, you may feel these bits on your tongue or in your airways.
The capsule cover is made of gelatin, which is harmless to humans if swallowed or inhaled.
The risk of the canister breaking into pieces increases if the canister is pierced more than once in step 6.
Cleaning the Turbospin unit
Clean the Turbospin inhaler after each dose according to the following procedure:
Press the plunger deep a few times while holding the chamber up and down.
Clean the chamber with a cloth or cotton swab. Do not use water.
Screw on the mouthpiece firmly and replace the cap, then the inhaler is ready to use for your next dose.
If you / your child have taken too much Colobreathe, or inadvertently swallowed one capsule,
you should contact your doctor immediately for advice.
If you / your child have forgotten to use Colobreathe
If you / your child forgets to take a dose of Colobreathe, you / your child should take the missed dose as soon as you / your child remembers. You / your child must not take 2 doses at intervals of less than 12 hours. Continue from there according to the instructions.
If you / your child stop using Colobreathe
Do not stop treatment prematurely unless your doctor tells you to. Your doctor decides how long your / your child's treatment should last.

If you / your child have any further questions on the use of this product, ask your doctor.
4. Possible side effects
Like all medicines, this medicine can cause side effects, although not everybody gets them.

Allergic reactions
An allergic reaction caused by Colobreathe is possible (usually severe allergic reactions can cause a rash, swelling of the face, tongue, and throat, inability to breathe due to narrowing of the airways, and unconsciousness). If you / your child experience signs of an allergic reaction, you should seek medical attention immediately.

Other possible side effects are

You / your child may get an unpleasant taste in the mouth after inhaling Colobreathe.

Very common (affects more than 1 in 10 people):
Difficulty breathing
Cough, throat irritation
Hoarseness or weak voice, or even losing your voice
Unpleasant taste
Common (affects up to 1 in 10 people):
Headache
Ringing or buzzing sound in the ear, balance disorder
Coughing up of blood, wheezing breathing, chest discomfort, asthma, productive cough (when coughing up mucus), infection in the lungs, crackling sound in the lungs (your doctor hears this when he/she listens to the lungs with a stethoscope)
Vomiting, nausea
Changes in lung function (detected by testing)
Joint pain
Lack of energy, fatigue
Elevated temperature
Uncommon (affects up to 1 in 100 people):
Allergic reactions ( hypersensitivity reactions ), symptoms may include rash and itching
Weight changes decreased appetite
Anxiety
Seizures
Somnolence
Blockage in the ears
Chest pain
Shortness of breath
Nasal blood, catarrh (mucus in the nose that can make you feel stuffy), thick cough, green mucus, pain in the throat and sinuses
Unusual sounds in the chest (your doctor hears this when he/she listens to your lungs with a stethoscope)
Diarrhea, gas
Heavy saliva production
Toothache
Protein in the urine (detected by testing)
Thirst
The above-mentioned side effects have occurred about as often in people of all ages.

Reporting of side effects
If you get any side effects, talk to your doctor, pharmacist, or nurse. This includes any possible side effects not listed in this leaflet. You can also report side effects directly to the Medical Products Agency, www.lakemedelsverket.se. By reporting side effects, you can help increase drug safety information. Postal address
5. How to store Colobreathe
Keep this medicine out of the sight and reach of children.

Do not use this medicine after the expiry date which is stated on the outer carton and on the blister after EXP. The expiration date is the last day of the specified month.

Store Colobreathe at a maximum of 25 ° C.
Store in the original package until just before use. Moisture sensitive.

If you / your child accidentally pull back the foil and some capsules appear, these capsules should be discarded.

Discard the Turbospin inhaler after running out of the capsules in the package.

Medicines should not be disposed of via wastewater or household waste. Ask your pharmacist how to dispose of medicines no longer required. These measures will help to protect the environment.
6. Contents of the packaging and other information
Content declaration
The active substance is colistimethate sodium (also called colistin). Each capsule contains 1,662,500 IU (equivalent to approximately 125 mg) colistimethate sodium.

Other ingredients are:

Capsule cover
Gelatine
Polyethylene glycol
Sodium lauryl sulfate
Purified water
What the medicine looks like and the contents of the pack
Colobreathe inhalation powder, hard capsule ( inhalation powder ), is supplied as small, hard, transparent gelatin capsules containing a fine, white powder.

Turbo spin is a dry powder inhaler that is driven by inspiratory flow, and which is made of polypropylene and stainless steel.

The capsules are delivered in blister packs, and each packing box contains:
56 hard capsules – a Turbospin dry powder inhaler that lasts for 4 weeks.
8 hard capsules – a Turbospin dry powder inhaler that lasts for 4 days.
Not all pack sizes may be marketed.
Marketing Authorization Holder and Manufacturer
Marketing Authorisation Holder:
Teva BV
Swensweg 5
2031 GA Haarlem
Netherlands

Manufacturer:
Penn Pharmaceutical Services Limited
Tafarnaubach Industrial Estate
Tredegar
Gwent
NP22 3AA
UK

Teva Pharmaceuticals Europe BV
Swensweg 5
2031 GA Haarlem
Netherlands

Millmount Healthcare Limited
Block 7, City North Business Campus
Stamullen
Co Meath
Ireland

Merckle GmbH
Ludwig-Merckle-Str-3
89143 Blaubeuren
Germany

Contact the representative of the marketing authorization holder to find out more about this medicine: Show larger
| | |
| --- | --- |
| Belgium / Belgique / BelgienTeva Pharma Belgium NV / SA / AGTel: +32 3 820 73 73 | LithuaniaUAB "Sicor Biotech"Tel: +370 5 266 02 03 |
| BulgariaOctavis FADTel: +359 24899585 | Luxembourg / LuxemburgTeva Pharma Belgium NV / SA / AGBelgium / BelgiumTel: +32 38207373 |
| Czech RepublicTeva Pharmaceuticals CR, sroTel: +420 251007111 | HungaryTeva Gyógyszergyár Zrt.Tel: +36 12886400 |
| DenmarkTeva Denmark A / STel: +45 44985511 | MaltaActavis Ltd.Tel: +356 21693533 |
| GermanyTEVA GmbHTel: +49 73140208 | The NetherlandsTeva Nederland BVTel: +31 8000228400 |
| EestiUAB "Sicor Biotech" Eesti subsidiaryTel: +372 6610801 | NorwayTeva Norway ASTel: +47 66775590 |
| GreeceSpecify ABEE:Ηλ: +30 2118805000 | Austriaratiopharm Arzneimittel Vertriebs-GmbHTel: +43 1970070 |
| SpainTeva Pharma, SLUTel: +34 913873280 | PolandTeva Pharmaceuticals Polska Sp. z ooTel: +48 223459300 |
| FranceTeva HealthTel: +33155917800 | PortugalTeva Pharma – Pharmaceutical Products, Lda.Tel: +351 214767550 |
| CroatiaPliva Hrvatska dooTel: + 385 13720000 | RomaniaTeva Pharmaceuticals SRLTel: +40 212306524 |
| IrelandTeva Pharmaceuticals IrelandTel: +353 19127700 | SloveniaPliva Ljubljana dooTel: +386 15890390 |
| IcelandActavis Group PTC ehf.Phone: +354 5503300 | Slovak RepublicTEVA Pharmaceuticals Slovakia sroTel: +421 257267911 |
| ItalyTeva Italia SrlTel:. +39 028917981 | Finland / FinlandTeva Finland OyPuh / Tel: +358 201805900 |
| LatviaUAB "Sicor Biotech" branch of LatviaTel: +371 67323666 | United KingdomTeva UK LimitedTel: +44 1977628500 |