500 micrograms, 1000 micrograms urethral pin alprostadil

Read all of this leaflet carefully before you start using this medicine. It contains information that is important to you.
– Save this information, you may need to read it again.
– If you have any further questions, ask your doctor or pharmacist.
– This medicine has been prescribed for you only. Do not give it to others. It can harm them, even if they show signs of illness similar to yours.
– If you get any side effects, talk to your doctor or pharmacist. This also applies to any side effects not mentioned in this information. See section 4.
In this leaflet: 
1. What Bondil is and what it is used for 
2. What you need to know before using Bondil 
3. How to use Bondil 
4. Possible side effects 
5. How to store Bondil 
6. Contents of the packaging and other information 
1. What Bondil is and what it is used for
Bondil contains the active substance alprostadil.

Bondil is used in the treatment and diagnosis of erection problems.
Bondil increases blood flow in the penis which leads to an erection.

Alprostadil contained in Bondil may also be approved for the treatment of other conditions not mentioned in this leaflet. Ask your doctor, pharmacist, or other healthcare professionals if you have any further questions, and always follow their instructions.

2. What you need to know before using Bondil
Do not use Bondil
if you are allergic to alprostadil or any of the other ingredients of this medicine (listed in section 6).
if for some reason your penis has an abnormal shape such as a sharp bend (such as Peyronie's disease).
if you have a urinary tract infection or infection of the penis.
if you have a disease that can increase the risk of prolonged erection, for example, a blood disease, bone marrow tumor (multiple myeloma ), or if you have an increased risk of blood clots.
if you have previously experienced recurrent prolonged and painful erections.
if you have been advised not to have sex for health reasons such as heart problems or if you have recently had a stroke.
Warnings and cautions
Talk to your doctor or pharmacist before using Bondil:
if you know you have a bleeding disorder because an incorrect introduction of Bondil can cause superficial damage to the urethra, which may result in minor bleeding. If you have a disease that is transmitted through the blood, this can increase the risk of transmitting that disease to your partner.
if you have previously had a mental illness or a state of dependence.
if you have had a mini-stroke ( TIA attack) or have an unstable cardiovascular disease.
if you have coronary heart disease, heart failure, or lung disease. If you have had these problems, sexual stimulation can lead to heart and lung problems.
if you have a penis implant.
If your erection lasts 4 hours or longer, contact a doctor or healthcare professional immediately.

If your female partner is pregnant, a condom should be used during intercourse.
Other drugs and Bondil
Tell your doctor or pharmacist if you are taking, have recently taken, or might take any other medicines. This is especially true when using the following:
Antihypertensives (medicines used to treat high blood pressure ). Bondil may affect how well that medicine works.
Anticoagulants and inhibitors of platelet aggregation (drugs that thin your blood). The risk of urethral bleeding increases.
Sympathomimetics (drugs that act on the sympathetic nervous system). Bondil may have a worse effect.
Vasoactive drugs (which change the diameter of your blood vessels). Your blood pressure may rise or fall.
Viagra and other drugs for erection problems. These may affect the effect of Bondil.
Muscle relaxants or other medications that cause erections give the risk of prolonged erections.
Pregnancy and breastfeeding
If your partner is pregnant, if you think your partner may be pregnant, or if you are planning to have a baby, a condom should be used during intercourse.
Driving and using machines
During treatment with Bondil, dizziness and fainting may occur. In patients who experience these symptoms, they usually occur at the time of insertion or within one hour after the introduction of Bondil into the urethra. This should be taken into account when sharper attention is required, eg when driving a car.

You are responsible for assessing whether you are fit to drive a motor vehicle or perform work that requires increased attention. One of the factors that can affect your ability in these respects is the use of drugs due to their effects and/or side effects. Descriptions of these effects and side effects can be found in other sections. Read all the information in this leaflet for guidance. If you are not sure, talk to your doctor or pharmacist.

3. How to use Bondil
Always use this medicine exactly as your doctor has told you. Ask your doctor or pharmacist if you are unsure.

Dose one is determined by the doctor who adjusts it individually for you.
The usual starting dose is 500 micrograms. If this does not provide a sufficient erection, do not increase the dose on your own. Contact your doctor who will try a higher dose for you.
You should not use more than two doses within a period of 24 hours. The maximum single dose is 1000 micrograms.

Instructions for use
Bondil should be at room temperature during use.
Urinate before using Bondil. It is easier to insert the applicator if the urethra is damp. The drug dissolves in the fluid that remains in the urethra.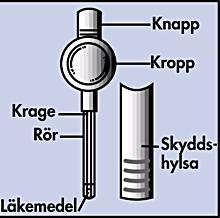 1. Open the foil pouch and slide the applicator out of the pouch.
| | |
| --- | --- |
| 2. Unscrew the protective sleeve on the applicator. Do not push in or pull out the button on the top of the applicator!Try not to touch the tube or its end. | |
3. The drug is located at the end of the tube.

| | |
| --- | --- |
| 4. Sit or stand and stretch the penis upwards, gently squeezing the glans. This is to straighten and open the urethra. | |
| | |
| --- | --- |
| 5. Then carefully insert the applicator tube into the urethra. It is important that the pipe is inserted all the way up to the collar of the applicator in order for you to have a good effect. If it feels uncomfortable, pull out the tube slightly and then insert it again. | |
| | |
| --- | --- |
| 6. When the tube is inserted, press the button on the applicator as far as it will go . Hold the applicator in this position for 5 seconds. This is important to ensure that the applicator is emptied of all medicines. | |
| | |
| --- | --- |
| 7. Gently rock the applicator so that the applicator can be emptied of the medicine. Then pull out the applicator while still holding the penis upright. | |
| | |
| --- | --- |
| 8. Keep the penis upright and outstretched and massage for at least 10 seconds so that the medicine spreads along the walls of the urethra. If you feel it sting, massage for another 30-60 seconds or until the burning subsides. | |
Erection one starts within 5-10 minutes. Active foreplay has a positive effect on erection.
If you have any further questions on the use of this product, ask your doctor or pharmacist.
4. Possible side effects
Like all medicines, this medicine can cause side effects, although not everybody gets them. The side effects are usually mild and disappear soon.

If you get any of the following symptoms, contact your doctor immediately:
You have a long-lasting erection that lasts longer than four hours (less common side effect)
Your penis gets scarred or bent (rare side effect)
Your testicles or scrotum become red, swollen, sore, or if tissue nodules appear. These are called spermatocele and are cysts that contain sperm (less common side effect)
Very common (affects more than 1 user in 10)
Burning sensation in the urethra.
Painful penis.
Common (affects more than 1 user in 100):
Headache
Dizziness
Muscle spasms
Low blood pressure
Minor bleeding from the urethra
Pain in the testicles
Bruises on the penis
Increased erection
Uncommon (affects less than 1 user in 100, more than 1 user in 1000):
Fainting or fainting
Deteriorated or improved sensation
Swelling of blood vessels in the legs
Pain in the legs
Cold
Pain in the pelvic floor (between the penis and the rectum)
Increased heart rate
Dilation of your blood vessels which makes you feel dizzy
Blood vessel disorders such as bleeding from certain blood vessels
Nausea
Skin rash that may cause itching or redness
Increased sweating
More urgent need to urinate and need to urinate more often than usual
Pain or difficulty urinating
Blood in the urine
Increased levels of creatinine in the blood
Priapism (prolonged erection )
Redness, swelling, or pain in the testicles or scrotum may develop. Harmless tissue nodules that contain sperm on the penis (spermatocele) can occur. The penis may feel numb.
Uncomfortable or painful erections or no erections at all.
Altered ejaculation.
Swollen or tight foreskin and/or swelling at the end of the penis.
Rare (affects less than 1 user in 1,000, more than 1 in 10,000 users):
Urinary tract infection
Problems from the penis can result in it being scarred or bent, especially after long-term use of Bondil.
Very rare (affects less than 1 user in 10,000):
Your female partner may experience itching or burning in the vagina, which may be due to the resumption of intercourse.

Reporting of side effects ar
If you get any side effects, talk to your doctor or pharmacist. This also applies to side effects that are not mentioned in this information. You can also report side effects directly (see details below). By reporting side effects, you can help increase drug safety information.

Läkemedelsverket, Box 26, 751 03 Uppsala. Website: www.lakemedelsverket.se
5. How to store Bondil
Keep this medicine out of the sight and reach of children.

Store in a refrigerator (2 ° C – 8 ° C).

The packaging currently in use is stable for 14 days when stored at a maximum of 30 ° C. Do not leave Bondil in a car or other places where it may be exposed to temperatures higher than 30 ° C.

Do not use this medicine after the expiry date which is stated on the carton and label after "EXP". The expiration date is the last day of the specified month.

Bondil urethral pins are discarded as normal household waste.
6. Contents of the packaging and other information
Content declaration
The active substance is alprostadil 500 micrograms or 1000 micrograms.
The other ingredient is macrogol.
What the medicine looks like and the contents of the pack
Sterile pin in disposable applicator in the bag.
1 x 1 applicator , 1 x 2 applicator , 1 x 6 applicator , 1 x 10 applicator .
Not all pack sizes may be marketed.

Marketing Authorization Holder and Manufacturer
Meda AB
Box 906
170 09 Solna
Tel: 08 – 630 19 00
Email: info@meda.se