Teva
Inhalation spray, suspension 0.1 mg / dose
(inhalation spray)
Read all of this leaflet carefully before you start using this medicine. It contains information that is important to you.
Save this information, you may need to read it again.
If you have any further questions, ask your doctor, pharmacist, or nurse.
This medicine has been prescribed for you only. Do not give it to others. It can harm them, even if they show signs of illness similar to yours.
If you get any side effects, talk to your doctor, pharmacist, or nurse. This also applies to any side effects not mentioned in this information. See section 4.
In this leaflet: 
1. What Airomir is and what it is used for 
2. What you need to know before you use Airomir 
3. How to use Airomir 
4. Possible side effects 
5. How to store Airomir 
6. Contents of the packaging and other information 
1. What Airomir is and what it is used for
Airomir inhalation spray contains the active substance salbutamol which acts on the trachea so that they dilate and make it easier to breathe.
Airomir is used to relieve the symptoms of asthma and chronic obstructive pulmonary disease (COPD).
Note that medicine should primarily be used to relieve acute discomfort.
Salbutamol contained in Airomir may also be approved for the treatment of other conditions not mentioned in this product information. Ask your doctor, pharmacist, or another healthcare professional if you have any further questions, and always follow their instructions.
2. What you need to know before using Airomir
Do not use Airomir
if you are allergic to salbutamol or any of the other ingredients of this medicine (listed in section 6).
Warnings and cautions
Talk to your doctor, pharmacist, or nurse before using Airomir.
Before starting treatment with Airomir, talk to your doctor if you have any of the following conditions:
cardiovascular disease
angina
increased thyroid function ( hyperthyroidism )
the condition with decreased potassium in the blood
diabetes
If asthma symptoms increase or if the effect of Airomir worsens, contact a doctor immediately. Repeated inhalation that does not have an effect on severe asthma attacks may mean that another treatment is needed.
Other medicines and Airomir
Tell your doctor or pharmacist if you are taking, have recently taken, or might take any other medicines.

The effect of the treatment can be affected if Airomir and certain other medicines are taken at the same time. Therefore, consult a physician before taking other concomitant medications. Some antihypertensive drugs ( beta-blockers ) may reduce the effect of Airomir.
If you have too low potassium levels in your blood ( hypokalaemia ), this condition may worsen if Airomir is used in combination with diuretics, cortisone, or certain other asthma medicines (xanthine derivatives). In such cases, contact your doctor for advice.
Pregnancy, breastfeeding, and fertility
If you are pregnant or breast-feeding, think you may be pregnant or are planning to have a baby, ask your doctor or pharmacist for advice before taking this medicine.
Limited experience of use during pregnancy. Therefore, consult your doctor when using Airomir during pregnancy.
It is unknown whether salbutamol passes into breast milk. Therefore consult a doctor before use during breast-feeding.
Driving and using machines
You are responsible for assessing whether you are fit to drive a motor vehicle or perform work that requires sharpened attention. One of the factors that can affect your ability in these respects is the use of drugs due to their effects and/or side effects. Descriptions of these effects and side effects can be found in other sections. Read all the information in this leaflet for guidance. If you are not sure, talk to your doctor or pharmacist.
Airomir contains ethanol
This medicine contains 4.33 mg of alcohol ( ethanol ) per inhalation. The amount in inhalation of this medicine corresponds to less than 0.1 ml of beer or 0.04 ml of wine.
The low amount of alcohol in this medicine has no noticeable effects.
3. How to use Airomir
Always use this medicine exactly as your doctor has told you. Ask your doctor or pharmacist if you are unsure.
Adults and children aged 12 and older
The usual dose is 1-2 inhalations if needed, which should provide relief in an acute asthma attack or acute breathing problems in COPD.
Do not take more than a maximum of 16 inhalations per day.

Children under 12 years
The usual dose for relieving acute cramping in the trachea is 1 inhalation. Dose one can be increased to 2 inhalations as needed. The total use if necessary should not exceed 2 inhalations 4 times daily.
If the treatment has no effect or you need several doses per day, contact your doctor. Never increase your dose without consulting your doctor.
See the instructions for use at the end of this leaflet for more information.
Shake inhalation spray one before use.
Airomir inhalation spray can be used together with a respirator for those who have difficulty coordinating inhalation and spray footprints.
For children under 4 years of age, no dosage recommendation can be made as the effect has not yet been established.
The most common signs of overdose are headache, palpitations, muscle cramps, and anxiety.
If you have any further questions on the use of this product, ask your doctor, pharmacist, or nurse.
4. Possible side effects
Like all medicines, this medicine can cause side effects, although not everybody gets them.

Stop taking Airomir and contact your doctor immediately if you develop any of the following:
allergic symptoms (very rare – may affect up to 1 in 10,000 users) such as
swelling of the face, tongue, or throat
difficulty swallowing
hives
breathing difficulties
chest pain (very rare – may affect up to 1 in 10,000 people)
breathing becomes worse immediately (very rare – may affect up to 1 in 10,000 people) after inhalation with Airomir, even if Airomir reduces symptoms. This may mean that your illness has worsened and that another treatment is urgently needed.
Side effects can occur to the following extent:

Common ( may affect up to 1 in 10 people) :
tremor
increased heart rate
headache
muscle cramps

Uncommon ( may affect up to 1 in 100 people) :
fast heartbeat
irritation of mouth and throat
Rare ( may affect up to 1 in 1,000 people) :
decreased potassium in the blood
flushing
Very rare ( may affect up to 1 in 10,000 people) :
lowering blood pressure
collapse
increased degree of activity
increased arousal
hallucinations
sleep disorders
irregular heartbeat
itchy rash
Reporting of side effects
If you get any side effects, talk to your doctor, pharmacist, or nurse. This includes any possible side effects not listed in this leaflet. You can also report side effects directly to the Medical Products Agency, www.lakemedelsverket.se. By reporting side effects, you can help increase drug safety information. 
5. How to store Airomir
Keep this medicine out of the sight and reach of children.
Avoid direct sunlight and heat, no more than 30 ° C.
The contents of the bottle are stored under pressure. The valve must not be exposed to damage.
Airomir gives the correct dose even if it is cold, for example in winter, down to -10 ° C.
Do not use this medicine after the expiry date which is stated on the outer carton and inhaler after "EXP". The expiration date is the last day of the specified month.
Medicines should not be disposed of via wastewater. Ask your pharmacist how to dispose of medicines no longer required. These measures will help to protect the environment.
6. Contents of the packaging and other information
Content declaration
The active substance is salbutamol. Each spray dose contains 0.1 mg salbutamol.
Other ingredients (excipients) are oleic acid, ethanol, and norflurane (non-freon-based propellant that is not harmful to the earth's ozone layer).
What the medicine looks like and the contents of the pack
The package contains an inhaler with 200 doses.
Marketing Authorization Holder and Manufacturer
Manufacturer:
3M Health Care, Loughborough, UK.

Norton (Waterford) Limited,
T / A Teva Pharmaceuticals Ireland
Waterford, Ireland

This leaflet was last modified on 26 June 2020
Instructions for use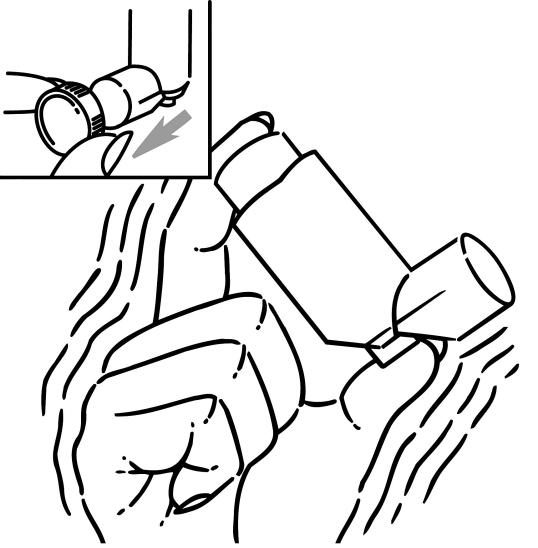 Remove the protective cap from the mouthpiece and shake the inhalation spray vigorously. Note! Press 4 spray cans into the air at the first use. Repeat the same procedure if inhalation spray is left unused for more than 2 weeks.
Hold the inhalation spray as shown and exhale gently. Put the nozzle in your mouth and close your lips tightly around the nozzle.
Inhale slowly through your mouth and at the same time push down the metal bottle with your index finger, which triggers a dose, and continue to inhale deeply.
Hold your breath for 5-10 seconds and exhale slowly.
Rinse the blue plastic container at least once a week.
This is important as the small opening, where the spray does come out, otherwise risks becoming clogged. This may result in no or incorrect dose.
Here's how to clean your inhalation spray:
Remove the inhalation spray by pulling the small metal bottle out of the blue plastic container. The metal bottle must not be placed in water.
Remove the lid and rinse through the blue plastic container with warm water for 30 sec. Note! Also, turn the plastic container over so that the water reaches the nozzle. See pictures A and B.
Shake the plastic container and turn it upside down, then let it dry thoroughly, preferably overnight, see picture C.
When dry, reassemble the metal bottle in the blue plastic container.
If you are going to use an inhalation spray before it is completely dry, shake the wet plastic container thoroughly and replace the metal bottle. Squeeze out 2 puffs before taking your usual dose. Rinse the plastic container again and allow it to dry completely, as shown in pictures A, B, and C.
NOTE! The hole in the plastic container becomes more easily clogged if inhalation spray is used before the plastic container has dried completely.

If the hole in the plastic container is blocked by drug residues and there is no puff, this is shown in Figure D. This may be due to the following:
The nozzle may be clogged. Rinse and dry the blue plastic container shown in Figures A and C.
The spray may be exhausted. Shake the inhalation spray lightly, and you will feel if there is any liquid (spray) left.
The metal bottle may be incorrectly reassembled, pictures E and F.
Figure E shows a correct reassembly of the metal bottle in the plastic container. Note that the valve is correctly seated in the opening at the bottom
Figure F shows when it is incorrectly mounted. Inhalation spray will then not work when you press on the metal bottle. This is because the valve is incorrectly located in the bottom.