Aerinaze Modified Release tablet 2.5 mg/ 120 mg
(Not provided) (Blue and white two-layer oval tablet with the blue layer marked "D12")
1. What Aerinaze Is And What Is Aerinaze Tablets Used For
What Aerinaze is
Aerinaze tablets contain a combination of two active substances, desloratadine which is an antihistamine, and pseudoephedrine sulfate which is a decongestant.
How Aerinaze works
Antihistamines help reduce allergic symptoms by counteracting the effects of histamine, a substance that is released into the body's tissues. Decongestants reduce nasal congestion.
When Aerinaze 2.5 mg/120 mg uses
Aerinaze tablets are used for relieving symptoms of an allergic
Seasonal runny nose (hay fever) such as sneezing
Runny or itchy nose, and eyes, as nasal congestion
is also present in adults and adolescents 12 years and older.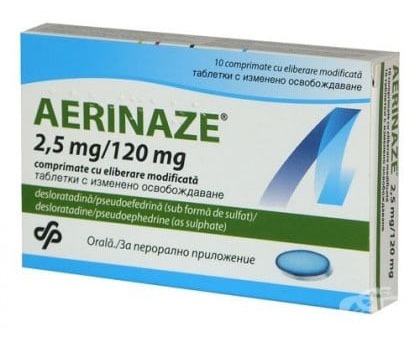 2. What You Need To Know Before Aerinaze 2.5 Mg/120 Mg Uses
Do Not Take:
If you are allergic to desloratadine, pseudoephedrine sulfate, adrenergic medicines, or any of the other ingredients of Aerinaze (listed in section 6) or to loratadine.
If you have high blood pressure, cardiovascular disease, or a previous stroke
If you suffer from glaucoma or you have urinary incontinence, urinary retention, or an overactive thyroid gland
If you are taking monoamine oxidase inhibitors (MAOs) (a group of antidepressants) or if you have stopped taking this type of medicine in the last 14 days.
Warnings And Cautions
Some conditions may make you unusually sensitive to the decongestant substance pseudoephedrine sulfate contained in this medicine. Talk to your doctor, pharmacist, or nurse before taking Aerinaze:
If you are 60 years or older. Elderly people may be more sensitive to the effect of the medicine.
If you have diabetes
If you have stomach ulcers that lead to

Narrowing of the stomach,
Small intestine,
Esophagus (blocking stomach ulcers )

If you have an intestinal obstruction ( pylorus – or duodenal stenosis)
If you have obstruction of the bladder neck (bladder neck obstruction)
If you have previously had difficulty breathing due to contraction of the lung muscles ( bronchospasm )
If you have problems with your
In addition, if you have any of the following conditions or are diagnosed with any of the following conditions, talk to your doctor, pharmacist, or nurse as they may advise you to stop taking Aerinaze:
High blood pressure
Fast or throbbing heartbeat
Abnormal heart rhythm
Nausea and headache or increased headache while taking Aerinaze
If you or someone in your family has had seizures.
Severe skin reactions, including signs and symptoms such as redness of the skin, and many small rashes, with or without fever.
If you are going to have an operation, your doctor may advise you to stop taking Aerinaze 24 hours in advance.
One of the active substances in Aerinaze, pseudoephedrine sulfate, can be addictive and large doses of pseudoephedrine sulfate can be toxic. Continuous use may result in taking more Aerinaze than the recommended dose to achieve the desired effect, leading to an increased risk of overdose. If you suddenly stop treatment, depression can occur.
Laboratory tests
Discontinue Aerinaze at least 48 hours before undergoing a skin test as antihistamines may affect the results of the skin test.
Athletes taking Aerinaze can receive positive doping tests.
Use For Children And Adolescents
Do not give Aerinaze tablets to children under 12 years of age.
Other Medicines And Aerinaze
Tell your doctor, pharmacist, or nurse if you are taking, have recently taken, or might take any other medicines. This is especially important if you are taking:
Digitalis, a drug used to treat certain heart conditions
Medicines for blood pressure

Eg α-methyldopa
Mecamylamine
Reserpine
Veratrum alkaloids
Guanethidine

Oral or nasal decongestants such as

Phenylpropanolamine
Phenylephrine
Ephedrine
Oxymetazoline
Naphazoline

Slimming preparations (appetite suppressants)
Amphetamine preparations are medicines for migraines e.g. ergot alkaloids such as

Dihydroergotamine
Ergotamine
Methylergotamine

Medicines for Parkinson's disease or infertility such as

Bromocriptine
Cabergoline
Lisuride
Pergolide

Antacids for indigestion or stomach upset
A drug for diarrhea called kaolin

Tricyclic antidepressants (such as nortriptyline),
Antihistamines (such as cetirizine, fexofenadine)
Aerinaze With Alcohol
Talk to your doctor, pharmacist, or nurse about whether you can drink alcohol while taking Aerinaze. Drinking alcohol while taking Aerinaze is not recommended.
Pregnancy, Breastfeeding, And Fertility
If you are pregnant or breastfeeding, think you may be pregnant, or are planning to have a baby, ask your doctor, pharmacist, or nurse for advice before taking this medicine.
If you are pregnant, taking Aerinaze is not recommended.

Decreased milk production in breastfeeding mothers has been reported with pseudoephedrine sulfate, an ingredient in Aerinaze. Both desloratadine and pseudoephedrine are excreted in human milk. If you are breastfeeding, do not use Aerinaze.
Fertility
There are no fertility data for men and women.
Driving And Using Machines
At the recommended dose, it is unlikely that the Aerinaze tablet will affect your ability to drive or use machines. Although most people do not feel drowsy, it is recommended that you do not perform activities that require sharp attention, such as driving a vehicle or using machinery until you know how you react to the medicine.

3. How To Take Aerinaze
Always take the Arinaze tablet exactly as your doctor, pharmacist, or nurse has told you. If you are not sure, talk to your doctor, pharmacist, or nurse.
Adults And Children From 12 Years
The recommended dose is one tablet twice daily with a glass of water, with or without food.
The Aerinaze tablet should be swallowed.
The tablet should be swallowed whole, and must not be crushed, divided, or chewed before swallowing.
Do not take more tablets than recommended in the instructions. Do not take tablets more often than recommended.
Do not take the

Aerinaze tablet

for more than 10 days in a row, unless your doctor tells you otherwise.
If You Take More Aerinaze Than You Should
If you have taken more Aerinaze than you were told to, contact a doctor, pharmacist, or nurse immediately.
If You Forget To Take Aerinaze
If you forget to take your tablet at the right time, take it as soon as possible and then go back to your regular dosing one. Do not take a double dose to make up for a forgotten dose.
If You Stop Taking Aerinaze
If you have any further questions about the use of this product, ask your doctor, pharmacist, or nurse.
4. Possible Aerinaze Side Effects
Aerinaze tablet side effects
Like all medicines, the Aerinaze tablet can cause side effects, although not everybody gets them. The following adverse reactions have been reported in clinical trials:

Common: the following may occur in less than 1 in 10 users
Fast heartbeat
Restlessness with increased body movement Mouth
Dizziness
Sore throat
Decreased appetite Constipation

Fatigue
Headache
Difficulty sleeping Anxiety
Drowsiness
Show larger
Uncommon: the following Aerinaze side effects may occur in less than 1 in 100 users
Throbbing or irregular heartbeat Increased body movement
Redness hemorrhage confusion Dimsyn
Dry eyes nose bleeds Irritation of the nose Inflammation of the nose Runny nose
Inflammation of the sinuses
Dryness in the throat
Stomach ache
Stomach flunausea
Abnormal stool pain
Difficulty urination
Sugar in the murine elevated
Blood sugar
Thirst urination problems
Change in the number of urinations

Itching
Overindulge
Impaired odor
Abnormal liver function tests
Restlessness
Concernirritation

Very rare: the following other side effects reported during the marketing of desloratadine may occur in less than 1 in 10,000 users
Severe allergic reactions
Difficulty breathing
Wheezing
Itching
Hives
Swelling
Rash
Vomiting
Diarrhea
Hallucination

Muscle pain
Seizures hepatitis Abnormal liver function tests
Show larger
Has been reported (occurs in an unknown number of users):
Deviant behavior
Weight gain
Increased appetite
Aggression
Changes in how the heartbeats
Some cases of
Severe skin reactions, including signs and symptoms such as

Fever
Flushing
Many small rashes
have been reported during treatment with products containing pseudoephedrine.
Reporting of Aerinaze side effects
If you get any side effects, talk to your doctor, pharmacist, or nurse. This includes any possible side effects not listed in this leaflet. You can also report side effects directly to the Medical Products Agency, www.lakemedelsverket.se. By reporting side effects, you can help increase drug safety information.
5. How To Store Aerinaze
Keep this medicine out of the sight and reach of children.
Do not Aerinaze tablet uses after the expiry date which is stated on the carton after "EXP" and on the blister after "EXP".
The expiration date is the last day of the specified month.
Store at a high 30 ° C. Store blisters in the outer carton. Sensitive to light.
Aerinaze should not be disposed of via wastewater or household waste. Ask your pharmacist how to dispose of medicines no longer required. These measures will help to protect the environment.
6. Contents Of The Packaging And Other Information
Content Declaration
The active substances are desloratadine and pseudoephedrine sulfate.
Each tablet contains 2.5 mg desloratadine and 120 mg pseudoephedrine sulfate.
Other ingredients are:

Ingredients in the blue immediate-release layer: corn starch, microcrystalline cellulose, disodium edetate, citric acid, stearic acid, and dye (indigo carmine E132, aluminum lacquer).
Ingredients in the white layer with delayed release: hypromellose 2208, microcrystalline cellulose, povidone K30, silicon dioxide, and magnesium stearate.
How The Aerinaze Looks Like And The Contents Of The Pack
Blue and white two-layer oval tablet with modified-release with "D12" embossed in the blue layer.
Aerinaze tablets are packaged as 2, 4, 7, 10, 14, or 20 tablets in blisters consisting of laminated blister film with foil lids.
Not all packaging may be marketed.
Marketing Authorization Holder and Manufacturer
Marketing Authorisation Holder:
Merck Sharp & Dohme BV
Waarderweg 39
2031 BN Haarlem
Netherlands

Manufacturer:
SP Labo NV
Industrial Park 30
B-2220 Heist-op-den-Berg
Belgium.

Contact the representative of the marketing authorization holder to find out more about this Aerinaze:
| | |
| --- | --- |
| Belgium / Belgique / BelgienMSD Belgium BVBA / SPRLTel: +32 (0) 2 776 62 11dpoc_belux@merck.com | LithuaniaUAB Merck Sharp & DohmeTel. + 370 5 278 02 47msd_lietuva@merck.com |
| BulgariaMark Harp and Doom Bulgaria BulgariaTel: +359 2 819 3737info-msdbg@merck.com | Luxembourg / LuxemburgMSD Belgium BVBA / SPRLTel: +32 (0) 2 776 62 11dpoc_belux@merck.com |
| Czech RepublicMerck Sharp & Dohme sroTel: +420 233 010 111dpoc_czechslovak@merck.com | HungaryMSD Pharma Hungary Kft.Tel .: +36 1 888-5300hungary_msd@merck.com |
| DenmarkMSD Danmark ApSTel: + 45 4482 4000dkmail@merck.com | MaltaMerck Sharp & Dohme Cyprus LimitedTel: 8007 4433 (+356 99917558)malta_info@merck.com |
| GermanyMSD SHARP & DOHME GMBHTel: 0800 673 673 673 (+49 (0) 89 4561 2612)e-mail@msd.de | The NetherlandsMerck Sharp & Dohme BVTel: 0800 9999000(+31 23 5153153)medicalinfo.nl@merck.com |
| EestiMerck Sharp & Dohme OÜTel: + 372 6144 200msdeesti@merck.com | NorwayMSD (Norway) ASTel: +47 32 20 73 00msdnorge@msd.no |
| GreeceMSD Α.Φ.Β.Ε.Ε.:Ηλ: +30 210 98 97 300dpoc_greece@merck.com | AustriaMerck Sharp & Dohme Ges.mbHTel: +43 (0) 1 26 044msd-medizin@merck.com |
| SpainMerck Sharp & Dohme de España, SATel: +34 91 321 06 00msd_info@merck.com | PolandMSD Polska Sp. z ooTel .: +48 22 549 51 00msdpolska@merck.com |
| FranceMSD FranceTel: + 33 (0) 1 80 46 40 40 | PortugalMerck Sharp & Dohme, LdaTel: +351 214465700inform_pt@merck.com |
| CroatiaMerck Sharp & Dohme dooTel: + 385 1 6611 333croatia_info@merck.com | RomaniaMerck Sharp & Dohme Romania SRLTel .: + 40 21 529 2900msdromania@merck.com |
| IrelandMerck Sharp & Dohme Ireland ( HumanHealth) LimitedTel: +353 (0) 1 2998700medinfo_ireland@merck.com | SloveniaMerck Sharp & Dohme, an innovative freelance dooTel: +386 1 5204 201msd.slovenia@merck.com |
| IcelandVistor hf.Phone: + 354 535 70 00 | Slovak RepublicMerck Sharp & Dohme, sroTel: +421 2 58282010dpoc_czechslovak@merck.com |
| ItalyMSD Italia SrlTel: +39 06 361911medicalinformation.it@merck.com | Finland / FinlandMSD Finland OyPuh / Tel: + 358 (0) 9 804 650info@msd.fi |
| ΚύπροςMerck Sharp & Dohme Cyprus Limited..: Ηλ .: 800 00 673(+357 22866700)cyprus_info@merck.com | |
| LatviaSIA Merck Sharp & Dohme LatvijaTel: + 371 67364224msd_lv@merck.com | United KingdomMerck Sharp & Dohme LimitedTel: +44 (0) 1992 467272medicalinformationuk@merck.com |
Tags:
Aerinaze
,
Aerinaze tablet
,
benefits of Aerinaze
,
benefits of Desloratadine
,
benefits of Pseudoephedrine
,
desloratadine
,
desloratadine side effects
,
Pseudoephedrine
,
side effects of Aerinaze
,
side effects of Pseudoephedrine
,
what Aerinaze is used for
,
what desloratadine is used for
,
what is Aerinaze
,
what is desloratadine
,
what is Pseudoephedrine
,
what Pseudoephedrine is used for